| Energy Guides and Advice
Energy-efficient Home Lighting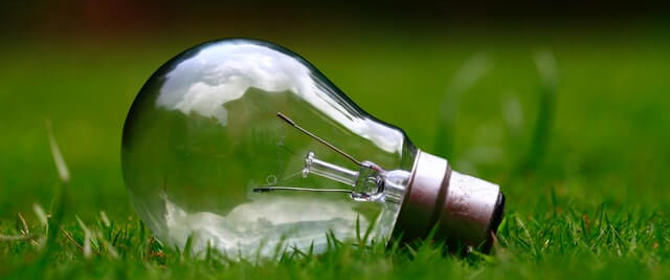 Around 15% of your electricity bill is spent on lighting your home. Making energy-efficient changes to the way in which you light your property can help to reduce your energy usage, carbon footprint, and energy bills.
In this guide, we'll look at efficient household lighting options and their benefits.
Which lightbulbs are energy-saving?
In the past, Halogen Incandescent lightbulbs were a popular choice for homeowners. They were viewed as cheap and practical. However, there are now different lightbulbs available that are much more energy-efficient and beneficial for your home. These include:
LED Lightbulbs (Light-Emitting Diodes)
LED lightbulbs are the most efficient type of light bulb available. They use 90% less energy than traditional lightbulbs and come in a variety of sizes and fittings. They are particularly suitable for replacing spotlights and dimmable lights, and they provide light immediately.
Although LEDs can be expensive, they'll end up saving you money in the long run by using less energy and lasting longer. They are estimated to last up 50,000 hours. That equates to around 17 years if used for 8 hours a day!
Additionally, their life expectancy is approximately 50 times longer than traditional incandescent lightbulbs, 20-25 times longer than halogen lights, and 8-10 times longer than CFLs.
According to the Energy Saving Trust, you could save approximately £40 a year on your electricity bills by replacing all the bulbs in your home with LED lightbulbs.
CFL Lightbulbs (Compact Fluorescent Lamps)
CFL lightbulbs use around 60%-80% less energy than traditional lightbulbs. They can emit various colours and tend to be suitable for larger spaces. You can also recycle them once they've burnt out.
CFLs are not as energy-efficient or long-lasting as LED lightbulbs. However, they are usually cheaper, and will still last longer than incandescent lights. These lightbulbs contain mercury, so they should be handled with care. They also tend to take slightly more time to brighten.
It has been estimated that CFLs could begin to pay for themselves in savings in less than nine months.
What is smart lighting?
Smart LED bulbs are designed with software that enables them to connect to your smartphone, tablet, or virtual home assistant. Smart lighting can add another layer of energy efficiency to your home. It provides you with greater and easier control over your lights.
What else can I do to make my home lighting efficient?
As well as changing what you use to light your home, you could also change the way in which you use your home lighting to help save energy. Here are a few simple tips to help ensure that you are using your lights efficiently:
Are the lights you have on needed? Be aware of the number of lights you have in use and turn off those that are not serving a particular purpose. Immediately switch lights off when you leave a room.
Use devices such as sensors and timers. This can be helpful for external lights to ensure they are only used when required.
Place switches in convenient places so that lights are easier to turn off. For example, at the end of hallways and next to doors.
If you're looking to increase your home's energy-efficiency and reduce your energy bills, switching energy suppliers is another way that can help.
You'll only reap the full benefits of making your home more energy-efficient if you're on a suitable home energy tariff.
To find out how much you could save, complete our free energy comparison tool today.
Alternatively, for more information on energy-saving, take a look at our energy guides.