Homepage

>

Prepayment Energy Meters - Guide
Prepayment Energy Meters - Guide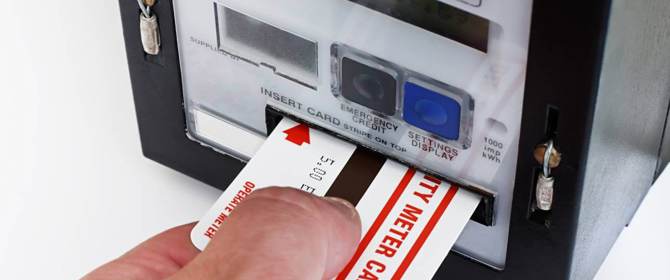 Do you have a prepayment meter in your home? With Ofgem calculating that 4.3 million homes in the UK are using a prepayment energy meter, we look at the advantages and disadvantages of these types of meters.
What is a prepayment energy meter?
A pre-payment energy meter requires you to pay for the energy you use in your home using a pay-as-you-go system, like with pay-as-you-go mobile phones.
The vast majority of prepayment meters come with a card, key or fob that you can use at many shops (the Post Office and any retailers that use the PayPoint network) to pay for your electricity or gas in advance. When you return home, you insert your card, key or fob into your meter and it will update the balance.
There are also smart prepayment meters, which allow you to top up your account online or using a mobile app. In order to take a meter reading on a prepayment meter, you'll need to press a button on the meter itself which will then reveal your remaining credit, as well as the actual reading you'll find on any other type of meter.
If you move into a home with a pre-payment meter, you should notify the energy supplier immediately that you have moved in to avoid incurring any of their costs.
What are the advantages of a prepayment meter?
Pre-payment meters have one clear advantage for those looking at ways to pay for their gas and electricity – they allow you to pay upfront rather than by making monthly or quarterly payments.
Pre-pay meters also can provide certainty and additional control over your household expenses. You can switch to a different energy supplier if you have a pre-pay meter, but you do have limited tariff options.
What are the disadvantages of a prepayment meter?
Pre-pay meters generally are not good value for money as compared to paying with a standard meter and contract. Energy suppliers offer fewer tariffs for those with pre-pay meters and you will usually not be able to take advantage of the best energy offers available.
The more energy you use, the more you will pay so if you have a pre-pay meter make sure you carefully monitor the energy you use, our guide provides some handy tips on how to save money with a pre-pay meter.
What happens if you run out of credit on a prepayment meter
If you have ran out of credit entirely, your energy supply will be cut off. Once you get below a certain amount of credit, many meters will beep to alert you that your balance is low.
If you run out of credit, some meters will continue to run on 'emergency credit' – usually £5 of electric and £10 of gas credit. The amount you use will be deducted from the total next time you add credit to your meter.
Newer meters, marked KBB, KBC or KBD, offer credit if your balance runs out between 8pm and 8am which ensures your energy supply will stay on overnight.
Furthermore, if you are unfortunate enough to either lose or misplace your meter key or smart card then you'll need to get in contact with your supplier as soon as possible to arrange the delivery of a replacement. 
Most suppliers are in a position to ensure that you don't go without any energy before your new key or card arrives by authorising a temporary card from your nearest PayZone, PayPoint or Post Office location.
How to switch from a prepayment meter to standard credit meter
If you would like to switch from a prepayment meter to a standard credit meter or a smart meter, you will need to contact your energy supplier.
None of the big six energy suppliers currently charge to change your pre-payment meter to a credit meter, however some suppliers may still have a charge in place for doing this. Your supplier will require your account to be debt free and may run a credit check to confirm you are suitable for a direct debit plan.
What if your new home already has a prepayment meter installed?
If you've recently moved home, whether buying or renting, and you've discovered that your new abode has a pre-payment meter installed, then there are couple options for you to consider. Take a look at our moving home and managing your energy supply guide for more information.
Can you still switch energy supplier with a prepayment meter?
You can still switch supplier with a pre-pay meter. Although there are fewer tariff options with a pre-payment meter, Love Energy Savings can help you find the best plan available.
To compare the best energy tariffs available to you, simple complete our energy comparison tool.
If you'd like to read more guides like this from the experts at Love Energy Savings, take a look at our latest energy guides and advice.