| Energy Guides and Advice
Warehouse Energy Efficiency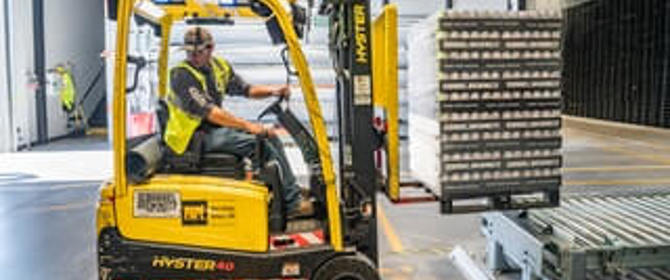 At Love Energy Savings, we speak to hundreds of people every year who are looking into business energy for warehouses. The process can seem overwhelming, especially considering the recent hikes in energy prices, despite the Government help available to businesses. Even when consumers have secured an energy contract, they still have to think about all the different types of energy and the ways that they can improve efficiency. 
Warehouse business energy efficiency is not just about switching suppliers. People who manage warehouses can also make a dent in their energy bills by carefully considering how they use water, energy, heat, and light. Our experts have compiled some of the easiest ways that warehouse owners can consume less energy and combat increasing energy prices. 
Increasing Energy Prices 
As reports about big price hikes loom over the UK, warehouse energy efficiency is a more popular topic than ever before. Mass media is focusing on the impact on homeowners' energy bills, with lots of resources to help home energy customers, but business owners will also feel the impact of price increases. 
No one is exempt from energy price increases, which means that domestic and business energy consumers alike are scrambling to find the best deal as soon as possible. With more and more businesses being impacted by the energy crisis, it is no wonder that warehouse owners are looking for solutions. 
Energy efficiency is not just about saving money. Sustainability is at the forefront of everyone's mind, especially since the government announced its goal of net-zero emissions by 2050. By implementing efficiency rules, business owners can create conscientious brands that are bound to catch the attention of eco-friendly consumers. 
Tips for Warehouse Energy Efficiency
E-Commerce, delivery, and drop-shipping businesses all need warehouses. Lots of business owners choose to operate warehouse-only models and eliminate the need for brick-and-mortar shops entirely. In this kind of model, warehouses are a more affordable option, but business owners must beware of rising energy costs. Now that everything from heating to lighting and even water is increasing, warehouse business energy is under intense scrutiny. 
Here are a few of the best energy efficiency tips for warehouse managers.
Choose the Right Heating System
When considering warehouse energy efficiency, it is important to remember the human factor. Warehouse owners might be overly concerned about keeping their stock at a certain temperature, but they also have to provide suitable working environments for their employees. 
There are two main types of heating models: warm air heating and radiant heating. Warm air heating is by far the most energy-efficient way to heat a warehouse. True to its name, warm air heating systems heat the air in the space. 
Lots of warehouses have high ceilings, which can be a problem for this kind of heating system. To solve this problem, we recommend installing suspended fans. Suspended fans recirculate the warm air downwards so it does not seep out of the roof, meaning that employees can stay warmer for longer.
Use Passive Heat Sources 
This is one of the often overlooked yet easiest ways to cut down on business energy for warehouses. Passive sources of heat can be anything from FLTs, compressors, or even employees!
It is no secret that the human body emits heat, but this fact is often not worth considering in ordinary circumstances. However, when you put dozens of people in a small space, they could generate enough heat to lessen your reliance on heating systems. 
Of course, this is not an exact science. If you have 20 employees in your warehouse on Mondays and 50 on Tuesdays, it is worth asking them whether they notice a significant difference in the temperature. If they report that it is too hot on Tuesdays, you can reduce the temperature of your boiler and save a few pounds. 
Recycle Rainwater
A guide on warehouse business energy would be incomplete without mentioning water. Large warehouses use hundreds of thousands of litres of water every year. Water is such a fixture in day-to-day operations that it can be easy to forget about, but water energy efficiency tips can save you a lot of money in the long run. 
Environmentally-conscious business owners should consider buying a rainwater harvesting system. These systems sit on the roof of a property and collect rainwater. There is a filter in the system which removes debris and natural materials. The filtered water passes through to a holding tank where it is ready to be pumped to different parts of the property.
It is important to note that rainwater harvesting systems do not produce drinkable water. The water that these systems collect has to be pumped through a dedicated pipe so that it does not mingle with drinking water. 
Reuse Grey Water
If you want to take your warehouse energy efficiency measures one step further, you can reuse grey water. Grey water is water that your employees have already used in non-toilet plumbing systems such as washing machines, showers, and sinks. 
Grey water can be repurposed for flushing toilets and irrigating gardens. This might seem like just a small snippet of your overall water usage, but every little helps! 
Switch to LED Light
In discussions about business energy for warehouses, business owners often forget about the impact of lighting. Lighting might not be too big a concern for homeowners who want to reduce their bills, but warehouse owners would be foolish to forget about these essential fixtures. 
We recommend switching all the bulbs in your warehouse to LED lights. LED lights have a lifespan of around 5,000 hours, which is around 3,500 hours longer than an average incandescent bulb. They are much more energy efficient and they are also brighter than average bulbs which means that your employees will never be left in the dark.
Invest in Timers and Motion Sensors
Motion sensors and timers might seem like no-brainers for warehouse energy efficiency, but it is surprising how many warehouse managers forget about them.
Motion sensors are a great addition to LED lights. They ensure that you only pay for the amount of electricity that you need. 
Timers are essential for people who do not operate 24/7 warehouses. A lot of warehouses are only operational between normal working hours, which means that there is no need to have the boiler running at night. 
Read our Commercial Energy Savings Guide for more top tips. 
Switch Warehouse Business Energy Suppliers
Some business owners spend weeks implementing energy efficiency tips, only to discover that the returns are not comparable to the time and energy that they put into the project. In this situation, switching energy suppliers is a quicker, more time-effective way to reduce energy bills. 
Switching warehouse business energy suppliers can seem like a daunting task, especially for business owners who do not have free time to dedicate to research. Luckily for them, our experts have created a business energy comparison generator. With our generator, it has never been easier to survey suppliers and find the best deal. 
Here is how it works. 
Add a few simple details into the generator.
Press compare now. 
Select a suitable tariff 
Within 60 seconds, you will see a long list of suitable suppliers. Then, you just have to choose a supplier that meets your needs.
Visit our business energy page for more information.