Homepage

>

How Can Businesses Reduce Their Carbon Footprint?
How Can Businesses Reduce Their Carbon Footprint?
Climate change certainly is a hot topic at the moment and quite rightly so. According to estimates by scientists and global leaders, the temperature of the Earth can rise no more than a further 2 degrees before climatic disaster strikes. With this in mind, the Department of Energy and Climate Change have released the latest figures detailing the UK's greenhouse gas emissions for the first quarter of 2015 (January to March).
As expected, the figures only showed small changes in the volume of emissions being released into the atmosphere; actual emissions were roughly the same for the year leading up to Q4 2014, measuring in at 1.4 MtCO2e, or a 0.3% increase. However, the report states that Q1 of 2015 was actually 1.3 degrees Celsius colder than in the same period last year. So when the figures are adjusted to suit the temperature changes, greenhouse gas emissions from the UK have decreased by 5.3 MtCO2e, or by 1%, compared to the year up to Q4 2014.
Although there was a slight decrease in the amount of greenhouse gases released by the UK, there is still plenty more work to be done before the world is free of the dangers of climate change. The Climate Change Act was established in 2008 to set the first legally-binding targets for climate change in the world. The Act states that the UK's greenhouse gas emissions must be slashed by 80% (set against 1990 figures) by the year 2050.
Reports and opinions over the past few years have been divided on whether the UK is on track to meet its goals in 35 years' time, but recent statistics have been positive. In February 2015, the Office for National Statistics revealed that 15% of the UK's electricity was being produced from renewable sources in the year 2013. Although this was two years ago, it meant that the UK was already halfway towards its renewable energy commitments, which is good news for future projections.
How can businesses help?
The smallest businesses in particular may not believe that anything they do will have an effect on the country's greenhouse gas emissions, but every little bit really does help. In order to reach these ambitious targets, the UK government has even set out plans to help businesses cut their own emissions through the 2010 to 2015 Government Policy on Greenhouse Gas Emissions. This policy states that the UK can achieve "significant reductions" in greenhouse gas emissions if "businesses, the public sector and households reduce their demand for energy".
Part of the government's plans include offering smart meters to certain industries, businesses and companies working in the public sector. Through the Green Deal they will be working to improve the energy efficiency of properties, therefore decreasing the amount of energy that these buildings need to heat them, as well as through providing incentives to organisations in both the public and private sectors who integrate energy-efficient technologies.
But that's not all, there's plenty that businesses can do themselves and many of the measures are not only incredibly easy to implement, they will cut back on greenhouse gas emissions and will also save you money on your business energy bills! Read on for our top five tips for giving your workspace an eco-friendly makeover.
Go digital
Send emails rather than printing off documents, especially when it comes to transferring things between colleagues in the same office. Not only does paper add up to be one of the biggest costs for an office, it is also damaging to the environment; it really does grow on trees! Before you hit print, ask yourself whether it is entirely necessary and only print when you really need to. And if you do have to print, get sustainable paper in the office made from recycled card.
Pull the plug

So many of us are guilty of leaving plugs switched on in the office overnight. We're not working all through the night, so why are we leaving our computers on? Before you leave in the evening, turn off as many plugs and appliances as you possibly can. Unplug things like phone chargers once you are done using them and switch off lights when you leave a room. If the lights must be on all day, such as in the main office, use energy-efficient lightbulbs.
Wise up on waste
A huge amount of a business' waste can actually be recycled, so why not make it easy for everyone in your office to do their bit? Designated bins for glass and plastic in the kitchen are great places for people to sort out their rubbish, and paper bins near photocopiers and printers will encourage people to recycle their paper. If you think it's going to be a chore, get everyone to pitch in with taking the bins out of the office - it is in everyone's best interests after all!
Switch your business energy supplier
Many suppliers now offer partially green or completely green business energy tariffs where most or all of the electricity supplied is generated by renewable sources. Earlier this month, the Competition and Markets Authority (CMA) released the results of a year-long investigation where they discovered that millions of domestic and business energy customers in the UK were paying far more than they needed to for their gas and electricity. It can take just seconds to compare your business energy online, and it could not only save you a lot of money, but it's also a quick and easy way to do that extra bit for the environment.
Organise carpools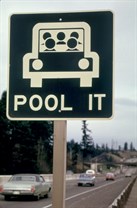 Like we've mentioned, every little bit really does help, so make sure your employees are all on board with your new environmentally-friendly policies. Gather everyone together in a meeting and find out if any people live near each other. If two people do and they both drive, suggest they alternate and share a carpool. If more than two live nearby then even better! This will massively cut down on petrol for your staff and have a huge effect on your business' emissions.
There are so many ways that business owners can reduce their carbon footprint, from tiny little changes such as recycling bins to large office-wide transformations. Look at your work environment and try to establish how you can make it more environmentally friendly in a way that suits your employees and your budget. From keeping the heating levels under control and using LED lightbulbs, to adding windows and blinds that trap the warmth in, there is always a way for any business to do their bit for the environment.