Homepage

>

Powering your home with renewable energy
Powering your home with renewable energy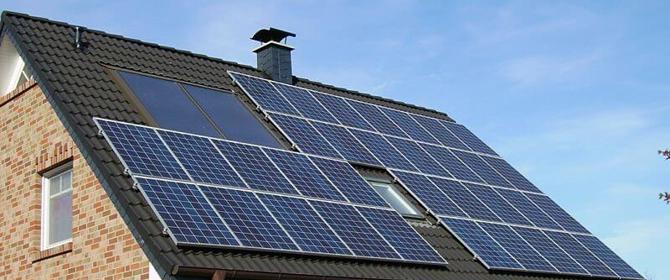 There are multiple benefits to sourcing renewable energy. As it becomes more accessible, should you power your home with renewables?
The UK government has committed to investing more into renewable energy. Less reliance on fossil fuels mean cheaper energy prices for our households. Not to mention that it is much better for the environment. Prices will be lower because we cannot run out of sun or wind, unlike coal and gas. 
But how realistic is it to have a carbon-neutral home?
Renewable energy suppliers
Green energy suppliers are becoming more common in the UK. Octopus and Green Energy UK offer electricity tariffs with renewable sources like solar and wind energy. These energy tariffs are actually good value too.
The best way to make your first steps towards a more sustainable home is by choosing an energy contract with 100% sources renewable energy. Our comparison engine offers a range of tariffs and includes renewable tariffs.
Investing in environmentally-friendly energy
Many homeowners are investing in generating their own energy. This is commonly known as micro generation. Whilst it may not provide all the energy the household needs, they are not as reliant on energy suppliers. 
Solar Panels
One of the most popular ways of generating energy is by using solar panels. To install you need space on your roof. Whilst you need to invest upfront, overtime it will pay for itself. You can get some of the cost of installation covered by taking advantage of the Governments Green Homes Grant Scheme.
Some homes may be able to generate a modest profit by selling surplus energy back to the grid.
Biomass Boilers
Biomass boilers are growing in popularity. This powers your home using wood fuel. It is not as popular as solar panels but is very effective at producing clean energy. Biomass boilers require a lot of space so many people in the UK prefer solar panels.
Wind Turbines
If you're home isn't short of space, wind turbines generate a large amount of energy. For most, this isn't a viable option. The Energy Saving Trust estimates a 6kW pole-mounted turbine could save you £250 a year on electricity bills. You will need land and planning permission to install one.
Home Electrical Vehicle Charging
Electric vehicles are becoming more popular in the UK. Electric cars are much cheaper to run but it does demand more electricity from your home. It also means you will need to invest in a charging point.
To become a carbon neutral home, you will need to consider renewable energy options. The UK Government has committed to phasing out the use of petrol and diesel cars by 2030. Whilst this means there's going to be lots of EV charging stations, it would be much more of a comfort to be able to charge your car at home.
Many wish to become more carbon neutral to save money with the bonus of helping to save the environment. Of course, this does not need to cost you large amounts of money to invest in solar panels and biomass boilers. A great way to start is to simply choose a green energy tariff. You can compare energy tariffs here.