| How It Works
Understanding Your Home Energy Bill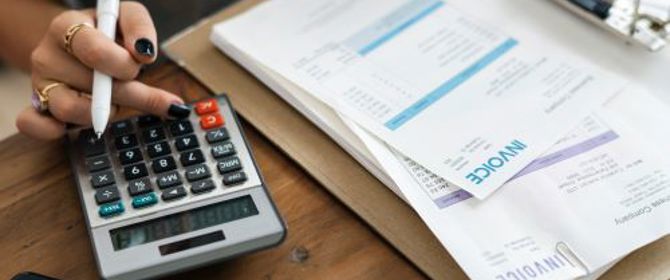 Research has shown that around 60% of people find their energy bills confusing [1].
If you're part of this bewildered batch, don't fret! We know how important it is for you to understand your electricity bill, and we're here to clear up some of the factors that may be leaving you particularly perplexed.
What Makes Up My Electricity Bill?
To help improve your understanding of your electricity payments, here's an example of a sample monthly bill: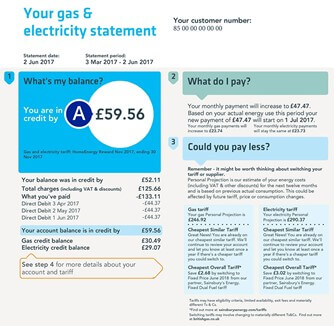 As the image shows, the following factors are typically referenced on your electricity bill:
Your account number – These digits are unique to your household and electricity supply; it helps your supplier identify you from other customers. You should make note of this number as if you ever need to contact your supplier, you're likely to be asked to provide it.
Your electricity supply number – Also called a Meter Point Administration Number (MPAN), this consists of 21 digits that are specific to your property and it typically has the letter 'S' in front of it. This number will be included on all of your electricity bills and you may be asked to provide it if you switch suppliers.
The name of your chosen tariff – Your tariff name is an important piece of information that you will need in order to compare energy prices and switch suppliers. Often, the name of your tariff will include the month and year you signed up for it, for example, Better Energy March 2021. We recommend using the specific name when comparing tariffs online, as this will provide more accurate results.
Your usage for the last period and the cost – An outline of your electricity usage for the previous period should be provided in kWh (kilowatt hours). The pricing for this consumption should also be provided. This will include your tariff's standing charge, the unit rate multiplied by your consumption, plus VAT.
Your current balance – Your electricity bill should display your current balance, with details informing you of whether you are on a debit or credit. If you are in debit, the amount will be preceded by a minus sign.
Details of your direct debit – If you pay for your electricity via a direct debit agreement, your bill should make reference to your direct debit amount. This information will usually be positioned near details of your previous and current balance so that you can measure whether your monthly payments are suitable for your usage.
Your annual electricity usage (kWh) – Your electricity bill should include information on your annual usage thus far and the cost of this. Your supplier may also provide you with an estimate of your expected consumption for the next 12 months; you can use this data to compare energy deals for the next period. To ensure that your bills and estimates are accurate, it is recommended that you provide frequent meter readings.
Details on your tariff's start and end date – Your electricity bill should also inform you of key dates such as your contract's start and end date. You should ensure that you make note of these dates so that you can switch suppliers in time and avoid being placed on an expensive rollover contract.
Your tariff's unit rate – The bill for your electricity will typically feature information regarding your current unit rate for electricity. This rate will be applied to your electricity consumption to make up your bill. If you are on a fixed-rate energy contract, your unit rate will not change for the duration of your agreed contract term. However, if you are on a variable-rate contract, your unit rate can change each month in accordance with wholesale energy prices.
Your tariff's standing charge – This is a daily fee that you pay to your energy supplier for delivering your electricity to your property. This charge covers the cost of factors such as network maintenance, meter readings, transportation and distribution.
Exit fee – If you need to cancel your electricity tariff before it is due to end, you're likely to be charged an exit fee. Your electricity bill should inform you of how much this fee is likely to cost. Alternatively, your supplier may simply provide you with the contact details of who to communicate with to find out what cancelling your contract may entail.
VAT – Finally, your electricity bill should inform you of how much VAT (Value Added Tax) you are being charged. For domestic customers this is usually 5%, meanwhile, businesses can expect to pay 20%.
Discounts and information on cheaper tariffs – Many suppliers include a "Could you pay less?" section on their bills. Here, your energy provider will highlight whether you could save on a different tariff (with the same supplier) or if you're currently on the cheapest deal. Be sure not to skim past this section, you could be provided with an opportunity to save!
Is There Anything Else I Should Know About My Energy Bill?
Here are a few more useful pieces of information that could help you better understand your electricity bills and help you save in the future.
What is kWh?
Kilowatt-hour (kWh) is a unit for measuring the amount of energy you use. 1 kilowatt hour equates to 1,000 watt-hours. Thus, if an appliance rated at 1,000 watts is used for one hour, you'll be billed for 1 kWh. Take a look at our useful energy guides to find out how you can reduce the energy you use at home or at work.
How A Smart Meter Could Help
Most energy providers offer smart meters to their customers. If you forget to provide frequent meter readings, you could be overcharged for your electricity. With automatic readings, a smart meter can help to ensure that your bills are accurate. They also allow you to monitor your energy consumption and provide an opportunity for you to improve energy efficiency and save on your bills!
Visit our guide on smart meters to find out more.
You don't have to wait until your contract end date to compare energy deals!
Although your electricity contract will have a set end date, you are typically allowed to organise a switch approximately 49 days prior; this is known as your renewal window.
Comparing energy deals sooner rather than later can help you get a better idea about the prices and deals on offer. It can also help you avoid being automatically moved onto an expensive standard energy tariff.
If your gas or electricity contract is coming to an end, Love Energy Savings can help you compare energy prices to find a cheaper deal. Simply try our free comparison tool today and we'll find you some of the best energy deals available on the market.