Homepage

>

Compare Warehouse Gas and Electricity Suppliers
Compare Warehouse Gas and Electricity Suppliers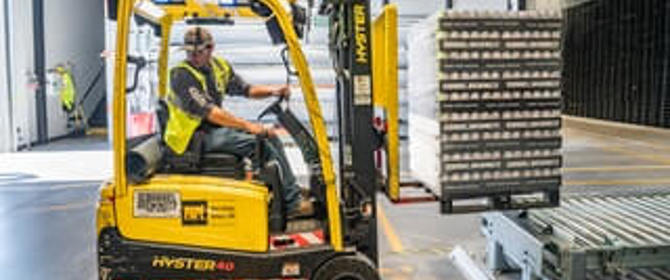 Many warehouses across the UK pay very high energy bills. By comparing energy suppliers with Love Energy Savings, you can ensure that you are not overpaying for the energy you use.
Warehouses use a lot of energy, particularly on lighting, heating and cooling systems. This is a major expense for businesses and can eat into your profit margins. Most operators may not be aware if they are on the most cost-effective tariff for their use.
Changing energy supplier can feel like a low priority for many businesses, especially when there are so many suppliers to choose from.
At Love Energy Savings, we can help you find the best energy deals for your warehouse and provide support throughout your switch to make the entire process simple and hassle free.
Reduce your warehouse energy bills
For businesses operating warehouses, energy bills can represent up to a quarter of their costs. If you're overpaying for the energy you use, this can be a significant cost for your business.
If it's been a while since you compare energy suppliers, you're likely to be paying more than you need to for your business gas and electricity.
When businesses fail to renegotiate or switch supplier at the end of their contract, they will often be moved on to a rollover contract. Average rates for these deals can be up to 80% higher than your original contract.
By comparing business energy suppliers with Love Energy Savings we can show you the cheapest tariffs available that match your business needs and give you the best value.
We will even stay in touch with you to ensure you can switch to the best deal available at the end of your new contract ensuring you're never left overpaying for your business gas and electricity.
Why choose Love Energy Savings for your warehouse energy switch?
Switching process managed for you
We will assist you through the process from start to finish, ensuring you can choose from the best energy deals available in your area.
Compare a wide range of energy suppliers
Love Energy Savings will show you instantly the tariffs of over 50 suppliers of energy and gas.
Dedicated Account Managers
Hassle free – we ensure the process is simple and stress-free, with our dedicated account managers on hand to support.
Track your switch online
Our innovative 'Track My Switch' tool allows you to stay up to date with the progress of your switch online
Warehouse energy saving tips
The best way to start is to understand how much you spend on energy, when you use the most energy and who your energy supplier is.
Once you understand how much you are currently paying, it can be helpful to set a target for how much you want to save and identify areas where efficiencies can be made.
Research by the Carbon Trust has shown that over half of the energy used for heating, lighting and powering equipment could be saved by simply adjusting business practices.
Save on heating and cooling
Heating and cooling is the biggest consumption cost for many warehouses. This can be reduced significantly by ensuring ventilation remains constant and not leaving exterior doors open for long periods.
For those that have regular incoming and out-going vehicles, it is worth exploring whether intake and dispatch areas can be segregated from the rest of the warehouse.
Switching to LED lighting
Equally, by simply switching to LED lighting or high-frequency fluorescent lighting, you could say as much as £131 per annum per fitting. They also have reduced maintenance costs. Utilising any existing natural light at relevant times of the day and ensuring that lighting in areas that are not frequently used is switched off can also generate significant savings. Occupancy sensors can be a good solution.
Go electric
For those using forklifts, switching to an electric vehicle can save you significantly on running costs and are a more energy-efficient solution.
Electric forklifts are quiet, manoeuvrable and don't create fumes affecting air quality. Businesses need to consider how to schedule recharging, but now is a great time to invest in EV chargers and take advantage of government subsidies.
Turn off appliances
Warehouses, like offices, have electronic equipment such as computers, printers and mobile devices which use a lot of energy. Again, encouraging staff not to leave electronic devices on overnight and unplug chargers and equipment when not in use can all make a big difference to your energy bills. These changes can also help to reduce the risk of electric fires.
Love Energy Savings will contact you when your new contract is coming to end to ensure your charity always stays on the best energy deal available.
Switch your warehouse utilities in one place with Love Energy Savings
We are on a mission to make sure no business in the UK is overpaying for the utilities they use. Your warehouse can now switch your business electricity, gas, and water in one place with our team of experts.
Electricity costs in warehouses can be significant. Find out how much you could save by switching electricity suppliers with Love Energy Savings.
Reduce your warehouse heating costs by comparing business gas tariffs in as little as 60 seconds.
Many businesses are still unaware they can switch water provider. Make sure you keep your water costs down with our expert water comparison service.