| Our Sectors
Gas and Electricity Suppliers for Office Spaces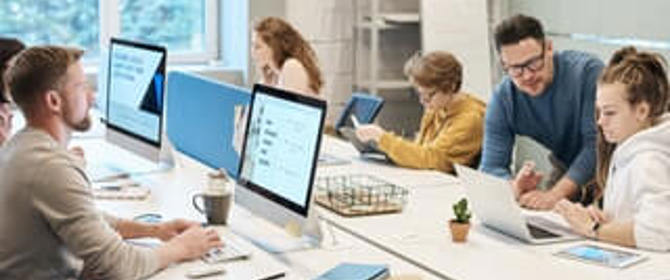 Office environments are heavily reliant on energy to power lighting, computers, appliances, and their heating and cooling. However, this can lead to businesses receiving huge energy bills at the end of each month.
Many companies are aware that they can reduce costs by changing the way they use energy and ensuring they are on a great value energy contract but are put off at the thought of contacting dozens of energy providers and dealing with the admin of switching.
That is where we come in. Love Energy Savings have helped hundreds of thousands of customers switch energy supplier without the hassle. By providing us with just a few details about your current supplier, your business address and a few contact details, you can compare the latest energy prices on the market in seconds.
Reduce your office store's energy bills
With offices so reliant on energy, it's vital that to ensure that your business is on the best gas and electricity deal possible.
If your business hasn't switched supplier for a few years, or if you've never switched, it is likely that you will be paying far too much for your business energy.
Businesses who fail to renegotiate at the end of their contract will be placed on expensive rollover contracts with their supplier.
By comparing business gas and electricity with Love Energy Savings, you can find the cheapest prices from a wide range of business energy suppliers, allowing you to switch to a tariff that suits the needs of your business.
Along with switching energy provider, there are plenty of ways to reduce the energy bills in your office.
At Love Energy Savings, we don't just help you switch to the cheapest available energy supplier, we also commit to contacting you when your contract is up for renewal so you never have to worry about overpaying for your energy bills again.
Why choose Love Energy Savings for your office energy switch?
We negotiate with energy suppliers on your behalf
Saving you time and hassle.
We have helped over 300,000 customers switch supplier
You can be confident that we are a trusted partner for thousands of businesses.
We are rated excellent on Trustpilot
We're proud to be rated as excellent on Trustpilot based on over 10,000 customer reviews
You can track your switch online
Our innovative 'Track My Switch' tool allows you to stay up to date with the progress of your switch online
Office energy saving tips
We don't think most businesses need much persuading to save money on their energy bills. Reducing your energy consumption can be done very simply and you can start today. Not only do you save money on running your office, but you also will be reducing your company's carbon footprint.
Light it up! (when needed)
Consider ways to ensure your office makes the most of any natural light in your office space.
Inevitably you will be using some artificial light, particularly in winter but there are several things you can do to make your lighting more energy efficient.
Make sure your lighting is LED where possible as these bulbs use the least amount of energy, are affordable and are available in a wide range of styles and sizes.
Many offices have people coming in and leaving at different times and often lights don't always get turned off during the night. Consider asking staff to take responsibility for turning off the lights when they are the last to leave. If this isn't feasible, consider installing timers or movement sensors.
Your office computers can also form a significant portion of your business electricity bills. Despite this, it is common for computers to be left on overnight by many employees. Encouraging employees to turn off their computers and other devices overnight can save up to £35 per desk per year.
Keep your staff cosy and warm, but don't waste energy
The average office uses a third of their annual energy consumption on heating their office space, so what can you do to become more energy efficient?
Many employees are not as mindful of energy conservation at work as they are in their own homes, but the costs to the company and the environment can often be significant.
Ensure that thermostats are set between 18-25ºC and be ready to turn them down if staff are too hot.
Staff will often open windows on cold days when heating systems are running but this means the heating system uses far more energy and should be avoided.
Use timers to match the hours when your office is in use and ensure they are functioning correctly.
Finally, confirming that your boiler is serviced regularly is also worth prioritising. Although there is a cost involved, a well-functioning boiler can be as much as 10% more efficient.
Switch your office utilities in one place with Love Energy Savings
At Love Energy Savings, we want your office to get the best deal possible on all your utility bills.
Want to reduce the amount you spend lighting your office? Compare business electricity prices today and find out how much you could save.
Don't overpay for your office gas bills. Find out how much you could save by comparing business gas suppliers with Love Energy Savings.
Did you know you can also switch your office water supplier? Find out how our expert water team can help you reduce your office's water bills.
Office Sector FAQs
How long does it take to switch business energy suppliers?

Businesses should be prepared for their energy switch to take longer than the domestic energy switching process.

Although timescales do vary, an average business energy switch will take around 4-6 weeks.

Can I compare energy suppliers for more than one office?

If your company has more than one location, you can consolidate your bills with a multi-site energy deal.

This means your meters can be consolidated into one account, making it easier to keep track of your energy costs and usage across your offices.

Our energy experts will be available to provide the advice you need on multi-site contracts to help you find the best deal for your business.

Do I need to pay an exit fee when switching energy for my office?

If you are still under contract with your current energy supplier, you may be charged an exit fee for ending your contract early. Before cancelling your current energy deal, you should check with your supplier if you will be required to pay an exit fee and factor this into any savings you will make by switching.