Compare Home Utility Suppliers
Get a comparison & start saving now!
Save an average of 40%
Compare home utility prices in seconds!
Compare Utilities with Love Energy Savings
Find Out How Much You Could Save With Our Quick Utility Comparison
Nobody wants to be left overpaying for their home utilities. Yet switching gas, electricity and dual fuel provider can seem like a hassle.
We've developed strong relationships with a huge range of suppliers giving you access to the best home energy prices possible.
To find out how much you could save, simply complete our home energy comparison tool.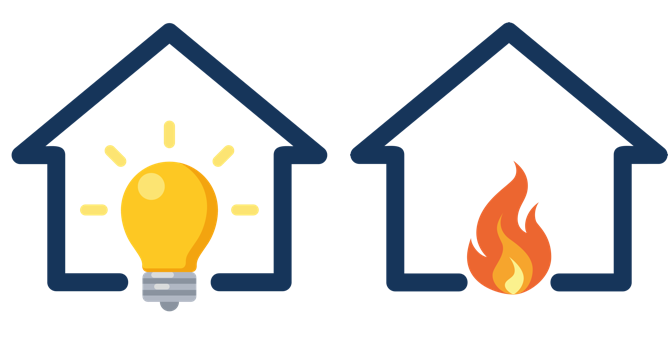 Our Simple Utility Comparison Service
Trusted Suppliers

Complete a free comparison of a wide range of trusted suppliers

Exclusive Online Prices

Choose from the cheapest dual fuel tariffs on the market

Complete your switch online

Complete and track your switch online with our 'Track My Switch' tool

12k+ Trustpilot Reviews

We have an excellent rating from over 12k Trustpilot reviews
Save more by switching utilities with Love Energy Savings
If it's been a few years since you switched, or you've never switched at all, you'll likely be on your supplier's default standard variable tariff.
This is often the most expensive tariff your supplier will provide, meaning you could be throwing money away every time you pay your energy bill.
If your current contract is coming to end, in most cases you will be moved on to this tariff if you don't switch to a better deal.
By running a utility comparison with Love Energy Savings, you can find the best energy prices on the market and make significant savings.
Helping to find the best utility deals for you
At Love Energy Savings, we understand that everyone has different requirements for their home energy.
Whether you're searching for the cheapest provider, a green energy deal or a no standing charge tariff, we can help you find the best utility deal for you.
By using our comparison engine, you can quickly compare a wide range of tariff options and prices to ensure the energy supplier you choose meets your exact requirements.
Making it easy to switch utilities
Our goal is to make the switching process as simple as possible for all our customers.
Once you've found the best energy deal for you, our team will let the supplier know you that you'd like to move to their tariff.
We'll even let your old utility or energy supplier know you'll be switching, so you don't have to make any awkward phone calls to cancel your current deal.
Your switch should only take up to 21 days to complete – including a 14-day 'cooling-off' period which allows you to cancel the switch without any fees.
All that's left for you to do is provide a meter reading so your old supplier can send you with a final bill.
It's as easy as that!
What information do you need to compare utilities?
Before comparing utilities, we would recommend that you have the following information to hand:
The name of your current supplier
How you currently pay for your utilities
They type of tariff you're on
Your approximate gas and electricity usage
Even if you can't find all the information above, you can still compare utility prices. All you need to do is answer a few simple questions and our comparison engine will estimate your usage to find you the most accurate quotes possible.
Get your quote today by comparing with Love Energy Savings
At Love Energy Savings, our aim is to make it as simple as possible to compare the best electricity and gas prices available.
So why wait? Find out how much you could save today by completing our quick energy comparison calculator.
Will I lose supply when switching utilities?

When switching utilities, you will not lose your gas or electricity supply.

The Energy Switch Guarantee allows domestic customers to use their previous supplier right up to the moment you switch to your new supplier.

All the gas and electricity you use comes through the same wires, cables and lines, so you shouldn't notice any difference on the day of your switch.

Can tenants switch utilities?

It is a common misconception that tenants cannot change switch utilities.

If you are the bill payer and you are named on the account, you can compare utilities and switch to a better deal.

If the utilities are paid by your landlord or you are re-billed by landlord, you can ask them to change utility supplier.

Can I compare business utilities with Love Energy Savings?