Flexible & Local Commercial Waste Disposal
Get a free quote from a commercial waste disposal service you can rely on.
Commercial Waste Disposal That Fits Your Needs 
As a part of our mission to save UK businesses money, we have extended our expertise in finding our customer's savings to another essential service, business waste collection. 
Whether you're looking for standard business bin collection, trade waste or something more specialised, we'll help you find a reliable local provider. 
Simple online switching process 

Save up to 50% on waste collection 

Flexible Commercial Waste Collection 
Business Waste Collection You Can Rely On
Using our innovative comparison engine, we search for a trusted panel of business waste collection providers near you. We specialise in everything from small business waste collection to more specialised requirements. The simple online switching process takes just minutes to get a quote.
Business waste disposal is a part of the day-to-day operations of any company. Every business requires commercial waste services as much as they require any other basic business essentials. 
No matter your commercial waste disposal needs, we can find the right provider for your business. Once you have agreed to a deal, you can carry on doing what you do best as we'll take care of the rest.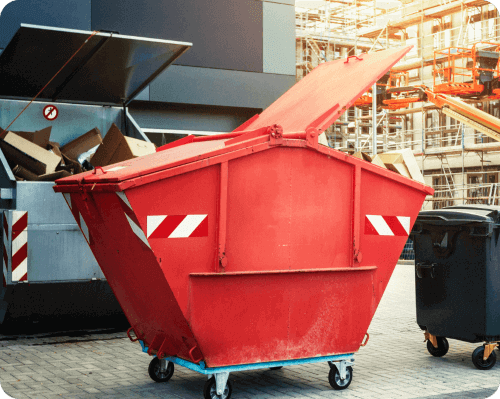 How To Switch Commercial Waste Disposal Providers?
Compare

Enter your waste disposal requirements, and we will recommend the best services in your area.

Select Your Provider

Once you've reviewed your quote, simply decide if the service is right for your business.

Enjoy your savings

With up to 50% savings, you can sit back and relax. We'll handle the switching process for you.
What Counts As Business Waste?
Business waste could be anything from general office or builders waste, right through to hazardous waste. Any waste that comes from any commercial activity no matter the size of the business is considered business waste. Every business in the UK has a legal duty of care to manage its waste properly until it is disposed of, this includes any waste produced from construction, demolition, industry and agriculture.
All businesses must deal with waste at some point and we're here to help you find a reliable local provider near you. You cannot take any commercial or trade waste to recycling centres as they are strictly for households only, and that's where we can help.


Our Commercial Waste Disposal Services
We can help you source various business waste disposal services from reliable local companies. With low-cost solutions for waste disposal, collection and commercial recycling; our innovative quote engine will find you a local licensed supplier in just 60 seconds.
Waste Disposal - we'll find a local specialist to remove commercial waste safely, meeting your duty of care. 
Waste Management - a smooth waste management process is essential for any business. We will help you find a local provider with competitive solutions. 
Recycling Services - we'll get quotes from your local recycling specialist - it's important to recycle as much as possible. 
Not all business waste is equal; they are split into a few different categories. Businesses have much more responsibility than you would typically think - they're responsible for correctly splitting the waste, storing it in suitable containers and legal requirements for proper waste management.
Check below to find out about which types of business waste categories you fall under:
General Commercial Waste Collection
This is your common everyday waste produced in the workplace. This is the non-recyclable stuff you would normally place in your general household bin. All businesses will have this type of commercial waste no matter the size of the business or the industry they operate in. 
Mixed-Recycling 
This is self-explanatory - this is all the commonly recycled waste produced by businesses including cardboard, paper, plastic bottles and tins. These first two waste types are popular waste management services used by offices and general workplaces. 
Companies will be required to keep all this recycling in separate bins to avoid contamination before waste removal. 
Glass Waste Collection
Glass waste can be a little more industry-specific. A popular commercial waste collection service in the hospitality industry, this is for businesses that produce lots of glass-type waste. This is often empty glass bottles, drinks bottles and any broken glass. 
Glass waste requires a dedicated bin separate from other types of waste and must be correctly labelled so any waste carrier can identify what it is. 
Hazardous Waste Management
Extra care is required for any type of hazardous waste removal. Hazardous waste is defined as any product that can cause harm to people or the environment. This can be lots of different things and is often more than you may realise.
Common hazardous waste items include chemicals, batteries, solvents, motor oils and WEEE goods.
Confidential Waste Collection
A service popular in the professional services industry, confidential waste management has strict guidelines to protect the data and confidentiality of the information being disposed of. This waste collection service handles the correct disposal and shredding of personal files, financial records, health documents, social care information and criminal records.
Under GDPR regulations, your business could be fined up to 4% of the annual turnover, or €20 million (whichever is greater).
Food Waste Disposal
Any food that has been sold commercially and has not been consumed entirely must be discarded correctly. This type of commercial waste is almost unavoidable in offices, shops, restaurants and other hospitality businesses. Many businesses that choose to segregate food waste do so to meet sustainability goals to help the environment.
Commercial Recycling Services
Despite it not being a legal requirement to separate paper, glass and plastic, there are benefits to organising a recycling plan when arranging your waste disposal. We can offer a range of competitive recycling quotes alongside your commercial waste needs to help your company contribute to saving the environment.
There are a few benefits to recycling rather than dumping all waste in landfill:
Lowering Your Carbon Footprint - the obvious but one of the most rewarding for your business is lowering your carbon footprint. When you recycle your business waste it diverts your waste away from landfill and can be a strong first step (alongside choosing a green energy tariff) to becoming a more responsible business
Improved Corporate Reputation - once you start your journey to disposing of waste more responsibility, this messaging can be included in your marketing materials. This could mean better customer retention, and you may be more likely to attract new customers.
Commercial Waste Disposal By Sector

As we find the best quotes from a range of commercial waste providers, we can find specialist providers with expert knowledge and experience to deal with any type of waste including:

Request a free quote for a reliable waste collection service here.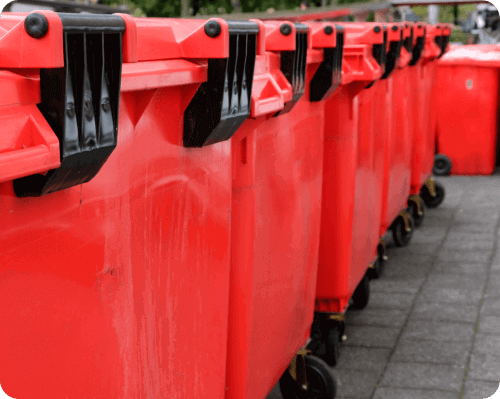 Hazardous Commercial Waste Disposal 

We can provide your business with safe, quick and easy hazardous waste management. During your online quoting journey you will be able to specify the type of waste service you require.

Your chosen hazardous waste carrier will be able to safely dispose of everything from asbestos, tattoo shop needles, barber blades and beauty parlour injections to name a few.

It is crucial that hazardous waste is disposed of safely. If not handled in the correct way, it can cause serious damage to the environment and wildlife. Incorrect disposal can also lead to some serious penalties.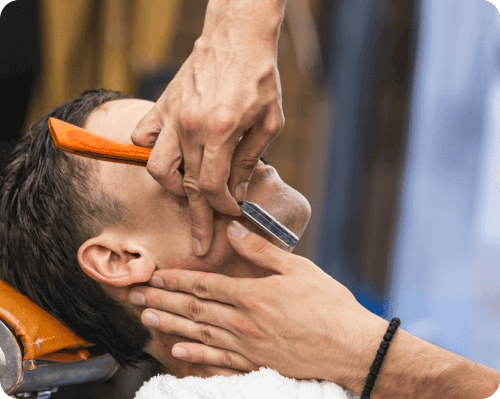 Business Bin Collection 
If you're looking for a simple commercial bin collection, you're in the right place. We'll help you find a competitive price for your exact requirements including general waste bins, recycling waste bins or any specialist waste bin collections required. 
What Size Commercial Bins Do I Need? 
It may be difficult to understand exactly what size commercial bins you need. On average sizes below are sufficient for most businesses, but more sizes will be available depending on your local provider. Having an idea of the bin sizes you require will help us find you the right provider at a great price. 
| Capacity (litres) | Dimensions (mm) | Approx bags held |
| --- | --- | --- |
| 240 | 1080 x 580 x 730 | 4 |
| 660 | 1260 x 1260 x 985 | 11 |
| 1100 | 1370 x 1260 x 985 | 18 |
| 1280  | 1430 x 1265 x 985 | 18 |
Commercial Waste Collections Near Me
We cover almost the entirety of the UK and can find you a competitive quote for your commercial waste wherever you might be. Wherever you're located, we ca offer you a competitive local commercial waste quote in just a few clicks. 
Ready to get your commercial waste disposal quote? Click here for instant prices.
Still Not Sure About Getting a Waste Disposal Service?
Join over 400,000 happy customers who saved on their business utility bills
Commercial Waste Disposal FAQs
Do We Quote For Hazardous Waste Collection?

We offer bespoke quotes for any hazardous waste disposal. There are stricter rules and regulations around handling unusual waste; this includes the disposal of electrical items and asbestos. Providers on our panel have all the necessary accreditations to deal with any unusual or hazardous waste.

Can I Have One Off Waste Collection?

Our engine does provide quotes for one-off waste collection. The process works in a similar way, but you will not be agreeing to an ongoing waste collection contract.

How Much Are Commercial Waste Collections?

Commercial waste services depend on the area of your business and the industry your business operates. More hazardous or 'harder to handle' waste may incur higher costs.

Recycling collection costs will also depend on where your business premises are.  Each quote is bespoke to your business waste management needs, but our aim is to help you save money without giving up a reliable service. We aim to make waste management simple.

Ready to set up your commercial waste collection? Click here for a free quote.

How Much Is Commercial Waste Disposal?

Prices typically range depending on your location, type of waste and amount of waste. However, as a rough guide, you can expect to pay the following: 

Bin hire costs (£40-£140 per year) 
Weekly collection costs (£140-£1,000 annually) 
Landfill tax (around £98 per tonne) 
Other fees include admin and licences (£175) - this includes a high-tier licence (£154) so it may be cheaper depending on your requirements. 

For a more accurate quote, you should get a quote from your local waste collection specialist here.

What Is A Waste Transfer Note?

Waste transfer notes are important documents received from your commercial waste management provider to show proof of the transfer of waste from your business to its final destination.

Are Waste Transfer Notes Legally Required?

In short, yes. A waste transfer note is a legal document in the UK that tracks business waste from its original source to its final destination. You may be required to show evidence that you're handling commercial waste properly at some point and a waste transfer note will prove your obligations and duty of care have been met.

The obligation to complete a waste transfer note helps reduce fly-tipping and protects local recycling centres. Waste carriers must be licenced to handle business waste and provide valid waste transfer documentation. It is your duty of care to ensure you appoint a licenced waste management company.

These documents are crucial evidence that business waste has been handled safely and provide an audit trail should any issues arise.

How To Complete A Waste Transfer Note

There's no template that every waste management company must use, and this means that many providers have their own. However, the information they contain remains the same no matter who you choose as your business waste services provider.

Here's what you can expect to find on your waste transfer note:

The name and licence details of your waste carrier
The waste producer (your business)
A description of the waste
The amount/ weight of the waste
The business waste location (pick-up point) and the date of collection
Details of the business waste centre receiving the waste
The European Waste Catalogue (EWC) code
The SIC code for your business if applicable

All waste transfer documents must be signed by all parties involved.

What Is The EWC (European Waste Catalogue)?

The EWC is a list of waste descriptions divided into twenty main chapters. These chapters will have a two-digit code assigned to them between 01 and 20.

These chapters relate to different industries but some variations exist as some relate to materials and processes. Within these chapters, you will find a six-figure code for individual waste types.

In simple terms, an EWC code tracks what industry the waste is coming from and what type of waste is being disposed of.

Who Will Request To See My Waste Transfer Note?

There are several institutions that can request to see your waste transfer note. By law, you must have waste transfer notes for all your business waste collections and store them on file for 2 years.

Here are some controlled waste carriers and authorities that my request to see waste transfer notes:

Your local council - waste enforcement officers
Your waste management company
Scrap metal merchants
Skip hire companies

Do I Need A Waste Transfer Note If I Have Hazardous Waste?

Hazardous waste has some extra responsibilities. When dealing with hazardous waste, the main duty of care attached to this is safety.

For anything considered harmful such as chemicals, WEEE, etc. - your business must receive a Hazardous Waste Consignment Note.

This is similar to a waste transfer note but has alternative documentation for hazardous waste. You must keep your Hazardous Waste Consignment Note on file for 3 years.

What Is The Difference Between A Waste Transfer Note And A Consignment Note?

The waste transfer note covers all non-hazardous waste. This is slightly different from a Hazardous Waste Consignment Note as the added document required tracking controlled waste to a secure disposal site.

A standard waste transfer note will need to be kept for 2 years, and a consignment note for hazardous waste will need to be kept for 3 years.

Do I Need To Complete A Waste Transfer Note Every Time My Business Waste Is Collected?

This depends on how regularly your business waste is collected and what kinds of waste you produce.

Many businesses complete an annual waste transfer note when they switch to a new waste management provider to avoid the tedious task every week.

Commonly known as a waste season ticket, this will cover business waste collections of the same type for 12 months.

Any waste transfer that is different from your company's usual output will need its own separate waste transfer note.

Do I Need Waste Transfer Notes For Recycling Waste?

Yes. Your waste carrier must provide waste transfer notes for recycling waste as well as any general business rubbish.

Recycling waste must be stored safely and labelled to identify waste to avoid any cross-contamination before your registered waste carriers collect it.

What Is A Commercial Waste Carrier License?

When you're choosing your commercial waste disposal carrier, it is your responsibility to make sure they have all the relevant permits and licences to legally dispose of your waste. 

What Permits & Licenses Are Required For Commercial Waste?

The first thing to check is that your waste management company of choice holds a registered waste carriers licence. These licences protect your businesses from any improper waste disposal that could come back to hurt your company's reputation or any fines. 

There are two tiers of waste carrier licences: 

Lower tier licence - this is the licence you need if you decide to carry waste yourself. This lower tier was created for small construction or demolition waste for local builders. This is a free licence but it requires an application form to be filled out. You can find that here. It is important to apply for this licence if required as businesses are not allowed to use a household waste recycling centre. 
High-tier licence - this is the business waste licence you need to look out for. This is for dedicated commercial waste disposal companies. 

What Permits & Licenses Are Required If I Have Hazardous Waste? 

A higher-tier business waste licence must be held and you should receive a hazardous waste transfer note. It is a legal responsibility to hold your waste transfer note on record for 3 years. You only need to hold transfer notes for normal waste for 2 years. 

Find out what is classed as hazardous waste here. 

How Much Can I Get Fined For Breaching Business Waste Disposal Legislation?

Failing to take responsibility for your waste disposal could land you with some serious fines. Even if you have hired a company to manage your waste, it is your responsibility to ensure they have a valid waste carrier's licence as your duty of care. 

You are protected if your waste collection provider issues you a collection note and you have taken all reasonable steps to ensure they have met legal obligations whilst managing your waste. 

Fines of £300 or up to £5,000 prosecution penalties for breaching your business Duty of Care. Penalties of £400 on a fixed fine basis, or prosecution with unlimited penalties and up to five years in prison for illegally depositing business waste. 

Appointing a registered waste carrier who provides you with a waste transfer note ensures you have met your duty of care. 

Why Is A Waste Carriers License Important?

Improper waste disposal impacts the environment and local communities. This licence exists to ensure waste produced by commercial activity is handled properly. This prevents local household waste recycling centres from being dominated by large amounts of business waste. 

Over the last few years, one of the main industries that have been under scrutiny by the Environment Agency is the monitoring of trade waste. The licence is in place to discourage fly-tipping and safe waste disposal. 

How Much Is A Waste Carrier License?

A waste carrier's licence costs £154 and lasts up to 3 years. A registration renewal costs £105 after that. Commercial waste carriers that fail to register risk fines of up to £5,000. 

Find your reliable local waste management provider here. Click for a no-obligation quote.

How To Safely Dispose Of Commercial Waste?

You may already be aware that you cannot dispose of commercial waste at any of your local recycling centres. Any waste that comes from commercial activity, even if your business is operating from your home. 

This includes any waste produced from construction, demolition, industry and agriculture. 

Every business in the UK has a legal duty of care to manage its waste properly until it is disposed of. In this guide, we'll help you understand your responsibilities and how to safely dispose of different kinds of waste to ensure you avoid hefty fines. 

Are There Any Legal Responsibilities When Disposing of Commercial Waste?

Yes. Here's a breakdown of your legal responsibilities when disposing of your business waste: 

You must keep waste to the minimum by using the prevent, reuse, recycle or recover waste model. 
You must responsibly store waste until its safe disposal; this means storing it in a secure place, store in suitable containers with clear labels and using waterproof covers to prevent contamination. 
You must check that your waste carrier is registered to dispose of waste.

Are There Any Legal Responsibilities When Disposing Of Hazardous Waste?

You have a duty of care when disposing of hazardous waste which includes the way you produce and store waste and how you collect and transport waste. Waste is considered hazardous if it is one of the following: 

Asbestos 
Chemicals, including brake fluid and printing toner 
Batteries 
Solvents 
Pesticides 
Oils (all except edible) 
Equipment containing substances 
Hazardous waste containers 

You can find out if your waste is classified as hazardous here. 

How Is Clinical Waste Disposed Of?

Waste disposal professionals are trained and equipped to manage the regular collection of clinical waste. The collection of clinical waste involved colour-coded containers to safely separate it from other waste. 

These containers are colour-coded depending on the type of hazardous waste and stored securely until collection. Most hazardous waste will go through high-temperature incineration.  

What Is The Commercial Waste Disposal Legislation?

Despite it being good business practice, there are also legal obligations that come alongside commercial waste collection. 

For starters, it is your responsibility to ensure that your chosen waste carrier is a licenced and insured waste management company. Any waste that is improperly disposed of can result in your business being fined under the Environment Protection Act 1990. 

Here are some other bits of legislation that can surround the waste your business produces: 

Duty Of Care 

Under the Environment Protection Act, there is a section that outlines a company's duty of care. This ensures that businesses make sure that any waste type is properly managed and stored safely to protect the environment and human health. 

Waste must be stored properly and safely, ensure that the waste disposal company is licenced, and complete a waste transfer note for all waste. 

What Is A Waste Transfer Note? 

This is a legal document that tracks your waste to its final destination. This ensures all waste is disposed of legally. You will need to keep records of all waste transfer notes for at least 2 years. Any hazardous waste will require you to keep records for 3 years. 

Good waste management companies will provide waste transfer notes and all documentation.