Commercial Waste Management Aberdeen
Are you sick and tired of unreasonable prices? At Love Energy Savings, we help local Aberdeen business owners find affordable rubbish removal services. 
You can reduce your Aberdeen business waste disposal expenses by up to 30% by using our quote comparison engine. It compiles all the best waste management services in your area. Business owners all over Aberdeen use our comparison generator to find reliable, reputable waste removal professionals.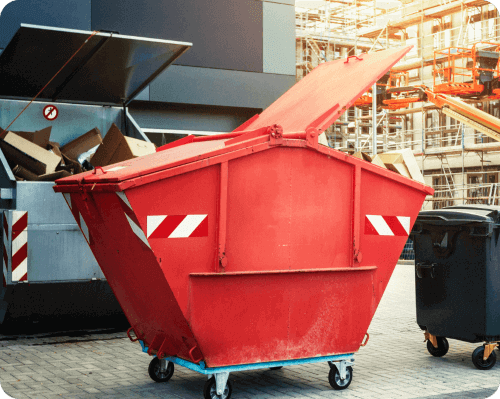 Aberdeen Business Waste Removal by Sector
Aberdeen is a melting pot of cultures, creativity, and companies. All sorts of industries call this city home, and they call us when they need quick, effective business waste management services. 
We work across these industries.
It is no wonder that there is a massive market for commercial waste removal in Aberdeen. Click here to request a quote that is tailored to your waste disposal needs.
How To Switch Commercial Waste Disposal Providers?
Compare

Enter your waste disposal requirements, and we will recommend the best services in your area.

Select Your Provider

Once you've reviewed your quote, simply decide if the service is right for your business.

Enjoy your savings

With up to 30% savings, you can sit back and relax. We'll handle the switching process for you.
Setting up a New Business in Aberdeen?
Aberdeen is a popular, thriving hub of business. The competition is fierce, but there is always room for something unique. Setting up a new business can be stressful at the best of times, especially when you consider all the essential services like waste management and disposal. 
We help business owners in Aberdeen put their best foot forward. If you do not have a spare few hours to look through endless 'commercial waste removal Aberdeen' search results, you have come to the right place. We streamline Aberdeen business waste removal services, energy bills, and water bills.
When it comes to commercial waste, there are lots of things to consider. To start with, you can't take any commercial waste to your local recycling centre. So, where does it go? You need an experienced provider who knows how to remove and dispose of your waste in a safe, legal way. 
Click here to request a quote today.
Hazardous Waste Removal in Aberdeen
Hazardous waste is no joke. This kind of waste is classed as a single or combination of waste substances that, because of its 'concentration, physical, chemical, or infectious characteristics' poses a threat to human health and the environment. 
All kinds of businesses create hazardous waste. Restaurants, tattoo parlours, and hair salons can create this kind of waste, and if they do not dispose of it properly they will face hefty fines. There is only one solution to this problem: a reputable Aberdeen business waste disposal company. 
We cater to business owners who want to dispose of hazardous materials in an eco-conscious manner. Visit our comparison engine, select 'hazardous materials', and wait a minute to see relevant prices and the best-rated providers.