Asbestos Removal - Waste Collection
Any business operating out of an older building could need asbestos removal at any time. Asbestos was commonly used in the construction industry until the 80s when it was declared unsafe. With coverage all over the UK, we can provide you with a quote from your local asbestos disposal specialist. Whether you're a business, contractor or tradesperson, we'll find a competitive quote from a trusted specialist. 
If you find any asbestos in your building, you should get a professional waste management company to safely assess and remove the asbestos waste.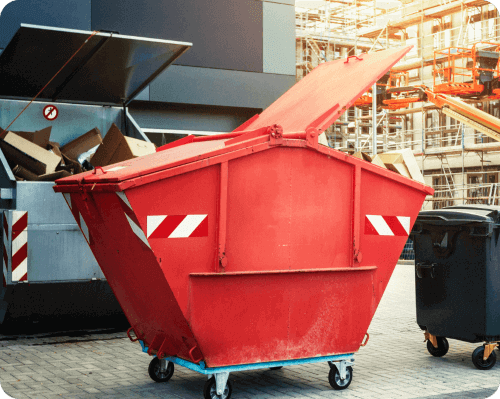 What Is Asbestos Waste? 
Asbestos is a natural mineral and was used in construction until it was found unsafe. It was useful for its resistance to heat and corrosion before links to fatal diseases became apparent. 
Asbestos waste can be found in different materials typically used in old construction methods. It is considered hazardous waste as it can have a health impact on humans. 
Common places where asbestos waste can be found are: 
Inside walls and ceilings 
Underneath tiling 
Old insulation boards
Asbestos waste can go undetected so it is important to seek a professional waste disposal company to assess if it is a hazardous substance. 
How To Find Asbestos Waste Removal?
Compare

Enter your waste disposal requirements, and we will recommend the best services in your area.

Select Your Provider

Once you've reviewed your quote, simply decide if the service is right for your business.

Enjoy your savings

With up to 30% savings, you can sit back and relax. We'll handle the switching process for you.
How To Identify Asbestos 
Asbestos disposal can be dangerous and it is always advised to seek a professional when it comes to the removal. You may not be aware of the type of asbestos you're dealing with, so here are the common types: 
Asbestos soils (contaminated ground) 
Amosite asbestos (brown in colour and found in cement sheets/ pipe insulation)
Chrysotile asbestos (white in colour and found in roofs, ceilings and walls). 
How To Dispose Of Asbestos Waste? 
Asbestos removal is considered dangerous and should be removed safely by hazardous waste specialists. We can provide you with a local business waste quote from a qualified specialist that will handle the asbestos safely. 
Waste management experts will wear protective clothing and seal the area off to ensure the asbestos waste does not contaminate other areas. The asbestos will then be carefully removed and double-bagged for safety. 
All asbestos waste must be clearly labelled and firmly stuck on to the waste packaging. Licensed contractors in the UK will typically use red sacks with warnings printed to clearly identify the hazardous waste. These bags will then be stored and transported in sealed containers which must also be clearly marked with warning labels. 
When moving into new business premises and you find asbestos waste, either on your property or bagged, you should not move it. Disturbed asbestos waste can cause fibres to travel through the air into the lungs of anyone close by. 
What Happens To Asbestos Waste? 
The Environment Agency has outlined a process that must be followed for the safe removal of asbestos. As hazardous waste, it must be double bagged and securely wrapped before being taken to a recycling centre that can handle asbestos removal safely. 
Some specialist recycling centres will have asbestos skips that are secure lockable containers. These containers will then be taken away from the landfill site to avoid contamination to a licensed landfill site for safe disposal. 
What Is A Harmful Amount Of Asbestos? 
There is a control limit of 0.1 asbestos fibres per cubic centimetres of air, however, any amount of asbestos should be considered harmful. If you find any in your building, you should seek a professional to inspect it. 
Asbestos is commonly found in the following items: 
Cement pipes
Handheld dryers 
Paints, coatings and sealants 
Coal and wood burning stoves 
Roof slates
Windowsills, worktops, bath panels and draining boards 
Lamp sockets