Get A Commercial Recycling Quote 
Businesses have the responsibility to keep waste to a minimum by doing everything they can to prevent general waste.
This is where commercial recycling services come in. Responsible waste and recycling collection is crucial to protect the environment. 
With nationwide coverage, we can provide you with a commercial recycling waste quote from your local waste management provider.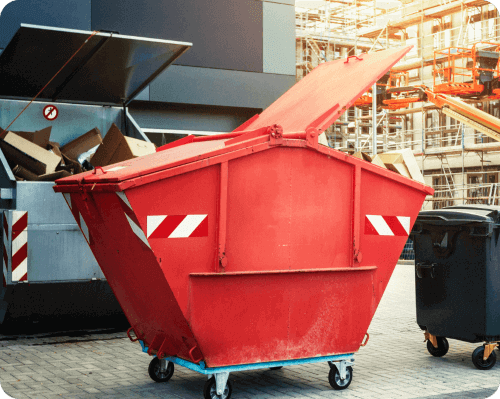 What Is Commercial Recycling? 
Commercial recycling is the process of turning general business waste into something that can be used again - reducing landfill and impact on the environment. 
Materials that make up a lot of our waste can be recycled if proper waste management is practiced. 
As a business, this involves keeping your general waste and recycling separate, and having regular recycling waste collections. 
How To Switch Commercial Waste Recycling Providers?
Compare

Enter your recycling requirements, and we will recommend the best services in your area

Select Your Provider

Once you've reviewed your quote, simply decide if the service is right for your business.

Enjoy your savings

With up to 30% savings, you can sit back and relax. We'll handle the switching process for you.
What Can I Recycle? 
Commercial recycling is simple from the responsibilities from the business. Hiring a licensed commercial waste management company and separating waste into different bins is a great way to reduce your carbon footprint. 
Here are some of the material recycling services cover: 
Paper recycling
Cardboard 
Metal 
Plastics 
Commercial Recycling Waste Regulations 
There are no laws that you must recycle waste. However, you have a duty of care to comply with set out by the Environment Agency. 
Under these regulations commercial waste and recycling collection guidelines are: 
Commercial waste must be kept to a minimum 
General waste and recycling must be seperated and stored safely until collection 
A waste transfer note must be completed and kept on record for 2-years for everything that leaves your business premises 
Any commercial waste management companies you use must have a Waste Carriers Licence. 
How Much Does Commercial Recycling Collection Cost? 
The cost of a business recycling service depends on several factors. The costs of commercial waste collections is impacted by your location, how often you require waste disposal services and the types of waste and recycling. 
Business customers that compare quotes with use typically save up to 30% on their commercial waste and recycling collection services. 
Request a free quote for a reliable waste and recycling collection service here.
Commercial Recycling FAQs
What Is A Waste Transfer Note?

Waste transfer notes are issued by you waste disposal provider as a physical or digital document that tracks and records your business waste disposal. 

These documents should be kept for 2-years for standard business waste and 3-years for any hazardous waste. 

This document proves that you have met your duty of care requirements should any issues arise. 

Do I Need A Recycling Service?

It is good practice and cost effective to have a recycling plan when arranging your waste disposal. We can offer a range of competitive recycling quotes alongside your commercial waste needs to help your company contribute to saving the environment.