Confidential Waste Services
Find a local confidential commercial shredding services provider with just a click of a button. Complying with GDPR regulations has never been easier, from one-off to regular waste collections. 
Reliable and local confidential paper shredding services are just a click away with tailored services for every size business in any industry.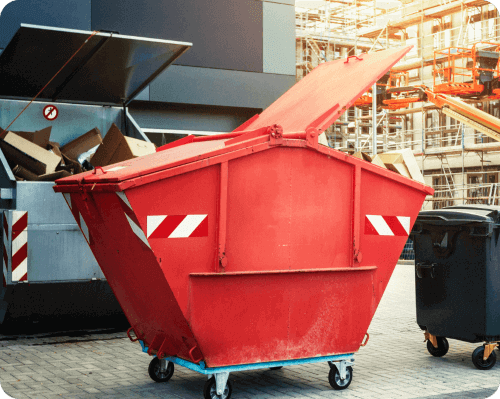 What Types Of Shredding Services Is Available? 
Our quoting service will find a great local waste disposal specialist in your area that will cater for the following: 
Shredding of confidential documents
Off-site shredding services
Safe disposal of personal documents 
Arrange regular collections
We work with local providers who specialise in dealing with confidential waste adhering to strict data protection laws. 
How To Switch Commercial Waste Disposal Providers?
Compare

Enter your waste disposal requirements, and we will recommend the best services in your area.

Select Your Provider

Once you've reviewed your quote, simply decide if the service is right for your business.

Enjoy your savings

With up to 30% savings, you can sit back and relax. We'll handle the switching process for you.
Do You Offer An Off-Site Shredding Service? 
We'll ask you a few questions about your requirements and retrieve a quote from a local waste management provider that will offer an off-site confidential document shredding service. 
Many of our customers benefit from switching multiple business essential services 'under one-roof' often saving hundreds of pounds every year on their business utilities. Our experts will find you great deals on your waste collection, energy, water, and connectivity.
No matter the size of your business, we can help small businesses right up to larger businesses save money on their confidential waste disposal whilst adhering to the strict GDPR guidelines for peace of mind. 
Finding Shredding Services For Different Businesses 
Nearly all businesses need to adhere to strict data protection laws. However, whilst we work with all types of businesses to find great prices for destroying confidential information, we often work with professional service businesses, local authorities and financial institutions. 
What Confidential Data Needs To Be Shred? 
Confidential waste covers many types of documents and devices. Anything that holds personal information and private data must be correctly disposed of as breaking GDPR regulations can result in hefty fines of up to 4% of the annual turnover, or €20 million (whichever is greater).
Here are some examples of confidential data that must be responsibly disposed of: 
Customer/employee-sensitive data
Financial documents 
Payroll records 
Bank statements
Invoices
Personnel files and health records 
Any other business documents
This is a small list but paper shredding requirements expand much further to prevent leaks of sensitive data and identity theft. 
You should also ensure that your waste disposal provider produces a waste transfer note. This is a legal document that tracks your waste to its final destination. This is especially important to prove that you have actioned the secure destruction of sensitive information. You will need to keep records of all waste transfer notes for at least 2 years.