Commercial Waste Management Derby
Are your business' rubbish removal needs starting to feel overwhelming? Don't let business waste pile up; use our quote comparison engine to secure reliable commercial waste removals in Derby. 
We are located in the heart of Derby, and we understand the unique problems that Derby-based businesses go through when they try to dispose of their waste. When it comes to hazardous materials, it is best to contact the professionals. We can pair you up with experienced Derby business waste disposal providers within a few minutes and, even better, we can save you up to 30% on your overall bill!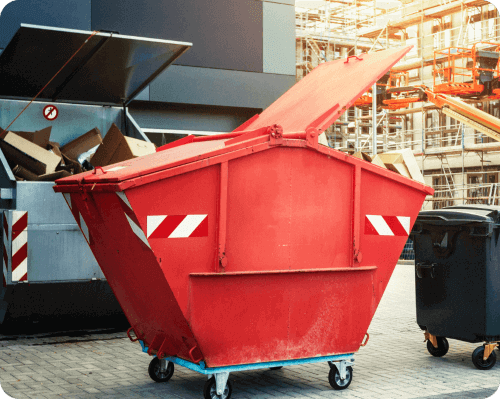 Derby Business Waste Removal by Sector
Our contacts do not just remove business waste, they also dispose of it in a responsible way. We work with business owners who come from all different sectors. They trust us to handle everything from standard restaurant waste to hazardous medical waste. 
Here are some of the sectors that we support in Derby. 
If you want to find commercial waste removals in Derby for any of the above sectors, you are in the right place. Click here to request a quote. 
How To Switch Commercial Waste Disposal Providers?
Compare

Enter your waste disposal requirements, and we will recommend the best services in your area.

Select Your Provider

Once you've reviewed your quote, simply decide if the service is right for your business.

Enjoy your savings

With up to 30% savings, you can sit back and relax. We'll handle the switching process for you.
Setting up a New Business in Derby?
Whether you are starting a new business in Derby or another booming city, you need to consider a few business essentials.
Some business owners think that they can take waste to their local tip. Any waste that is produced on commercial premises is considered commercial waste, and disposing of it at your tip or local recycling centre is illegal. 
We have spoken to business owners all over Derby who are shocked when they receive hefty fines. The solution is simple; use our comparison generator to find an affordable rubbish remover in your area! You can even use our water comparison generator and energy comparison generator to get great deals on business essentials. 
Hazardous Waste Removal in Derby
Our contacts specialise in all kinds of commercial waste removals in Derby. They even go as far as handling hazardous waste. Hazardous waste might be closer than you think. Most of the restaurants, salons, and retail shops in Derbion Derby produce this kind of waste. It is defined as any waste that contains substances that are harmful to humans or the environment.
At Love Energy Savings, we help business owners in Derby protect their staff from harmful waste. Our Derby business waste disposal partners will arrive at your premises at a time that suits you, collect your waste, and dispose of it in a way that meets government guidelines.