Commercial Waste Management Edinburgh
Edinburgh business waste removal services might seem impossible to find. Business owners are far too busy to spend hours searching for reputable providers. That's where we come in.
At Love Energy Savings, we connect business owners to experienced Edinburgh business waste disposal professionals. We are based in the heart of the city, and we work with all the best rubbish removal providers. If you use our service, you can save up to 30% on your overall bill.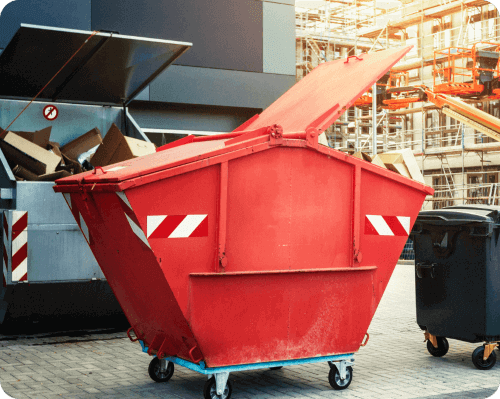 Edinburgh Business Waste Disposal by Sector
No matter what kind of business you run, you will need rubbish removal services. Most business owners do not have the time or energy to handle rubbish themselves, which is why our service exists. 
Here are a few of the sectors that use our business waste services.
We can connect you to a rubbish removal provider who collects, treats, and disposes of waste. You do not have to worry about separate bills or providers when you use our waste comparison engine. We recommend professionals who offer comprehensive commercial waste removals in Edinburgh. 
How To Switch Commercial Waste Disposal Providers?
Compare

Enter your waste disposal requirements, and we will recommend the best services in your area.

Select Your Provider

Once you've reviewed your quote, simply decide if the service is right for your business.

Enjoy your savings

With up to 30% savings, you can sit back and relax. We'll handle the switching process for you.
Setting up a New Business in Edinburgh?
Edinburgh business waste disposal services are an essential yet often overlooked part of setting up a new business. Other services like water utilities take the spotlight, and waste removal often fades into the background. At Love Energy Savings, we take the hassle away from all the essential services that you need to get your business up and running. 
Business waste is more complicated than it seems. Any waste that is produced on commercial premises has to be disposed of in a special way. It is no longer classed as general waste, even if it looks like it.
To avoid all these complicated rules, you need to find a commercial waste removal Edinburgh specialist. We can help! Our comparison engine is designed to eliminate the stress from your search.
Get the ball rolling now and add your details to our comparison engine.  
Hazardous Waste Removal in Edinburgh
If you walk down The Royal Mile, you will be surrounded by businesses that produce commercial waste. A large part of that is hazardous waste. This kind of waste has characteristics that make it dangerous to people and the environment. 
Edinburgh business waste removal providers will dispose of your waste properly. When it comes to hazardous waste, it is always worth speaking to a professional. If you do not dispose of hazardous materials in a safe manner, you could face fines or even make your staff ill.
Use our comparison engine to find reputable providers in your area. Once you have chosen a supplier, we will even help you switch.