Commercial Waste Management Leeds
Is your business based in Leeds? Do you produce commercial waste on a weekly bases? You could benefit from using our Leeds business waste removal comparison engine. 
We have loaded our quote generator full of trusted Leeds business waste disposal professionals. We have links in the local community, which means we can offer you the best services at affordable prices. It doesn't matter what industry you are in or how new your business is, we can help.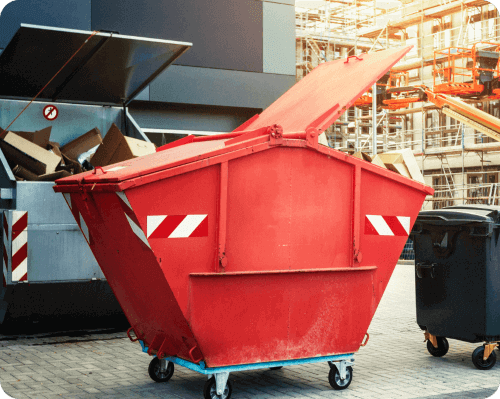 Commercial Waste Removal in Leeds by Sector
Commercial waste is defined as any waste that is produced on commercial premises. Restaurants, hair salons, and tattoo parlours all create commercial waste. No matter what sector you are in, we can connect you with tailored services in your area.
Here are some of the sectors that need commercial waste removals in Leeds.
Use our comparison engine to request a free quote today. 
How To Switch Commercial Waste Disposal Providers?
Compare

Enter your waste disposal requirements, and we will recommend the best services in your area.

Select Your Provider

Once you've reviewed your quote, simply decide if the service is right for your business.

Enjoy your savings

With up to 30% savings, you can sit back and relax. We'll handle the switching process for you.
It really is that easy! Switching Leeds business waste disposal services does not have to be time-consuming. When you use our engine, you can get a better deal and focus on the things that matter to your business. 
Setting up a New Business in Leeds?
Are you thinking of setting up a new business in Leeds? If so, you are becoming one of the thousands of local business owners who need energy, water, and rubbish removal services. Luckily, we streamline all these services. We will find you the most affordable deal on all your business essentials and, even better, we will switch you over to your new provider. 
So, why do business owners contact us for commercial waste removals in Leeds? Business owners can't just take their waste to a local tip. Any waste that you produce on commercial premises has to be disposed of in a way that meets strict guidelines.
To avoid hefty fines and health hazards, consider using our comparison generator. We will make sure that your waste is disposed of in the right way, for the right price. 
Hazardous Waste Removal in Leeds
Commercial waste can soon become hazardous waste. Hazardous waste can take lots of forms and can harm your workspace, the environment, and even your staff! 
We have long standing relationships with Leeds business waste removal professionals. They handle everything from restaurant rubbish to highly sensitive medical waste from hospitals. 
Tailored services are just around the corner! Put your details into our comparison engine to find the most affordable, suitable provider in your area.