Half Hourly Meters
Get a better half hourly meter tariff quote in minutes
Whether you're thinking of switching to a half hourly meter or you just want to save money on the one you already have, we can help.
At Love Energy Savings, you can quickly compare business energy quotes from dozens of energy suppliers to see how much you could save on your half hourly meter contract. Better still, we'll handle the switch to your new tariff or supplier for you. What's not to love?
When you get a quote from Love Energy Savings, you can speak to a member of our expert team about how the process works, including who will change your half hourly meter and when it can be done by.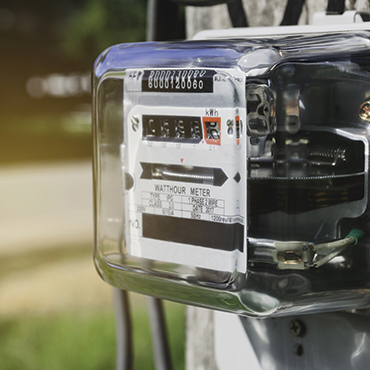 What is a half hourly meter?
A half hourly electricity meter (also known as HH meter or 00 meter) takes automatic meter readings every 30 minutes and sends it directly to your supplier so there's no need to provide manual readings.
With half hourly metering, your bills will be more accurate than they would be if they were estimated. This automatic metering helps your business avoid overcharges and back-billing.
Half hourly meters are also required if you want to join the government's Smart Export Guarantee scheme, where you get paid for exporting renewable energy to the National Grid.
Do I need a half hourly meter?
Half hourly metering is mandatory for any business in the UK using at least 100,000 kWh (kilowatt per hour) of electricity each year. If your business has a 05, 06, 07 or 08-meter profile, you will also need to switch to half hourly metering.
If your business has a usage of 70,000 kWh or more each year, you can opt to install a half hourly meter.
What are the benefits of half hourly metering?
The most immediate benefit you'll notice from a HH meter is that all energy readings are automatic, meaning you'll never need to go through the trouble of recording or sending your readings to your supplier.
With accurate billing, your business is much less likely to be charged incorrectly for the energy you use.
Your energy usage will also be used to calculate any future business electricity quotes you receive. Accurate, half hourly readings can allow you to access better energy deals than an estimate of your usage.
Half hourly metering also gives you a much clearer picture of your energy usage. You can review exactly when your business uses the most energy by analysing your consumption data and work towards operating more efficiently to reduce your energy bills.
Half hourly metering will make it much easier for your business to analyse the impact of any energy saving measures put in place.
Does half hourly pricing differ from other energy quotes?
Half hourly electricity meters allow a supplier to tailor their quote to your specific business needs. This can allow you to access better, more accurate quotes than a business with estimated usage.
Incorrect meter readings can cause real problems for high energy usage businesses. If your usage is overestimated, you could be throwing away money every month. If your supplier underestimates your usage, you could be hit with hefty energy bill to make up for the shortfall.
A half hourly electricity meter provides peace of mind for your business in knowing that your bills will remain accurate each month.
What does the switching process entail?
The process of switching to a half hourly meter is different from simply switching business energy suppliers. Getting a half hourly meter will typically include the following steps:
You'll need to enter your details within our business energy comparison tool. Alternatively, you can speak to one of our specialist advisors on 0800 988 375.
To help us access your consumption data, we'll request that you complete a Data Release Letter.
We'll organise for energy companies to bid for your contract.
We'll use our relationships with other companies, as well as our specialist 'group buy' and 'basket' pricing to get you the best deal. We typically beat other brokers by 10%!
Finally, all you have to do is select a contract from the options provided. We'll then organise the switch.
You should bear in mind that tender pricing is typically only stays valid for 24 hours, so be sure to take advantage of your offer once you receive it.
How can I find the best deal on a half hourly meter contract?
The easiest way to get the best deal on a half hourly meter contract is to seek assistance from a specialist energy comparison service, such as the experts here at Love Energy Savings.
We'll find the best deals from leading business electricity and gas suppliers so you can choose the right half hourly tariff for your business. We'll also manage the switching process from your old supplier to your new one and keep you updated every step of the way.
To kick-start your switch today, simply complete our free online energy comparison tool.
Other Meter types

It's important for your business to have a meter installed that suits your business energy usage. As well as half hourly meters, the following meter types can also be available:

Multi-site Meters

If your business operates in multiple locations, it may be worth talking to your chosen supplier about multi-site contracts.

Your meters can be consolidated into one account and managed by one of our energy experts, which will take all the hassle out of trying to keep track of all your different contract accounts.

What are the benefits of multi-site meters?

There are many benefits of selecting a multi-site meter for your business. Such as:

Greater management over multiple sites – Whether you have 2 or 10 locations for your business, a multi-site meter could help you manage your contracts more effectively. This makes matters such as renewals significantly easier to deal with.
Better management for single large sites – Instead of having several meters on one site, you could get a multi-meter that will cover your whole premises.
Further discounts may be available – You can leverage your buying power and maximise discounts when you choose to get a multi-site meter.

We'll gather quotes from leading energy suppliers as well as smaller, independent companies to ensure that you get your pick of the best deals available.

Multi-rate Meters

Multi-rate meters charge you different rates for the electricity you use depending on the time of day.

Two-rate meter — Sometimes known as an Economy 7 meter, a two-rate meter differentiates between peak and off-peak usage, charging less for the latter. This is ideal for businesses who use energy late at night or businesses that require machinery to run 24 hours a day.
Three-rate meter — This meter takes weekend usage into account, alongside peak and off-peak supply, charging all three at differing rates. If you're using energy over the weekend, this would be the best choice for your business.

Find the best multi-rate contracts and half hourly tariffs with Love Energy Savings

You should compare offers from multiple energy companies to find the best deal for your business gas and electricity.  At Love Energy Savings, we can help by providing you with a range of offers from suppliers who can meet your business' needs.

How to reduce your bill spend with energy efficiency

Besides switching your energy tariff, the next-best way to reduce the cost of your energy bills is to make your business more energy efficient. Increasing your energy efficiency will not only save you money on the Climate Change Levy (CCL), but it will also reduce your cost in terms of the amount of energy you use.

There are so many ways to become greener and every small change can add up to make a big difference. From switching all your traditional lightbulbs to LEDs, or installing solar panels on your roof – there are numerous ways, means and schemes to assist your business in reducing its usage.
FAQs about half hourly meters
What is the P272 regulation?

The P272 regulation is a piece of legislation put into effect by the UK government in 2017. It requires companies in electricity-intensive industries (EIIs), such as manufacturing and food processing, to move from non-half hourly meters (NHH) to half hourly meters (HH). Moving to half hourly metering allows suppliers to keep better track of customer energy usage more accurately

Most large non-domestic electricity consumers were issued with Automated Meter Reading (AMR) meters in April 2014. ARM meters have the ability to record Half Hourly (HH or 00) consumption. Measuring the HH usage data will more accurately reconcile costs between consumers and suppliers.

You can read more about the P272 legislation here.

How do you read a half hourly meter?

Half-hourly meters are automatic, so they don't need to be read manually. Readings are taken every half-hour, totalling 48 per day.

The system relies on a fixed line that updates your supplier with automatic meter readings. With updates in real-time, suppliers can create highly accurate charges based on HH data to make sure you're paying for exactly how much energy you use.

What is HH data?

HH data is simply the data sent from your half hourly meter to your supplier. It includes things like how much electricity and gas you use each day and your peak usage times.

Suppliers can use HH data to propose adjustments to your tariff to make your payments more accurate. This helps you avoid any back-billing that could occur if your usage is underestimated, so you don't build up debt over time.

How do I know if I have a half hourly meter?

To find out what kind of meter you have, look at the MPAN number on your last energy bill. The MPAN number can be found on the top left of your bill to the right of the S.

If your MPAN number is '00', you have a half-hourly meter. If the number is 05, 06, 07 or 08, you'll need to upgrade to half hourly metering as soon as you can. You can do so by getting in touch with your meter operator.

Do I need a multi-site meter?

If your business has multiple sites, you may find a multi-site meter to be a suitable option. With this type of meter, you could consolidate your energy supplies into one single package from one supplier. You'll also only have to deal with one renewal instead of having to manage multiple deals.

Additionally, a multi-site meter could be used within a large business to replace having numerous meters within one site.

Do I need a multi-rate meter?

Evenings and weekends are commonly viewed as off-peak times for energy use.

If your business primarily functions during these periods, a multi-rate meter could be a beneficial option for you as suppliers could offer you cheaper rates at certain times of the day.