Compare Business Electricity Rates
In just 60 seconds you can compare the latest business electricity rates and secure the best deal for your company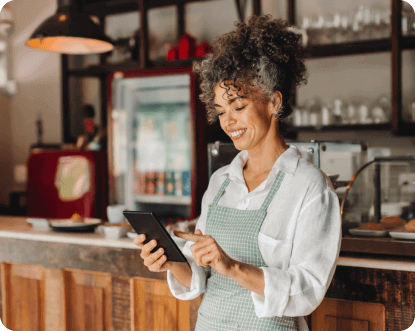 Compare business electricity rates & see how much you can save against your current supplier
How To Compare Business Electricity Rates & Switch
Compare

We just need your postcode, we'll find your meter and usage to show you the latest prices.

Select your supplier

You can stick with your current electricity supplier, on the latest exclusive tariff or choose a new supplier.

Protect your bills

We'll complete your switch within 5 working days. You can even do it all online, or speak to our expert team. 
Should You Switch Business Electricity? 
Business electricity rates are much more competitive. In fact, prices have dropped by a massive 62% since October 2022.
With a market that has now stabilised, predictions from Cornwall Insight suggest that wholesale prices will remain around the same rate as they are now with some slight fluctuations for the foreseeable future. But of course, these are predictions and things could change overnight as many things impact the prices of electricity. 
With that in mind, many businesses are choosing to lock in their business electricity rates for certainty and stability in the future. When you compare business electricity prices with us, you will see live market rates from a trusted panel of UK suppliers that change daily. Secure your new tariff today.
Why Choose Us?
There are many reasons to use our comparison service over any other, not least the unique ability to complete your business electricity switch fully online meaning it can be done at your leisure and without the need for a 40 minute phone call.
However, should you wish to speak with a business electricity expert to complete your switch you can do that instead, the option is entirely yours!
Fixed-rate tariff
A fixed-rate tariff is one of the most popular business electricity tariff options. With a fixed rate tariff, you agree to pay a fixed unit price and a standing charge. This price can be locked in for a number of years, in some cases up to 5 years depending on your provider. A fixed-rate electricity tariff is great for businesses who want to maintain control of their bills and budgeting, as they will be protected from electricity price increases.

Variable rate tariff
Variable rate tariffs can be a good option for businesses that want to benefit from any reductions in the price of business electricity.
Rollover tariff 
When a new business electricity contract has not been agreed, you may be placed on a rollover contract with your current energy supplier. This will be for a fixed period (usually one year) and is legally binding. Sometimes unit rates are more expensive and hold you back from getting cheaper rates elsewhere. 

Flexible tariff 
Large consumption organisations may prefer to purchase all their electricity supply in advance. Doing this will give businesses access to wholesale market rates, bypassing some of the retailer costs. 
Green electricity tariff
More and more businesses are moving towards sustainable sources, so green electricity tariffs are becoming a popular choice for environmentally conscious companies. With an increasing number of business electricity suppliers offering green tariffs, there is now a much greater choice for small and large businesses seeking renewable electricity.
To determine which business electricity tariff is the best value, you will need to consider how your business uses it, how much it will cost, how large your business is and whether you have multiple locations.
Pass through tariff
A little more complicated than other tariffs, a pass-through tariff separates your bill between fixed wholesale rates and other rates associated with National Grid levies and other network costs can vary several times per year. These tariffs are often best suited to active electricity buyers that regularly control the tariff. 
Deemed rate tariff
Businesses that have never taken out a business electricity contract and have not agreed to one will be placed on a deemed rate tariff. These are the most expensive rates on the market. 
Each tariff type offers its own benefits, from fixed costs over a certain period to renewably sourced. For those reasons, it is important to thoroughly compare business electricity tariffs, which will help you identify the correct tariffs to maximise savings.
---
Commercial Electricity Rates for Large Businesses
We offer bespoke quotes for large single-site companies, or servicing multi-site businesses with one-simple bill. From our panel of trusted suppliers, we will find a corporate electricity solution tailored for your organisation.

Our team of specialists will save your business time, effort and resources by building a bespoke commercial electricity quote that meets your exact requirements.
---
Business Electricity Rates for SME Businesses
We find quotes on business electricity rates for SME businesses all over the UK. Taking the pressure off business owners, and making it simple and efficient to compare business electricity prices is what we do.

Our self-service platform allows you to compare business electricity rates online, anytime, when it suits you. Start today and find the best deal for your business.
---
Latest UK Business Electricity Rates 2023
What businesses pay for their electricity can be influenced by all sorts of factors, such as location, usage, and how many people they employ.
But we've pulled together tariffs from across the UK to outline the national average based on a 2-year fixed rate.
 Business Size
(Annual Usage)
Unit Price/kWh
Daily Standing Charge
Full Year Price (£)
Micro
(up to 5,000kWh)
29.2p
61.6p
£1,682.11
Small
(5,000-15,000kWh)
29.2p
69.7p
£4,639.15
Medium
(15,000-25,000kWh)
29.9p
69.7p
£7,730.71
Large
(25,000-50,000kWh)
29.3p
116.8p
£15,067.60
Very Large
(50,000-100,000kWh)
28.8p
124.7p
£29,280.03
Data correct as of September 2023. Annual cost based on a 2-year contract and the maximum kWh usage within each business size banding. These prices reflect a live market and are subject to fluctuation.
Tariffs are regularly updated and the best way to find the latest deals is to compare commercial electricity prices.
---
Business Electricity Prices per kWh 
As the unit of measurement used to monitor electricity usage, kilowatt hour (kWh) is essential to how you're charged by suppliers. Your unit cost depends on several factors unique to your business. 
The cheapest business electricity supplier for one business may not be the cheapest supplier for another. Prices change daily, so businesses looking for a quote should compare prices using our engine.
---
Your Unit Rate and Standing Charge Explained
Your unit rate is simply the cost of each kilowatt hour of electricity your business uses. Larger business with high consumption rates will generally pay slightly cheaper unit rates than smaller businesses.
Your standing charge covers the cost of maintaining the energy supply. This includes using and maintaining the energy supply network and transporting electricity to your premises.
Is The Cost Of Business Electricity Getting Cheaper? 
The price of business electricity may have been a hot topic and an area of concern for companies throughout much of 2022. However, electricity unit rates have only been heading in one direction for quite some time – and that's down!
After pulling together the three cheapest business electricity tariffs, we found that prices have shrunk by more than 60% since October 2022, from almost 80p per kWh that month to 28.40p in September 2023. Predictions suggest that prices will remain around this level for the foreseeable future but things could change overnight as we have seen in the past. 
That represents a 51.97p per kWh decrease and a saving of around £13,000 a year.
| | | | | | | | | | | | |
| --- | --- | --- | --- | --- | --- | --- | --- | --- | --- | --- | --- |
| October 2022 | November 2022 | December 2022 | January 2023 | February 2023 | March 2023 | April 2023 | May 2023 | June 2023 | July 2023 | August 2023 | Sep 2023 |
| 79.72p | 71.70p | 59.03p | 57.24p | 36.98p | 32.27p | 31.21p | 30.53p | 29.62p | 29.80p | 28.03p | 28.40p |
Prices are calculated based on the average price of our three cheapest business electricity suppliers on usage of 25,000 kWh/year and a 03 profile class between 01.10.2022 - 01.08.2023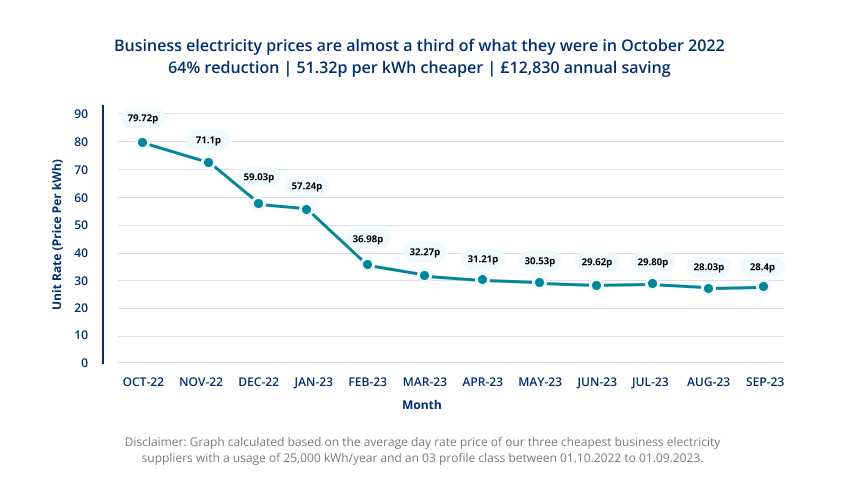 How To Compare Business Electricity Rates That Are Competitive?
It is easy to compare business electricity rates but the market is always changing and not having the right information to hand can make your business electricity quote more expensive.
Some great things to know/ have to hand are:
A recent business electricity bill
Your electricity usage for at least 1-year
Know your meter type (smart, traditional, half-hourly meter)
Business Information
Your current business electricity supplier
There are some things to be aware of when it comes to finding competitive business electricity rates:
Rollover contract - it may be tempting to agree to your renewal from your current electricity suppliers. Renewal offers are often more expensive than new prices available on the market. Comparing business electricity prices against your renewal is easy and takes just a few minutes.


Staying with the same supplier - some of our customers end up staying with their current business electricity supplier. This happens when they compare business electricity prices against their renewal and discover the current supplier is offering cheaper deals to new customers. We can negotiate with your supplier so you can switch business electricity tariffs and not suppliers.
Could You Go Green When Comparing Electricity Tariffs?
If you're one of the many businesses aiming to think green you can compare the latest green electricity tariffs with Love Energy Savings.
Switching to a green energy tariff is a great step to take when reducing your carbon footprint. Many energy suppliers now offer 100% renewable electricity tariffs from sources including solar, wind, and hydro.
As more suppliers have introduced renewable electricity tariffs, prices have become much more competitive compared to standard tariffs. A number suppliers will even offer 100% renewable electricity tariffs as standard.
To find out more about reducing your carbon footprint, take a look at our guide to green electricity tariffs.
Who Are the Big Six Suppliers? 
It is a good idea to compare business electricity rates from the Big Six. However, they can sometimes offer expensive rates so it would be wise to compare business electricity prices from a range of trusted suppliers.
The Big Six have been traditionally the largest suppliers in the UK. The current Big Six are:
How To Find The Cheapest Business Electricity Rates
The supplier offering the cheapest business electricity rates can change daily. Whilst costs may be largely driven by wholesale prices, suppliers set their own prices based on this and multiple other factors.
The best way to find the current cheapest rates for your business electricity is to use our comparison engine which will look for the cheapest deal from our trusted panel of suppliers based on your business's requirements. These prices are only locked in for a certain period of time as prices and tariffs change regularly.
Cheapest Business Electricity Rates By Supplier
The price of business electricity for your organisation varies on multiple factors. For example, large business electricity users may be offered cheaper unit rates than SME businesses.
Below we have provided an example of a business with 25,000 kWh of annual electricity usage for a 2-year fixed-rate deal.
Whilst this provides some guidance on average costs, business electricity rates change daily and it is advised you use our comparison engine to explore today's live rates to find an accurate quote.
Click the supplier's name to find out more about them.
Table updated September 2023.
| | | | |
| --- | --- | --- | --- |
| Supplier | Standing Charge (p) | Day Rate | Annual Cost |
| | 62.3p | 32.6p | £8,368.05 |
| | 42.3p | 33.2p | £8,451.24 |
| | 25p | 30.8p | £7,785.30 |
| | 182.6p | 27.6p | £7,578.16 |
| | 97.9p | 27.8p | £7,311.18 |
| | 31.5p | 30.1p | £7,639.48 |
| | 54.2p | 29.8p | £7,643.13 |
Business Electricity FAQs
What impacts business electricity rates?

Many factors impact the commercial electricity tariff you can secure for your business. The main variables that affect the price you pay for your electricity supply are:

Wholesale prices
Location and size of the business premises
Credit ratings
The sector the business operates in
Annual consumption

Many businesses associate these obstacles as a reason not to switch business electricity suppliers. Unfortunately, this means many companies are on the wrong type of tariff.

We're here to help you navigate the electricity market and secure the best deal available from our panel of trusted suppliers. No matter how big or small your business is, we'll help you find a suitable business electricity deal within seconds.

Who Can Get The Energy Bill Discount Scheme (EBDS)? 

Every UK business has access to the Energy Bill Discount Scheme (EBDS) replaces the relief scheme. This scheme supports businesses for 12 months from April 2023 through to March 2024. 

Regardless of industry, businesses can get discounts on their electricity for fixed-rate contracts that have been agreed on or after 1 December 2021. This also applies to out-of-contract rates. 

The maximum business electricity discount is £19.61 per megawatt-hour (MWh) with a price threshold of £302 per MWh. This discount will be applied automatically and will only become active in periods of higher wholesale prices. 

Can I cancel my business electricity contract early?

It is possible to cancel your business electricity contract but it isn't advisable. All business electricity contracts will have to incur an early exit fee. This exit fee is usually the remaining cost of the contract. 

You can secure a new electricity deal up to 12 months before the end of your current deal. This means if you're offered a favourable rate when you compare business electricity prices, it may be worth locking those rates in.

Are business electricity prices cheaper at night?

Not all tariffs offer cheaper rates at night. Most business electricity prices have the same unit rate 24/7 for the duration of your contract. 

You can request an Economy 7 or an Economy 10 tariff as these business electricity tariffs do offer cheaper electricity supply rates at night. These are often the best tariffs for restaurants, nightclubs or bars if they are open late.

Is it better to get a cheaper standing charge?

This is a question we're asked regularly. The answer depends on how your business uses its electricity supply. What may seem like a great deal to have no standing charge can actually end up adding to your business's electricity bills.

A typical business electricity supplier may offer an attractive-looking tariff with no standing charges but will likely offset any potential losses with a higher unit rate.

A daily standing charge will be applied 365 days of the year. For example, a charge of 45p per day will cost £164.25. Whereas the unit rate will be applied to each kWh of electricity used, this makes up the largest cost of your bill.

For a business that typically uses a medium to a high amount of electricity each month, it will likely cost more if you opt for a no-standing charge tariff.

On the flip side, a low-usage business can save money on its electricity supply with this type of tariff.

What vat do I pay on my business electricity?

There are many costs to consider when it comes to business electricity. Most businesses will pay a flat rate of 20% VAT on their supply. This is automatically added to your bill by your electricity supplier.

Some business electricity customers are eligible for a 5% discount. You are eligible for a business VAT discount if you match one of the following:

A charity or a non-profit business
Very low business energy usage (less than 1,000 kWh of electricity per month)
At least 60% of the business electricity supply is used for domestic purposes (this must be proved).

What is a half-hourly meter?

Half hourly meters are for business premises recording a large amount of electricity consumption. 

By law, your business must have a half-hourly meter if you have a maximum demand of 100kWh or greater in any 30-minute period during the day. These meters are great for managing business electricity and gas ensuring that energy suppliers are not overcharging you based on estimated billing.

What is a micro business & am I classed as one?

It may be the first time you're hearing the term 'micro business'. In fact, most SMEs fall into this category in the eyes of business energy suppliers without realising. There's a few benefits to being classed as a micro business; but as with anything it does have its drawbacks. 

You'll be classed as a micro business by energy suppliers if you fit into one of the following categories: 

you employ less than 10 employees and have an annual turnover no greater than €2 million; or 
use less than 100,000 kWh of electricity per year; or 
use less than 293,000 kWh of gas per year. 

What if my business has had a power cut?

Ofgem, the energy regulator has set out guaranteed standards that must be met. This means that if your business has had a power cut lasting more than 12 hours, you're entitled to a £150 payment and an extra £35 for each additional 12 hours from UK Power Networks. 

Are renewable electricity tariffs expensive?

In most cases, renewable electricity tariffs are comparable in price to standard non-green tariffs. Some electricity suppliers offer 100% renewables across all tariffs. 
Still Not Sure About Switching Your Business Electricity Supplier?
Join over 400,000 happy customers who compared business electricity prices and switched with us
Want To Stay With Your Current Supplier?
It's hassle-free, easier and quicker to recontract with your current business electricity supplier. This is a good choice for your company if you want to avoid any lump sum final bills and additional paperwork.