Compare Business Electricity Prices
Compare exclusive business electricity deals in just 60 seconds. We work with a panel of trusted suppliers, so you can switch with confidence.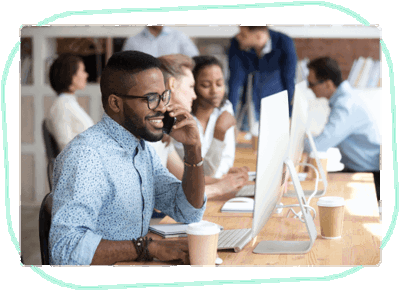 We make switching your business electricity simple
COMPARE

Compare a range of tariffs from leading suppliers

SWITCH

Online or by phone, it's up to you

SAVE

We've saved UK businesses over £100m
Save money on business electricity prices
The livelihood of your business relies on its supply of electricity. That doesn't mean you need to be paying over the odds for your business electricity. The easiest way a business can cut its costs is by switching to a suitable tariff based on its usage.
Many businesses feel that switching suppliers is a complicated process. But Love Energy Savings makes the switching process easy and worthwhile, saving your business hundreds of pounds every year.
With so many suppliers to choose from, finding great deals on your business electricity can feel overwhelming. That's where Love Energy Savings can help!
We compare hundreds of tariffs in a matter of seconds, giving you instant access to incredible deals. Everything is online, so you can choose your supplier, and tariff, and track your switch.
I want to save money on business electricity
The leading business electricity comparison experts
With our huge range of business electricity suppliers, you can find great tariffs that will save you money.
Love Energy Savings makes it as easy as possible for you to find the best energy deals available. This means we can help you switch business gas suppliers at the same time as your electricity. Our comparison tool can help you find the best deals in minutes.
Discover why we have become the first choice for businesses looking to switch to cheaper electricity deals:
We've completed

over 272,872

Business Electricity switches1

We've helped
customers save

over £78 million1

On average
a typical customer

saving is £1,4012
1 272,872 electricity meters switched and £78 million saved as of April 2021.
2Love Energy Savings has saved customers on average £1,401 on each switch. This data was collected between 01.09.2021 and 28.02.2022
" I made an email enquiry and you were quickly on the telephone to me. Thanks to Love Energy Savings I now have a four-year fixed deal for electricity at what I believe to be an unbeatable price. "
Robert, Trustpilot review
What Business Electricity Tariffs Are Available?
Business electricity comparisons can get quite complicated, generally because there is a little more to think about in terms of which is the right plan for your business. To determine which business electricity tariff is the best value, you will need to consider how your business uses energy, how much it will cost, how large your business is and whether you have multiple locations.
Each tariff type offers its own benefits, from fixed costs over a certain period to renewably sourced energy. For those reasons, it is important to thoroughly compare business electricity tariffs, which will help you identify the correct tariffs to maximise savings.
By switching with Love Energy Savings, you can receive expert advice on which tariff type best suits the needs of your business.
A fixed-rate tariff is one of the most popular business electricity tariff options. With a fixed rate tariff, you agree to pay a fixed unit price and a standing charge. This price can be locked in for a number of years, in some cases up to 5 years depending on your energy provider.
A fixed-rate electricity tariff is great for businesses who want to maintain control of their bills and budgeting, as they will be protected from electricity price increases.
With Love Energy Savings, choosing the right electricity tariff and supplier for your business is easy. Thanks to our trusted electricity supplier network, you can secure a fixed-term rate for 12, 24, 36, 48, or 60 months with a switching window available up to a year in advance.
What is a variable rate electricity tariff?
Variable rate tariffs can be a good option for businesses who want to benefit from any reductions in the price of business electricity.
The price you pay is dependent on the market price, which means that you pay less when market prices drop. However, if prices increase, you will have to pay a higher unit rate.
What is a green energy tariff?
More and more businesses are moving towards sustainable energy sources, so green energy tariffs are becoming a popular choice for environmentally conscious companies.
With an increasing number of business electricity suppliers offering green energy tariffs, there is now a much greater choice for small and large business seeking renewable electricity.
Business Electricity Prices by Size
Whilst business electricity rates largely depend on several factors, including usage and the location of the premises, here are the average business electricity prices per kWh by size in the UK:
| Business size | Unit Price/kWh |
| --- | --- |
| Micro | 20.06p |
| Small | 20.57p |
| Medium | 18.06p |
| Large | 18.00p |
| Very Large  | 18.39p |
Prices are for Q1 of 2022. Prices accurate as of July 2022 according to the UK Government.
Why choose Love Energy Savings?
Our dedication to customer happiness is what sets us apart from the competition.
At Love Energy Savings, we aim to take the hassle out of comparing business electricity prices & rates, allowing you to focus on what you do best – running your business.
When you're part of the Love Energy Savings family, you'll enjoy…
A dedicated Account Manager

Your dedicated account manager will be available throughout the process of your switch

A simple, stress-free service

The switch will be managed for you allowing you to sit back, relax and save

Exclusive offers and deals

By comparing with us, you will have access to the best business electricity rates on the market
Switching to a cheaper electricity deal has never been easier!
Compare electricity suppliers quickly:

We work with a huge range of business electricity suppliers to make comparing electricity prices quick and easy.

Get electricity quotes in seconds:

Pop your postcode and details about your existing supplier into our comparison engine to view your bespoke business electricity prices.

Switching made simple:

Select the right deal for you and we'll take care of the arrangements between your suppliers. You don't have to worry about a thing!

Dedicated account management:

From switch to renewal, we'll handle all the details for you and make sure you never overpay for your business electricity again!
I want to save money on business electricity
Business Electricity Prices by Supplier
Many business electricity suppliers offer cheaper rates for longer energy contracts. However, despite cheaper electricity rates, the wholesale market price fluctuates regularly. This means that business electricity rates may cost less, or more, at any given time. This must be factored into any decision whilst selecting the best electricity deal for your business.
To ensure you're getting the best deal, you should compare business electricity suppliers before committing to a fixed-rate contract. This ensures you're getting the right deal for your business based on how it uses energy.
If you decide to switch business electricity supplier, your electricity supply will not be impacted and you will continue to operate as normal. Your supply into your business premises does not change, only the company billing you will change. For example, if you decide to switch to British Gas from another company, they will likely never visit your premises (if you're not having new meters installed).
Want to stay loyal to your existing business electricity supplier?
Sometimes, you don't need to switch suppliers to save money. The best way to discover if you could get a cheaper deal with your existing supplier is to compare prices. Get a quote today to see how much you could save!
I want to save money on business electricity
" Today I received my yearly account review from Love Energy Agent, Wayne Cook. I found him helpful and courteous. He explained all my options for renewing my gas supply and switching my electric. All information was easily explained and understood. I would definitely recommend Love Energy to other business users."
K O'Neill, Trustpilot review
Accurate business electricity quotes
Moving Premises
Quote for multiple sites
Understanding meter types
Domestic vs business electricity
Tips for saving on Business Electricity
Small vs large business electricity
Accurate business electricity quotes

How to get an accurate business electricity quote

At Love Energy Savings, our aim is to make it as simple as possible to access the cheapest business electricity quotes.

All you need to start comparing business electricity prices is your business address and your contact details. You may want to switch all your business energy in one go. In this case, you will need both your business gas and electricity bill to hand.

It helps to have a copy of your most recent bill. This will help get a more accurate quote.

Moving Premises

Business energy contracts are attached to the supply point - not the business owner. This means that if you are moving business premises, there will be no penalty fee for ending your contract early.You may want to consult your current business electricity supplier if you are expanding to another building as you may be eligible for a multi-site meter. You may want to compare business electricity rates if your energy supplier does not offer favourable prices for multi-site customers.

There are many business energy suppliers who specialise in these tariffs.
What to do if you're moving business premises:

Call your electricity provider and tell them when you will be vacating the premises

Provide a final meter reading to your electricity provider (keep a copy for your records)

Leave Direct Debits in place until your contract has been fully terminated as you may have one final bill to pay or your business could be owed money

How to set up a new electricity contract at your new business premises

Take meter readings as soon as you access your new premises

Your new premises will most likely be on a deemed contract, so it's essential that you compare electricity prices as soon as possible and secure the right electricity deal for your business

Give your new electricity supplier your meter readings and confirm the date you moved in to ensure you're charged correctly for your energy usage.

What you need to do if your electricity contract is due to end before you move premises?


If you are going to move business premises but your electricity deal is up for renewal before you move, it's important that you still set up a new deal - especially if you have a few months left on the premises contract. If you don't find a new deal and you go out of contract and continue to use electricity, you will be placed on what's known as a deemed contract. This means you could be charged higher rates per kWh.
The quickest and easiest way to make sure you avoid high business electricity prices is to switch to a new deal as soon as possible. Our business comparison engine makes the entire process very quick and easy and our team of energy experts will take care of all the details for you, so you can focus on your business instead of your bills.
Then, when the time comes for you to move out, simply call your energy provider and let them know. Remember, energy contracts are attached to the premises, not the business owner or bill payer; therefore you will not be charged a penalty fee for ending your contract early.

Quote for multiple sites

If your business operates across multiple sites, we understand that comparing prices may seem a little complex, but we can help simplify the process.Right now, online energy comparison services can only provide individual quotes per meter. That's because energy prices can differ depending on where your business is located and the size of your premises.

So, to make the entire process as easy as possible for you, simply call 0800 9888 375 and we'll provide multiple energy quotes on

Understanding meter types

Domestic and business premises have different meters. This is because business electricity usage is different from that of domestic customers.

Your meter will have a profile number and can be found on your energy bill:

Energy profile numbers and what they mean.

In rare cases, some businesses may have domestic 01 (domestic unrestricted) and 02 (domestic economy 7) meters. Only a handful of energy providers will provide commercial energy contracts to these businesses.

Standard business meters:

Typical commercial meters begin 03 or 04 and will pay standing charges, unit rates and a Climate Control Levy (CCL).

03 - Non-domestic unrestricted

Standard 03 meters use one unit rate when measuring usage. This means that the rate you pay for each unit of energy used will remain the same throughout the day, regardless of time. This type of unit is best suited to those businesses with low energy consumption.

04 - Non-domestic economy 7

This is a two-rate business energy meter. This means you pay a day rate and an evening rate on the energy you use. Electricity rates are usually higher during peak times and lower at night times. It is advisable to check with your supplier to confirm what time their economy 7 hours apply. Most suppliers operate their economy 7 hours between 1pm and 8am, though this can vary depending on supplier and location.

Maximum demand meters

Maximum demand meters are those with the following profile numbers:

Businesses who have these types of meters often have high levels of energy consumption. Much like the standard meters above, there are two options available:

Maximum demand 1 rate meter - charges a single rate, regardless of the time of day
Maximum demand 2 rate meter - charges a day and night rate, with cheaper rates running during off-peak hours

rates running during off-peak hours

Half-hourly meters

As part of P272, half-hourly meters have been introduced to provide more accurate billing for businesses and help prevent businesses from overspending on electricity.

As opposed to previous maximum demand meters, where units are measured every hour, new 00 meters (also referred to as HH meters) measure units every half hour. This will help provide accurate energy insights to your supplier.

These meters are mandatory for customers with an energy demand greater than 100kW, though customers can request a half hourly meter if their consumption is greater than 70kW.

Domestic vs business electricity

Energy companies treat business and domestic contracts differently for multiple reasons. Greater buying power allows many larger businesses to gain access to better prices. Businesses are locked into longer energy contracts that are set in stone.

This means that companies must stick with their supplier for the full duration of their contract.
With that in mind, business electricity contracts are much stricter than home electricity contracts and are set in stone for a longer period of time.

This means that businesses cannot switch their electricity supply whenever they want and must stick with their supplier for the duration of the contract.

Tips for saving on Business Electricity

Switching your business electricity supplier is one of the biggest ways you reduce your energy spend. However, there are several other ways a business can become more conscious of their consumption.

Install motion sensors – motion sensors are a great way to ensure employees do not forget to turn off the lights in unused spaces. This can have a huge impact on reducing business electricity usage.

Invest in energy efficient-equipment – investing in energy-efficient equipment have a huge impact on the cost of business electricity. A good indicator of how much an appliance will cost to run is to read the energy efficiency labels. An A+++ rated appliance is the most efficient and G is the least efficient.

Keep doors closed – keeping doors closed between used and unused areas can save your business up to 10% on the electricity bill.

Turn off at the end of the day – The biggest offender for wasting energy is usually office buildings. Many employees have a habit of leaving their equipment on standby overnight. Switching computers off at the end of the day will have a significant impact on electricity savings.

Small vs large business electricity

As mentioned earlier, business electricity bills are influenced by multiple factors. A larger business may have more power to negotiate prices. There are circumstances that can influence this.

We have put together a few examples of what businesses might pay based on their industry.

Office buildings

The largest outgoings for many businesses operating online is office space. On average, an SME will need around 500m2 of office space, and here is how that would break down:

| | |
| --- | --- |
| Energy cost per square meter | £6.50 |
| Office size | 500m2 |
| Average yearly bill (total) | £2,762.50 |

Retail store

Most of the energy used in retail is heating to keep the environment comfortable for the customers. Modern retail spaces use electric heating and high-spec equipment so electricity costs can build up quickly.

Here is what an average retail shop might expect to pay for their energy:

Annual usage (kWh)

27,350 kWh

Price per kWh

14.83p

Daily standing charge

23.33p

Average yearly bill (total inc VAT)

£4,969.38

/td>

Restaurant

Restaurants demand large amounts of electricity. Spending over ten hours a day with ovens, hobs, dishwashers and microwaves, they rack up large bills quickly.

Here is what an average UK restaurant might expect to pay for their energy:

| | |
| --- | --- |
| Annual usage (kWh) | 139,117 kWh |
| Price per kWh | 13.68p |
| Daily standing charge | 23.09p |
| Average yearly bill (total inc VAT) | £22,938.58 |

Many energy suppliers have energy tariffs for small and large businesses, but it mainly comes down to usage. The larger the usage, the more negotiation power the business has. You can read the full guide on business electricity prices here. .
Electricity prices, plans and contracts explained
How are business electricity prices calculated?
There are several factors that are considered when calculating business electricity prices, these include:
Your current plan
Your current supplier
How much you currently spend on business electricity
Current consumption of kWh units and current standing charges
Meter type (standard, economy 7, maximum demand or half hourly)
Get an electricity quote today and discover the cheapest electricity suppliers for your business.
Why should I switch business electricity supplier?
You may have been placed on a rollover contract if you have not switched for some time. This can leave you overpaying for the electricity you use. Paying too much for your electricity is taking cash away from your business. This money could be saved a reinvested into other areas of your business.
When you compare business electricity prices with Love Energy Savings, you can access great tariffs from a huge range of trusted suppliers.
Cancelling your electricity contract early
Leaving your business electricity contract early could mean you are liable to pay an early exit fee. It's always worth weighing up whether this is financially feasible before switching.
You can shop around and secure a cheaper deal up to 12 months before your contract ends.
There is no cancellation fee if you cancel because you are moving premises. This is because energy contracts are attached to the premises.
Business electricity prices
Business electricity prices are based on the type of electricity plan you choose and are broken down by the following:
Day unit rate (kWh)
Night unit rate
Standing Charges
When you compare electricity prices with us, your quote will also tell you:
Fixed term period (if applicable)
Estimated annual bill
Estimated monthly bill
Business electricity contracts
When you choose to switch your energy provider with Love Energy Savings, we will guide you through the entire process. Your contract will be with the energy provider you choose and not Love Energy Savings.
We will assign you a dedicated account manager to track your switch. We'll also be in touch when it is time to renew your energy contract.
Business Electricity FAQs
Should I fix my business electricity bills until 2023?

Domestic customers are seeing huge price increases and many are considering if fixing until 2023 is the right move. Domestic electricity and gas are going to up again in October 2022. Cornwall Insights predict a 65% increase in energy bills. This means the average UK household could be paying around £3,244 annually.


But what does this mean for business energy bills? Well, the energy costs for businesses are not exempt from the activity in the overall energy market. Similar price increases are happening but UK businesses are not protected from the price cap.

Whilst business energy experts are predicting further increases, it is still possible and even a good idea for businesses to explore fixing business energy prices until 2023.

There is much more competition still available for securing competitive business energy prices in comparison to the domestic electricity market.

Businesses can still secure a competitive fixed-term contract. You can compare business electricity prices here.

Why are business electricity prices rising?

A worldwide squeeze on gas prices and energy suppliers has seen consumers facing significant increases when they come to renew their energy tariffs.Wholesale gas prices have hit an unprecedented high of 450 pence per therm. This has placed real pressure on energy suppliers as fixed prices agreed previously have seen them losing money on the gas and electricity provided.


A number of factors have combined to see the wholesale prices increase so dramatically. A cold winter in Europe and increased demand from Asia put real pressure on supplies. Combined with other geopolitical factors, supply and prices have been severely affected.

It used to be easier to find business electricity cheaper than your current tariff. With energy bills souring in 2022, it has become more difficult to find cheaper electricity prices, you can still switch business electricity to manage costs against future increases.

List of business energy providers who supply electricity

At Love Energy Savings, we work with the following electricity suppliers:

British Gas Lite
British Gas
Dual Energy
EDF
EON
Gazprom Energy
Npower
Octopus Energy
Opus
Scottish Power
Total Gas & Power
Utilita

How much could I save if I switch my business electricity?

On average, our customers save 40% when they switch electricity, though this can vary depending on your usage, location and length of contract.

The quickest way to compare electricity prices is to use our comparison engine. Simply enter your postcode and your electricity usage and we'll return accurate results in less than 60 seconds.

What information do I need to compare business electricity prices?

To ensure we can provide the most accurate comparisons of business electricity, it's important that you provide as much information as possible. In our energy comparison engine we'll ask you for information about existing supplier is and what you currently pay. If you have a recent copy of your bill to hand, you'll be able to accurately compare electricity prices based on your kilowatt hour (kWh) consumption. If you don't have a copy, you could log into your account or speak to your energy provider directly. Read our guide to switching business energy here.

How can I compare kWh consumption on business electricity quotes?

When you complete your details in our comparison engine, you'll be taken to a page that will show you all the electricity deals and electricity suppliers that are available to you. Here, you will see a breakdown of your savings compared to what you are currently paying. Click the 'More Details' tab to see the kWh breakdown for day unit rates, night unit rates and standing charges.

I want to switch to cheaper businesses electricity deals across multiple business premises. How do I do this?

If you want to switch to a cheaper electricity deal across multiple sites you will have to request a quote for each site. Alternatively, call us directly to tell us about your current electricity rates and we can provide a quote for each site.

Do electricity prices fluctuate?

Yes, energy prices can change from day to day and will typically rise year-on-year. Many factors can influence this, including fluctuations in market rates. Also, as the UK imports gas and electricity, environmental changes - such as severe weather conditions - can impact the price you pay for energy. The best way to ensure you get the price possible is to secure a new deal as soon as possible. You can start looking for new deals between 6 and 12 months before your contract ends, so if you're prepared, you could make some big savings - and fix that rate for up to 5 years!

I'm about to move out of my business premises. Should I still switch to a cheaper deal?

Even if you are about to move to a different business site, it's always worth switching to a new deal. If you don't do this, you risk 'going out of contract', which means you'll be paying higher rates on your electricity. All fixed-tariff contracts feature a 'change of premises' clause which supersedes any early-exit penalty fees. Read our guide to changing tenancy for more information.

How long will it take to switch electricity suppliers?

In most cases we can switch the day after your contract with your current supplier ends providing we have given your provider 30 days' notice before your contract end date. We provide Track My Switch for all our customers which allows you to see where your switch is up to.

When I switch to a new electricity supplier, will my supply be cut off?

No, your energy supply will not be cut off during the switching process. We'll liaise with your existing supplier and negotiate the switch on your behalf. You can keep updated throughout with our 'Track My Switch' tool.

Are there regional variations in business electricity rates?

Yes – you will find that there are regional variations in business electricity rates, so prices will change from region to region. There are a number of factors that influence these variations, including:

How many suppliers sell energy in that region
The number of suppliers that buy from the generators in that region
The charges local distribution networks put onto your energy supply

What is an MPAN number?

MPAN stands for Meter Point Administration Number (also known as a Supply Number or S Number). This 13-digit number is unique to your property and energy suppliers will use it to calculate your electricity rates.

Your MPAN number will also have a profile type number. This number tells energy providers about the type of commercial business you operate, which makes it easier for you to switch as it and simplifies the administration process for your new supplier.

To learn more about meter types, take a look at understanding meter types.

Can I cancel my business electricity early?

If you simply wish to leave your contract early because you want to switch to a cheaper electricity tariff, then you could be liable to pay an early exit fee on your contract.

It's always worth weighing up whether this is financially feasible before switching.

You can shop around and secure a cheaper deal up to 12 months before your contract ends. This means you can lock into an incredible deal and enjoy great savings when your contract ends.

If you wish to cancel because you are moving premises, there will be no early exit fee or penalties to pay. This is because energy contracts are attached to the premises, rather than the account holder.