Business Gas
Compare The Latest Business Gas Prices
Within just 60 seconds you can compare the latest prices and secure your new business gas deal online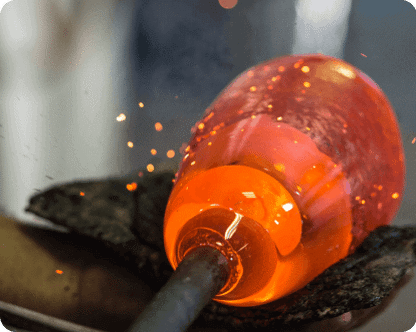 How to switch business gas suppliers
Compare

Simply enter your postcode and we'll find your meter and usage to give you the latest prices

Select your supplier

Select the tariff that's right for your business – you can even stick with your current supplier.

We'll handle the switch

We look after the switching process and you'll be updated on every step of the way.
Secure your business gas prices 
With the energy market changing quickly, we believe it should be simple to compare business gas prices.
We're here to help your business find the right deal to offer you peace of mind and security when it comes to managing your business gas bills.
See how much you can save against your current energy supplier
Compare business gas prices
We've helped businesses all over the UK save money on their business gas rates. With a panel of trusted business gas suppliers, we'll help you find a great deal in just 60 seconds.
With wholesale gas prices rising rapidly, you may be reluctant to switch suppliers. However, many business owners are choosing to fix their business gas prices to avoid any potential future price increases for peace of mind.
We're here to help you find the right business gas tariff suitable for your company, so you can get back to doing what you do best.
What are the current business gas prices?
With business gas rates fluctuating daily, it is incredibly difficult to know what you should be paying. It has never been more important to take control of your gas supply and understand how much you're paying.
It is advised to regularly compare business gas prices, but we know this isn't always achievable for a busy SME. We've created an online self-service platform to allow companies to compare business gas from wherever and whenever it suits them. This means you can find some of the best business gas prices from the comfort of your own home at the end of a long day in just 60 seconds. Once you have chosen your gas tariff, we'll take it from there.
What are the average business gas prices per kWh in 2023?  
With wholesale energy prices increasing rapidly, it can be difficult to keep track of the latest prices. As a result, your business may be unsure whether you're on the right deal for you.

Here, we've provided the latest average business gas prices per kWh by business size in the UK. These rates are for business gas tariffs on a 2-year fixed rate. Prices vary by UK region and these are the national average. 
You should compare business energy today for an accurate price. 
| Business size | Annual Usage | Unit Price/kWh |
| --- | --- | --- |
| Micro business | 5,000 kWh | 15.58p |
| Small business  | 15,000 kWh | 14.92p |
| Medium business  | 25,000 kWh | 14.68p |
| Large business  | 50,000 kWh | 14.57p |
 Last Updated: January 2023.
As you may expect, tariffs are updated regularly and the best way to find the latest deals is to compare business gas suppliers with Love Energy Savings.
What Impacts Business Gas Prices?
There are lots of factors that impact your business gas rates. Securing cheaper business gas prices is often easier when you understand what drives the prices.
The first thing to note is that some of these factors lie outside of your control. For example, some world events that control the supply and demand levels of gas will have an impact on the prices you pay.
Here are some of the factors that impact the price business gas suppliers will charge:
Wholesale gas prices
Your region (suppliers will charge based on the location of your business premises)
Your annual consumption
The industry you operate in
Meter type
We're here to help you understand these variables and how you can still get a great business gas quote.
What information do I need to compare business gas prices?
Switching business gas suppliers is easy when you have the right information to hand. You'll know most of the information, but it is always handy to have a recent business gas bill to hand as this will help you get the most accurate quote for your consumption levels.
Here's the information we'll need from you:
Your business gas bill (this has your annual consumption)
Your meter type (don't worry if you're not sure)
Basic business information (name, address & contact info)
Your current business gas supplier
Compare business gas suppliers
We work will a trusted panel of business gas suppliers so that you can switch with confidence. The UK energy crisis has been well-covered in the news and has led to lots of uncertainty.
We've seen lots of business owners switch business gas suppliers to secure prices against any future potential increases and for peace of mind. Switching business gas suppliers today also means that you can take full advantage of the Energy Bill Relief Scheme (EBRS).
When you compare business gas with us, you'll see some of the biggest and most trusted UK gas suppliers including British Gas, EDF, Smartest Energy, Valda and many more.
What are the different types of gas meters?
Depending on when your last business gas meter was installed it could either be a manual dial meter, a digital meter or a smart meter. If you don't need to send regular meter readings, you are likely to have a smart meter.
If you've never had a new gas meter installed, you may have an older dial meter. These measure your gas consumption mechanically and are quite outdated. You may want to make your business gas supplier aware of your old meter so they can install a new one.
How to read a business gas meter
After you have located and identified your business gas meter, you may want to take a reading. Your gas meter will be imperial or metric. An imperial meter has four main numbers and a metric meter has five. Here's how you read a gas meter for each type:
Dial Gas Meters - this is the most challenging to read. You will see a series of dials, each marked 0-9. You read the numbers each pointer is indicating on each dial from left to right. If the pointer is between two numbers, you note the lowest number, except if the pointer is between 0 and 9 in which case note 9. Ignore any red dials, dials marked '100 per rev' and the largest dial, usually in the centre.
Digital Meters - a common digital meter will display a series of numbers on a screen. Simply just take note of the numbers from left to right, ignoring any digits in red, any printed zeroes or any digits after a decimal point or a space.
Smart Meters - you don't have to worry about taking any meter readings as they're sent straight to your supplier. If you do need to take a reading, follow the instructions for digital meters.
What is an MPRN number?
Your MPRN number is unique to your business gas meter. This helps suppliers identify your premises and charge you the correct amount. You may need your MPAN number when moving premises or switching business gas suppliers.
Where can I find my MPRN number?
You'll find your MPAN number on your business gas bill or on your actual meter. If you can't access any of these options, you can get in touch with your current business gas supplier who will be able to tell you.
Should you renew or switch business gas suppliers?
You may be tempted to just accept your business gas renewal when it comes through the post. Business gas suppliers want you to do this as they typically charge higher than the current market rates.
In fact, in some cases, companies will start comparing business gas prices to find out if their current supplier is offering cheaper business gas rates to new customers. If you have just got your renewal through, you should always compare business gas prices to see what the current rates are.
Many customers use our service to simply switch to a new contract with better rates with the same supplier.
Why are automatic renewals more expensive?
Your business gas supplier is only obligated to send a renewal notice if you're classed as a micro business. Your renewal should arrive at least 60 days before your contract end date. Larger businesses may not receive a renewal notice. You should always make sure that you have added a reminder to your calendar.
Business gas suppliers will place you on out-of-contract rates if you fail to secure a new deal before the contract end date. These tend to be the most expensive rates that the supplier offers. When you switch with Love Energy Savings, we'll remind you when your contract is coming to an end.
What you may not know is that you can actually secure your new business gas contract up to 12 months before the contract end date. This means your new deal will kick in automatically so you don't have to worry about expensive out-of-contract rates.
When is the best time to switch business gas suppliers?
The best time to switch business gas supplier comes down to several factors:
If you're in the final 12 months of your business gas contract
If you're expecting business gas prices to rise in the next 6-12 months
If you haven't switched suppliers in a long time
Switch in the warmer months (suppliers sometimes increase prices in the winter)
How long does switching business gas suppliers take?
From start to finish, we will switch business gas suppliers within 5 working days. We've adopted Ofgem's Faster Switching programme to ensure business energy customers are receiving great service and a fast switching process.
Who are the UK's largest business gas suppliers?
Most companies in the UK feel more comfortable switching to well-known business gas suppliers. However, whilst the Big Six suppliers can offer some great business gas deals, independent challengers also offer some great rates and service. 
Here are the UK's current largest business gas suppliers: 
Who is the cheapest business gas supplier? 
In this example, we'll review business gas prices based on an annual usage of around 25,000 for the cheapest region and supplier price available at the time of writing. This is around the average annual usage of a medium sized business. These prices may be different from an accurate quote based on your business's usage and unit rates change daily. This example is just for guidance.
 

Supplier

Price Per Kwh

Standing Charge

Annual Cost

BGLite

13.26p
45p
£3,479

British Gas

14.82p
30p
£3,815

Smartest Energy

13.43p
25p
£3,449

EDF

15.00p
25p
£3,841

Valda

14.17p
44p
£3,703

Scottish Power

17.88p

26p

£4,564
These prices are from January 2023 for 2-year fixed deals based on usage of around 25,000 annually. 
Can I change my business gas supplier if I have multiple buildings? 
Yes. Businesses with multiple buildings and locations can switch business gas and consolidate their bills into one account. For example, a business may have two offices, with energy contracts ending on different dates. An ideal scenario would be that they end on the same date. This means that the business can negotiate both prices at the same time. You can read more about multi-site meters here. 
Fixed-rate business gas tariffs
A fixed-rate tariff is a popular option for businesses switching gas suppliers. With a fixed rate tariff, you agree to pay a fixed unit price and a standing charge. This price will be locked in for the duration of your contract which can be up to 5 years. Fixed-rate tariffs offer security for businesses as they can avoid any price hikes during their contract. As energy prices increase, many businesses are seeking as much certainty in their costs as possible. However, this also means your business will not benefit should energy prices reduce.
No standing charge business gas tariffs
A standing charge is a fixed daily amount that businesses and households pay to their energy supplier. This covers the cost of delivering and maintaining your energy supply. With a no standing charge tariff, your daily fee will be set to zero. This means you will only pay for the gas your business uses. This tariff is often a good choice for seasonal businesses or companies which only open a few days a week. You should keep in mind that your unit prices may be higher on a no standing charge tariff.
Variable rate business gas tariffs
With a variable rate tariff, you will pay your supplier's standard rate for the gas you use. The price you pay will be dependent on the market price. So, if the market prices increase, you will pay more for the gas your business uses. With energy prices increasing, more businesses have switched to variable tariffs as suppliers set fixed tariffs at higher rates to make up for money lost on wholesale costs. If you're on a variable tariff, you will have the option of switching to a fixed-rate tariff if you find that your prices continue to rise.
Choosing the right business gas tariff can help you make the most of your energy supply. The best tariff for you will depend on the requirements of your business.
Commercial gas solutions for large businesses
At Love Energy Savings, we've worked with large businesses across a variety of industries to help them manage their business gas contracts. We can offer solutions for large multi-site businesses to help them consolidate gas deals into one simple bill.
Our team of experts can save your business time and resources to find a bespoke corporate energy solution from our panel of trusted energy suppliers.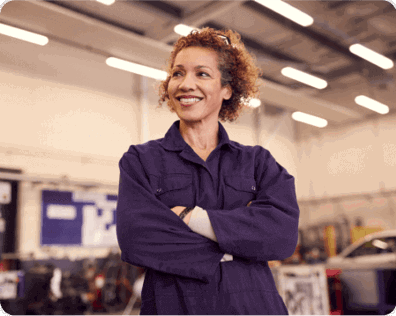 Business gas tariffs for SMEs
In an ever-changing energy market, we aim to make the process of comparing gas prices as simple as possible for your small business. Our quick comparison service allows business owners to view the latest energy prices online at any time.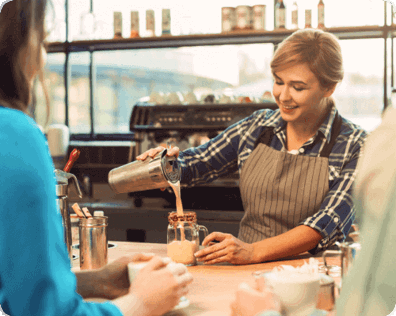 Business gas rates for micro businesses 
You're considered a micro business if you meet the following criteria: 
Employ less than 10 employees (or their full-time equivalent) and have an annual turnover or balance sheet no greater than €2 million; or
uses no more than 100,000 kWh of electricity per year; or
uses no more than 293,000 kWh of gas per year.
Micro businesses have more protection in energy contracts than larger businesses. For example, they are entitled to receive renewal notices and will receive any account credit back built up if their energy suppliers go bust. 
The downside of being a micro business is that suppliers will typically charge higher business gas rates.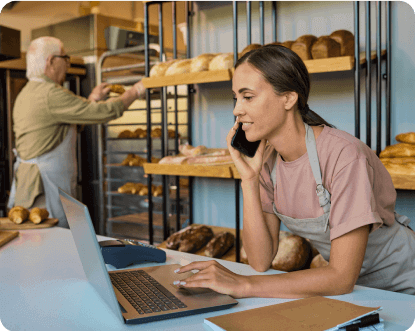 Switching business energy suppliers is super easy but with energy prices surging, it can be difficult to understand what is a great deal. The good news is that your Energy Bill Relief Scheme will not be impacted when you switch energy suppliers.
The first step to getting cheaper business energy bills is understanding your energy bill. This will help guide your knowledge of what the business needs. You can then start to look at ways to increase energy efficiency.
Here are some of the things that can impact the price of your business energy quote:
Wholesale energy prices
The location of your business
The size of your premises
Your annual consumption
The sector your business operates in
Your meter type 
Some of these factors can lead to businesses deciding not to switch business gas suppliers. However, this can leave companies on an energy tariff that doesn't suit their needs.
Love Energy Savings are available to help your business navigate the energy market and secure the right deal for you. No matter how big or small your business, we'll help you find a suitable tariff from our panel of trusted energy suppliers.
Compare deals in less than 60 seconds 
How business gas prices have risen
Here, you can see a chart detailing how business gas prices have changed over the past decade.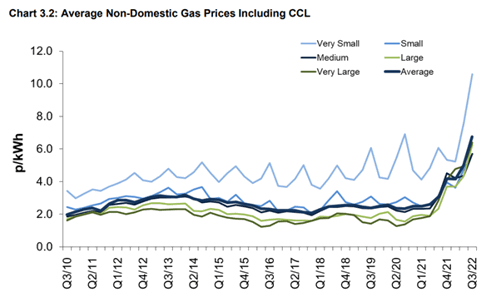 Source: GOV.UK



Although prices have fluctuated over the past 10 years, there has been a very sharp increase in cost since the end of 2021.

This has changed the way businesses compare gas prices. Finding a cheaper deal than your previous tariff is now rarely an option. Instead, businesses should aim to find the best possible tariff that suits their energy requirements.
Why are business gas prices increasing?
The energy market has changed quickly, and business gas prices have increased significantly. This has altered what it means to find the best rates when businesses compare energy tariffs.
Various world events, including the Russian invasion of Ukraine, have impacted wholesale energy prices leading energy suppliers to increase their business gas prices. You can read more about why gas prices are increasing here.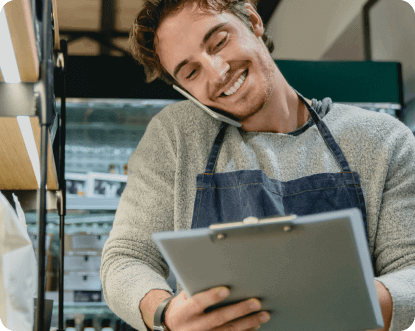 Business Gas FAQs
What is the energy bill relief scheme?

Due to the rising energy prices, the government has introduced the Energy Bill Relief Scheme (EBRS).

to support small businesses. The support package caps wholesale prices at 21.1p per kWh for electricity and £75 per MWh for gas.

Even with the support package, businesses are still entitled to compare business gas prices and switch to a new supplier.

Can I cancel my business gas contract early?

Although it is possible to cancel a business gas contract early, you should always speak with your supplier first. Most business energy contracts will involve an early exit fee which is often much higher than for domestic energy deals.

You can secure a new deal up to 12 months before the end of your current deal when your renewal window opens. This means if you find favourable rates when you compare business gas prices, you can lock those rates in early.

Can I switch to a renewable business gas tariff?

Green business gas is a more environmentally friendly way to power your business. It is often produced from sustainable sources such as plants or animal waste. Renewable electricity and gas tariffs have grown in popularity in recent years and discrepancies in prices have reduced.

For money information, you can read the Love Energy Savings Guide to Green Energy Deals.

How much VAT should I pay on my business gas?

The typical VAT rate for most businesses is 20%. If you operate a charity or a not-for-profit, you could be eligible for a VAT reduction to 5%. If you have any questions, you should speak to your gas supplier and request a VAT declaration form.

What are automatic renewals?

Automatic renewals are actioned by suppliers if you have not agreed to a contract with new business gas rates. These rates are usually much more expensive.

My premises uses an analogue dial meter for my business gas meter readings; should I switch to a digital meter?

It is challenging to read an analogue meter. Many businesses choose to upgrade to a digital meter for easy meter readings. A more accurate reading will save money as you will be paying the exact amount you have used.

Can you switch business gas suppliers if you work from home?

At least 50% of your gas usage must be considered business use to qualify. Some energy suppliers will have different thresholds for you to qualify.

Can I cancel my business gas contract?

It is difficult to cancel your business gas contract. In certain situations like moving business premises allows you to cancel, but cancelling mid-contract will come with hefty fees.

Does a landlord pay business gas rates?

Landlords are responsible for business gas contracts in certain commercial leases. Arrangements vary and can be one of the following: 

The landlord will budget the business gas prices in the lease and cover the costs.
The landlord will manage the business gas supply and invoice the tenant every month.
The tenant is responsible for managing the business gas supply and will pay it themselves. Many often prefer this as they can find ways to save money on their bills.