Our guide to the latest energy prices and how they impact your business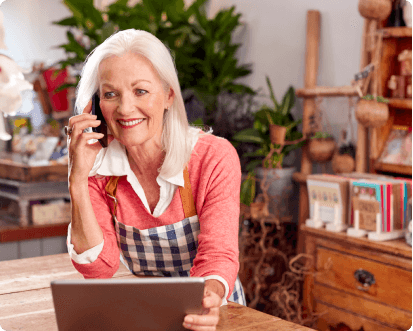 Why is it important to know your pence per kWh?

A kilowatt per hour is a unit of measurement for energy usage. It's measured by the amount of power your using in watts over one hour.

For example, an appliance that used 1,000 watts of energy would take an hour to reach one kWh. An appliance of 10 watts would take 100 hours to use the same amount of energy.

Suppliers will charge you per unit of kWh. In the example above, if your unit rate was 20p per kWh and your appliance used 1,000 watts of energy. Every hour, you would pay 20p for that appliance being on.
Which supplier offers the cheapest prices per kWh?

Your unit cost depends on several factors unique to your business. So, the cheapest energy supplier for one business may not be the cheapest supplier for another.

This means that there is no cheapest supplier for all businesses. You can check available tariffs here.
---
Factors that impact your business energy prices
There are a number of factors that can affect your bill and how much you're paying for your business energy. We're experts in finding businesses of all shapes and sizes a new deal. Don't just take our word for it, we've got over 400,000 happy customers and an excellent Trust pilot rating with over 16k reviews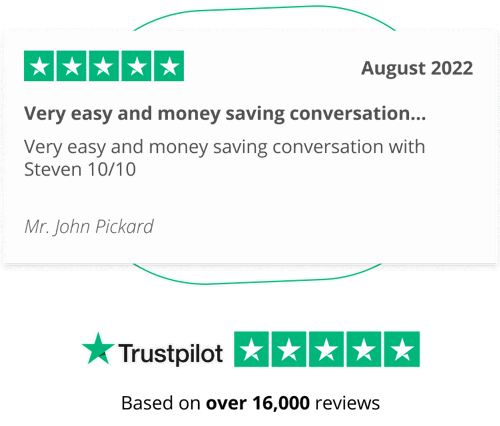 Your Business Size
Different types of businesses use different amounts of energy. If you're a large business you will likely pay a different rate on your energy compared to a smaller business.

A large business in a suppliers eyes is based on usage not size. A small fish and chip shop could be using a lot of energy all day, and be classed a larger business than a storage warehouse using little energy day to day.

The average energy consumption for a micro & small business is between 5,000 and 15,000 kWh per year. Whereas a large business running at full capacity could use up to 20 million kWh annually!

Check your consumption and see pricing available here.
Your Meter
Your meter should be suited to the type of business you are. But there's a number of options to look out for when searching for a better deal.
Economy 7 / Multi-rate meters
If you use more energy of a night than during the day, you can have an Economy 7 meter, also know as multi rate meter. This means you get a cheaper rate at night when you use most of your energy. Be careful though, as the peak daytime rate is often more expensive.

Half hourly meters
A half hourly meter also know as HH, provides readings every half an hour to your supplier. This ensures you're accurately paying for what you use.

Half hourly metering is mandatory for any business in the UK using at least 100,000 kWh (kilowatt per hour) of electricity each year.
Your Location
The location of your business can be the biggest factor in what you pay per kilowatt for your energy.

The UK is split up into regions that suppliers use to benchmark your minimum price. Factors such as:


Distance from source (power plant) to your business.
Spillage - some regions have older wires and pipes, the energy escapes meaning some is lost along the way. Unfortunately, if you're in one of these regions you'll pay more overall, as more energy is required to reach your location.
Some regions are subsidised, such as Northern Scotland, this increases costs further South than in the North, this is due to the costs of transporting the energy into the highlands and remote islands of Scotland.
Region
Electricity Unit Rate (p/kWh)
Average Overall Bill in 2021
East Midlands
22.27p
£747
Eastern 
22.95p
£770
London
22.79p
£776
North Wales, Merseyside,
Cheshire
24.07p
£807
North East
22.48p
£751
North Scotland
23.39p
£793
North West England
22.40p
£748
North Ireland
19.64p
£699
South East
23.55p
£789
South Scotland
22.44p
£757
South Wales
23.50p
£787
South West
23.66p
£796
Southern 
22.77p
£762
West Midlands
22.80p
£763
Yorkshire
22.50p
£751
UK Average
22.77p
£766
Find the latest prices in your area and futureproof your energy costs
It's widely reported that the energy market is showing no signs of returning to more normal, lower rates. Businesses are looking to lock in their pricing with a longer deal to prevent them falling victim to further hikes.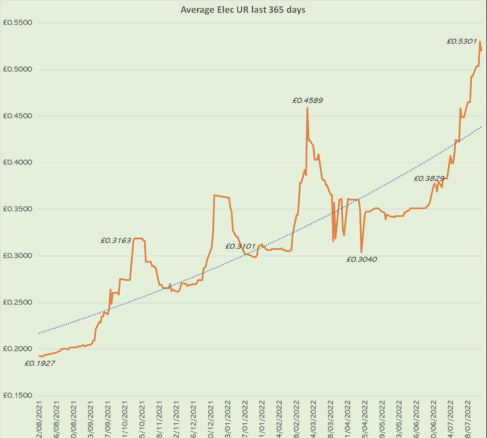 What are the average business energy costs?
The costs of energy in the UK IS constantly changing, the best way to find out the latest prices is to compare the latest deals.

The latest data shows that the average cost of business electricity in 2022 is 17.73 pence per kWh, with the average price for gas at 4.18 pence per kWh.

However, average prices will vary depending on the size of your business. If you're unsure on what you should be paying for your business, we've broken down the average unit prices of a small businesses in the table here. This is based on a small business using around 15,000 - 20,000 KWH of electricity. 
Alternative you can get the latest business rates specific to your usage in our simple energy comparison form
| | | | |
| --- | --- | --- | --- |
| Business Gas | Average Electricity Unit Rate (p/kWh) | Standing Charge  | Cost per year  |
| Coffee Shop | 13.42p | 26.70p | £2,109 |
| Hair Salon | 13.88p | 27.23p | £2,182 |
| Small Farm | 14.19p | 24.21p | £2,218 |
| Dental Surgery | 13.84p | 27.61p | £2,176 |
| Restaurant | 14.87p | 25.46p | £3,067 |
| Newsagent | 14.51p | 24.28p | £1,830 |
Standing Charges
There's a range of costs that make up your business energy bill.

The first is your standing charge which is paid at a daily set rate. You will be required to pay standing charges regardless of how much energy you use on a given day.

If you want to avoid paying a daily fee, you can sign up to a no standing charge tariff. However, you should bear in mind that these tariffs can come with increased unit rates.
Business Energy Taxes
Taxation costs make up the remainder of your business energy bill. This includes VAT paid at a rate of 20% and the Climate Change Levy (CCL).

The Climate Change Levy is an additional government tax. Businesses are required to pay the CCL on electricity, gas, and solid fuels like coal and petroleum.

When comparing business energy prices, it's important to factor in all costs involved. A tariff with the cheapest prices per kWh is not always the best value deal.
We're always speaking to our trusted suppliers to find the best prices available
Gas & Electricity Prices Per kWh FAQs
How can I find out if I'm paying too much for my gas and electricity?

The quickest way to find out if you're paying too much for your gas and electricity is to compare energy prices.

The average prices per kWh are 13.93p for electricity and 2.495p for gas. However, these will not be the cheapest rates available.

If it's been a few years since you switched, you will likely be paying too much for your gas and electricity.

Do wholesale energy prices per kWh affect my unit rate?

Wholesale energy prices per kWh can vary on a weekly or even daily basis. On average, around half of a business energy customers bill is made up of the wholesale energy costs.

Changes in the price of wholesale gas and electricity can affect your business energy bill.

Those on a variable rate tariff are most likely to be affected. If your business is on a fixed rate tariff, changes in wholesale prices will not affect your unit rate.

Wholesale prices have fallen in recent years. The average wholesale electricity prices per kWh are currently at around 3 pence per kWh. The latest wholesale gas prices stand at around 0.5 pence per kWh.

Why does the price of energy per kWh vary between regions?

When the UK imports energy, it imports from Europe. Most of this energy comes into London before it is distributed to the rest of the UK. This means London is the first to get energy, so less of it is needed to generate each kWh of output. 

Regions like Wales and Scotland are further away from the source of energy. When energy is transported, some of it is lost.

The further that energy must travel, the more is wasted in the process. Some power stations in regions like Scotland and Wales can make up for the energy loss. However, these regions will still pay more overall.

Which supplier offers the cheapest prices per kWh?

Your unit cost depends on several factors unique to your business. So, the cheapest energy supplier for one business may not be the cheapest supplier for another.

This means that there is no cheapest supplier for all businesses. The quickest way to find the best energy supplier for you is to compare energy prices online.

Are prices increasing in 2022?

Energy prices in the UK are dependent on the Ofgem market price cap. This was set in 2018. It regulates how much energy suppliers can charge per kwh of energy. Most energy suppliers charge as much as the price cap allows them to.

In 2022, Ofgem raised the energy price cap to £1,971. This means that suppliers are allowed to charge more for the electricity. As a result, most suppliers have now raised the price of their energy in line with the price cap.

In October 2022, the price cap is expected to rise again by around £800.