British Gas Reviews, Prices & Tariffs
British Gas is one of the most recognisable suppliers in the energy industry. With a history dating as far back as the 18th century, they have long serviced households and businesses all over the UK.
On top of serving millions of households, they have created a separate brand to better manage their business energy customers, British Gas Lite. This part of the business manages lower usage small businesses spending less than £10k annually on their energy. The traditional British Gas brand still has options for businesses of all sizes.
British Gas offers the following with their tariffs:
Domestic Households
Online Account Management
Flexible Tariffs
Smart Meters
Warm Home Discount
Additional HomeCare cover
Business Energy Customers
Flexible and simple purchasing
Expert advice on energy management
Usage insights
Custom tariffs
Online management
British Gas reviews are currently average. With over 148,000 reviews on Trustpilot, they have an average rating of 3.6 out of a possible 5 stars.
British Gas prices and tariffs

British Gas prices are very competitive. They offer a variety of tariffs for both domestic and business customers.

British Gas Business Energy Tariffs

Like all supplier pricing, British Gas business prices will vary depending on the location, wholesale market and other factors. The example displayed below may not be the price you see if you compare prices today.

For a business using 25,000 kWh annually on a 2-year fixed rate deal would cost a British Gas customer around £8,837. This is the cheapest British Gas price on one day in July 2023. This is a unit rate of 28.7p with a daily standing charge of 453.2p.

Domestic Customer Tariffs

As the price cap has reduced considerably, the switching market is back open. You can compare British Gas deals to see if it is worth switching.

 

Ownership

British Gas is a subsidiary of Centrica. Centrica own several energy companies throughout the UK and Ireland: including Scottish Gas and Bord Gais Energy. British Gas' Chief Executive is Sarwjit Sambhi. Centrica's chairman is Scott Wheway.

Location

British Gas are one of the largest energy companies in the UK. As a result, they have a lot of staff working in customer service. This means that there are a lot of ways to get in contact.

For existing customers, the best number to call is 0333 202 9802. This is the general customer service number, available between 8am and 8pm on most days.

It is possible to write to British Gas. They have a PO box address at: PO Box 227, Rotherham, S98 1PD.

The head office address is Millstream, Maidenhead Road, Windsor, Berkshire SL4 5GD.

Green Performance

British Gas Fuel Mix Disclosure table for 1st April 2019 to 31st March 2020

| | | |
| --- | --- | --- |
| Energy Source | British Gas Average | UK Average |
| Renewables | 76% | 38% |
| Nuclear | 24% | 17% |
| Coal | 0% | 4% |
| Natural gas | 0% | 39% |
| Other fuels | 0% | 2% |
| CO2 emissions | 0 g/kWh | 205 g/kWh |
| High-level radioactive waste | 0.0017 g/kWh | 0.0012 g/kWh |

Cancellation Policy

To cancel your energy contract with British Gas simply get in touch with them. They will send you a final meter reading. This may need a professional reading for accuracy.

Typically, British Gas charge £40 per fuel for domestic contract cancellations.

Businesses are advised to not break their business energy contract as it comes with substantial penalty fees.
See how much you could save on your business energy in 30 seconds!
Understanding your British Gas bill
Most British Gas bills are now viewable online; British Gas will send you an email when your bill is due.
Your online or paper bill will tell you:
The billing period (typically monthly)
What you owe and when it needs to be paid
Your estimated energy usage over the billing period
A detailed breakdown of your usage (on a dual-fuel tariff, you'll get a
breakdown of both gas and electricity
A comparison of this usage compared to last year
A breakdown of how the price has been calculated for transparency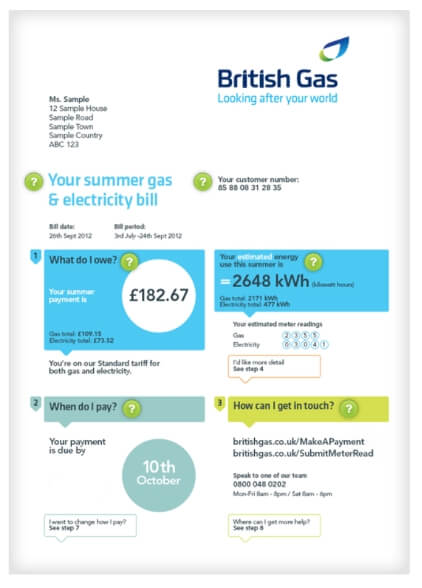 How to switch to British Gas
Switching to British Gas from your current provider -- or even just getting a better deal on your current British Gas tariff -- is easy with Love Energy Savings. Simply enter your details here to generate energy quotes for your home or business. Then, select the British Gas tariff that best meets your needs.
Our operators will handle the rest, including communicating with your current provider and the team at British Gas. That way, you don't need to do a thing. Switch and save today.
See how much you could save on your business energy in 30 seconds!