| Breaking News
How To Stop Buffering And Speed Up Internet Service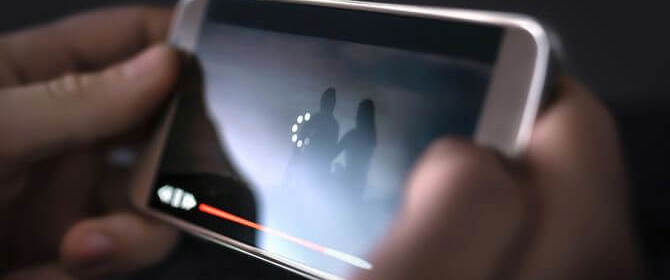 Nothing beats cosying up on the sofa and binge-watching your favourite programmes. However, there are fewer things more annoying than your shows being interrupted by constant buffering.
If buffering videos are the bane of your existence, here's a guide to help:
What causes buffering?
When a video isn't delivered at the same rate at which it is being viewed, it gets stuck and buffering occurs until enough of the data has been downloaded.
Buffering can be caused by a number of issues, such as slow broadband, a weak WiFI signal, a network fault or an error with the streaming service you're using.
How can I prevent buffering?
Below, we list our top tips for preventing video buffering.
Test your broadband speed

Testing your broadband speed can give you an indication as to whether there is an issue with your internet connection. There are many free broadband testing tools available online. You can test your speed here.

If the speed is lower than what was promised in your contract, there may be an issue with your connection. In this case, you should contact your service provider so that they can rectify the problem.
Disconnect other devices and close tabs and apps 

Having multiple devices connected to your WIFI can place too much pressure on your broadband and cause buffering. This is a common issue for those sharing their WIFI connection with family or friends. Disconnect any devices that aren't needed (with your housemates' permission!) to help improve your video quality.

Likewise, ensuring that unnecessary apps and tabs are closed can also help to reduce the demand on your WIFI and prevent buffering. It can also be helpful for you to clear your browser cache as data like cookies and browsing history can slow your device down.

Reduce your video quality settings

If your device is set to display videos with high quality, such as Ultra HD, it will require more bandwidth. You should therefore adjust your video quality to suit the internet speed. Some devices and services do this for you, in which case you may notice a decrease in the quality of your videos.

Modifying your video quality is usually as simple as going into your device's settings and selecting a lower resolution. If your resolution is set to 1080p, try dropping it to 720p. This can reduce buffering considerably and won't make too much of a difference to the video quality, especially if you're streaming from a smaller screen like a phone or tablet.

If you're not willing to compromise your video quality to reduce buffering, we recommend upgrading your broadband package.
Restart the app or device

The good old "switch it off and off again" trick is another potential solution to your buffering problem. Simple yet effective, restarting the streaming service, device and/or your WIFI router can help to fix any slight glitch that may be causing your video delay.
Press pause

Another classic solution, pressing pause and simply letting your video load can help to prevent buffering. You can monitor the progress of the video loading by keeping an eye on the seek (loading) bar which is usually placed at the bottom of the screen.
Download the video 

Some streaming services (e.g. Netflix) allow you to download videos, movies and shows and watch them without interruption once the download is complete. This method is particularly useful for long journeys where a strong WIFI signal isn't guaranteed.
Try using an ethernet cable

WIFI is convenient because long wires aren't needed, and you can usually get a signal pretty much everywhere in your home. However, you can often get a stronger internet connection by using an ethernet cable and connecting your device directly to your home ethernet port.
You should be able to get an effective connection using up to 50 feet of an ethernet cable. It's worth noting that you may need to purchase an adapter for your computer to connect to the cable as some new computer and laptop models don't have built-in ethernet ports.
Improve your WIFI signal

A weak WIFI signal could be the cause of your video buffering. You can improve your connection by placing your router in a central position in your home and ensuring that it is suitably distanced from appliances such as microwaves, fridges and cordless phones, as these can interfere with the signal.
You can also reduce interference by setting your router to the 5Ghz band; or set it to both the 2.4Ghz and 5Ghz bands if it is dual-band. Additionally, you can further improve your WIFI connection by investing in a booster.
Use the Quality of Service feature

If your WiFi router has a Quality of Service feature, you could set your broadband to prioritise streaming and thus improve your video quality and prevent buffering. Bear in mind that this is likely to reduce your broadband speed when it is used for other purposes. Check your router's user manual or admin console to find out how to use this feature.
Upgrade your broadband

Last but certainly not least, you can put a stop to video buffering and improve the overall quality of your WiFi by upgrading to a new broadband plan. There are plenty of great broadband offers available on the market and here at Love Energy Savings, it's our goal to help you find the best deal for your needs. Compare broadband prices with us today to find the most suitable deal for your streaming needs.
What are the best broadband speeds for streaming?
Although there are various reasons why buffering may occur, slow internet speed is typically the most common cause. So, if your videos are frequently interrupted by buffering, we recommend switching to a new broadband plan.
When selecting a new broadband package, it can be helpful for you to have a rough estimate of the data speed you need.
Below, we highlight some popular streaming services and their recommendations for broadband connection speeds.
| | | | |
| --- | --- | --- | --- |
| Streaming Service | Speed for non-HD | Speed for HD | Speed for Full/Ultra HD |
| Netflix |  3 Mbps | 5 Mbps | 25 Mbps |
| Disney Plus | N/A | 5 Mbps | 25 Mbps |
| BBC iPlayer | 1.5 Mbps | 2.8 Mbps | N/A |
| Amazon Prime | 0.9 Mbps | 4 Mbps | 15 Mbps |
Remember that your internet speeds can reduce during peak times and if there are multiple devices in your home. You will need to keep this in mind when selecting the right broadband package for your home.