| Breaking News
Phone Systems For Small Businesses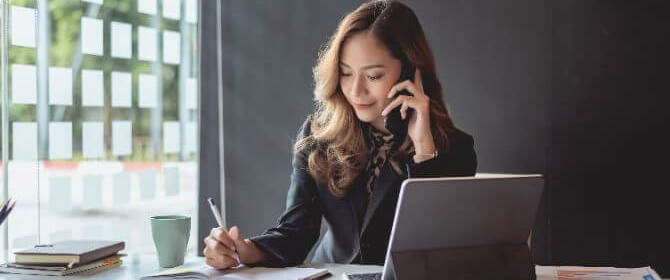 The best small business phone systems offer reliability and are easy to manage. In a world that has largely adopted remote working, it has never been more important to install the right business phone system to ensure your team remains productive every day. 
In this guide, we have compiled our research and expert knowledge to help you make an informed decision on the best small business phone system for your company. 
What Are My Business Phone System Options? 
Many small businesses are looking for simple things when it comes to choosing a phone system. This leads to two options that meet the needs of anyone searching for a small business phone system. 
VoIP Phone System (Voice Over Internet Protocol) 
VoIP phone systems have more advanced calling features. VoIP is a cloud phone system that is both future-proof and great for businesses that have remote workers. The main reason companies choose a VoIP phone system is what has been dubbed as the 'Big Switch Off'. 
All analogue phone lines will be switched off over the next couple of years, and all households and businesses will be switching to a fully digital network. This means that your old analogue phone lines will no longer work. 
The good news is that with digital phone systems, you can use softphone apps that can be linked to your smartphone. This means your VoIP phone system can come with a bunch of features to help manage your business phone system from anywhere. 
PBX Phone Systems 
A step-up for your small business phone system comes with more upfront costs. A PBX phone system requires more hardware, and you will need someone who knows what they're doing to install each line. 
They also come with a bunch of features that a small business would benefit from and some advanced features include virtual receptionist, video conferencing and other features. VoIP phone systems are growing in popularity because they typically offer most of the features a PBX system does without the upfront cost, and they're much easier to upscale as your business grows. 
Which Is The Best Small Business Phone System? 
Many small businesses choose a VoIP phone system for multiple reasons: 
Cheaper set-up
Cheaper running costs 
Call features 
Flexibility 
Support 
Decent reliability 
Scalability 
How Much Does A Small Business Phone System Cost? 
On average, a good business phone system with VoIP features should cost anywhere from £8.99 per user, and the price may increase as more features/ allowances are added. 
An excellent VoIP phone system should have the basic features of calls from anywhere, free UK calls, add/ remove users and future-proof technology ready for the big PSTN Switch Off. 
Here are some great VoIP business phone system packages designed specifically for small businesses: 
Phoneline+
From £8.99 Per User
Our Phoneline+ offering has been specifically designed to replace traditional landline services with business VoIP technology at competitive costs.
Why choose Phoneline+?
Free UK national and mobile calls
Access VoIP services with a broadband connection
Make and receive calls from anywhere
Add, remove, and manage other users easily
Futureproof technology ready for the 2025 PSTN switch off
Daisy Hosted Voice
From £15.95 Per User
Daisy Hosted Voice is our leading business VoIP package to get your business ready for the 2025 PSTN switch-off.
Why choose Daisy Hosted Voice?
A scalable business VoIP solution
Benefit from unlimited calling between colleagues
Ideal for flexible and remote working
Simple & easy to setup
Cloud-ready system for greater call management & security
What Are The Best Small Business Phone System Features To Look Out For? 
With the switch to a digital network, it unlocks a bunch of features for office phone systems. You may have an idea of some of the features that your team would use and some that are not as useful. 
Here are some of the most popular features that many companies enjoy from their phone system providers. 
Call forwarding

Whether you have a sales team on the road or have adopted remote working, call forwarding to your team's mobile phone is one of the most popular features that makes it one of the best features for a small business phone system. It also ensures that phone calls do not get missed if a member of the team is having any technical issues with a device or is away from their desk on annual leave.

Call queuing

The best business phone systems include call queuing. This feature places inbound phone calls into queues rather than being sent straight to voicemail or an individual line. This is a great feature to improve the professionalism of a growing business by streamlining the customer experience. Companies receiving high call levels than team members can handle ensure that the experience is positive and that potential loss of revenue is minimised. 

Hot desking

Since the pandemic, this has become one of the most desired features of nearly every small business phone system. As companies have hired and grown, many companies have switched to hybrid working. Hot desking allows team members to log in to any space when they are in the office and re-route to their home devices when working from home. It's also a popular feature for part-time workers who share workstations with someone working alternative shift patterns. 

Call monitoring

The best phone systems for small businesses include call monitoring to improve customer experience, modify sales tactics and ensure that all team members are following procedures and guidelines. Call recording is also great for employee performance reviews as listening in on calls can offer opportunities to receive crucial feedback to help them improve going forward.

Call analytics

Call analytics tracks data and pulls vital information into a report. This data is great for understanding your customer's needs and making sure your business phone system is working for you. The info drawn from these reports can also assist in improving sales strategies. 
Whilst this is not an extensive list of great call features available on small business phone systems, it does provide insight into some of the most popular. 
How To Choose The Best Small Business Phone Features? 
This may all sound great, but it depends on the needs of your company and how your team works. You should always choose the best phone system provider that meets your requirements. 
It is a good idea to think about how your business currently works and think how a specialist business phone system may improve your process and call experience. Having a list of the features you would like when selecting your new business phone system provider will stop you from wasting money on features you don't need. 
Here are some questions to think about: 
Are the business phone system costs providing good value for money? 
Does the phone system provider have good reviews? 
Will this business phone system improve my business? 
Will my team make use of the features? 
FAQs For Small Business Phone Systems
Do I need a cloud phone system?

VoIP business phone systems are a cost-effective investment for the future. 

Everyone will need to switch to a digital phone system shortly. All traditional phone lines will be switched off in stages and will be completely unavailable in 2025. Businesses are being encouraged to switch business phone system providers as soon as possible to avoid the last-minute rush. 

All that is required for the new wave of small business phone systems is an internet connection. Click here to find out what internet speeds you need for efficient cloud phone systems.

When is the PSTN switch off?

BT Openreach has announced that they will be switching off PSTN and ISDN (traditional analogue lines) in 2025. This is the biggest change to the telecoms industry in over 30 years and will impact everyone. 

Many business owners are upgrading to a VoIP business phone system now to avoid the last-minute rush over the next few years. 

Are small business phone systems good value for money?

You can get good value small business phone systems when you shop around. Value is determined by the features included when looking for your new phone system. If your team uses all the features, you will get more value than a package for just making phone calls.

Are all business phone system providers the same?

Different phone system providers specialise in different areas. Some will cater for larger businesses and some to small businesses. You should do your research on the provider before signing a contract - Trustpilot is a great resource for ensuring you're partnering with a great provider. 

Is a VoIP business phone system cheaper than a traditional office phone system?

Yes. VoIP is cheaper than a traditional phone system. VoIP makes calls using your existing internet connection rather than a dedicated telephone line. You can keep your business phone number when you switch to a cloud-based phone system.