| Business Advice
How Small Businesses Are Dealing With The UK Energy Crisis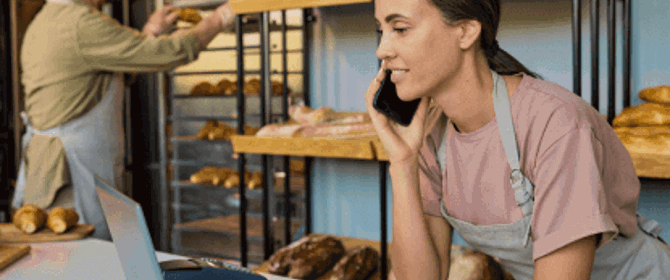 We've all seen the headlines on how the UK energy crisis is impacting UK households, but it is not just the domestic market that is suffering. The nation's small businesses are facing increasing business energy bills.
The UK is made up of 5.2 million micro-businesses, equating to 95% of the country's business sector. The bottom lines have always been tighter than those with larger budgets, but further stress is being put on hardworking small business owners to survive and thrive in challenging times.
We've always been in the market to help UK businesses save money, and this guide is no different. If you're worried about business energy bills, maybe you can take away a useful piece of information that can help you through these challenging times we're facing and come out to the other end of thriving.
What Is The UK Energy Crisis?
Wholesale gas prices have hit unprecedented highs and have placed significant pressure on energy suppliers. This has been caused by several factors that have all happened at a similar time.
Colder winters in Europe have seen increased demand and placed pressure on gas supplies.
Other countries in the world have imported more gas and less has gone to Europe.
The power used to bring electricity from France to the UK was shut down due to a fire.
Britain relies on importing over half of its gas and lacks storage.
The Russian invasion of Ukraine has caused supply issues.
There are a few other reasons with plenty of detail, but these are the main headline reasons causing the energy crisis.
Which Sectors Are Being Hit The Hardest?
Increasing costs for materials, supply chain issues and energy costs are a few headline pressures facing businesses in 2022. It is easy to pinpoint that those businesses falling into the large consumption side of the market will face particular challenges.
You may associate large energy consumption with bigger businesses but this isn't always true.
Like hospitality hasn't been hit hard enough over the last few years, the energy and cost of living crisis will be particularly challenging with the public having less to spend on going out.
Here's a breakdown industries facing higher costs in 2022:
The cost of Brexit has already impacted business margins, and the energy crisis will add further challenges come this winter.
Should Small Businesses Be Concerned This Winter?
News has been largely prominent on the impacts on UK households, but many small business owners are growing increasingly concerned.
Whilst there have been assurances from the UK government that there will be a full energy supply this winter, business owners have had to endure a difficult two years of COVID-19 shutdowns and lost revenue.
Small businesses will be impacted in the same way as households are. Energy prices will be higher and with less protection than the domestic market. Ofgem's energy price cap does not protect businesses.
The saving grace for some companies is that energy prices can be fixed for up to five years and will not need to worry about price increases for the time being. However, those not lucky enough to be in the middle of a business energy deal will need to look at their options.
Whilst switching business energy suppliers used to be about saving money in comparison to the tariff they have just been on, the mentality has switched to saving against future price increases.
There is still plenty of business energy tariffs available, owners just need to be prepared to pay more and fix for the right amount of time to see out future price increases.
You can compare the latest business energy prices below.
Compare Business Energy Prices
What Can Businesses Do To Combat Rising Energy Costs?
Whilst many challenges lay ahead, there are some things that can be done heading into UK energy price increases. Remember pro-activeness is key here.
Reduce Energy Consumption
You can conduct your own business energy audit to explore any opportunities to save energy. This simple process can help you identify energy waste and help you become more energy efficient.
An effective business energy audit will look at everything from the building structure, habits and equipment used. An in-depth understanding of how your business uses energy will also help you assess if you're on the right energy tariff.
You will need to dedicate around half a day to do this properly and you can use our easy guide here.
Talk To Your Energy Supplier
You may have some serious concerns about going into energy debt. It can make a huge difference if you stay in touch with your energy supplier as they may offer help or even a payment plan should it be required.
Being proactive is huge here. If you're struggling and do not talk to your energy supplier, you risk losing precious trading days should the energy be cut off. There are also re-connection fees involved.
Review Your Budget
After you have completed your business energy audit, you can find further savings by reviewing your budget. Have a look at the costs that are not obvious like cancelling software subscriptions that are not crucial to business operations. You can also shop around for cheaper suppliers or lean into a hybrid work environment.
Check Your Business Energy Bills
Keeping on top of your meter readings will ensure you're not on estimated billing. For example, if you have made strides to reduce energy consumption but do not submit meter readings, your business energy supplier will estimate usage based on old historical data.
Are You On The Right Business Energy Tariff?
Your business energy audit will likely provide some insight into how your business uses energy. This information is helpful when switching business energy suppliers.
For example, if your business mainly operates in the evenings, overnight and at weekends; you may be better off on an Economy 7 or an Economy 10 tariff.
Are You Eligible For Any Grants Or Discounts?
There are some grants and discounts available to qualifying businesses that could help you cover some of your energy bills. These incentives range from helping your business become more sustainable, to local government schemes and even VAT reductions for non-profits.
You can find a bunch of information on the GOV.UK website.
Evaluate Other Business Utilities
With energy prices surging, it has become much more difficult to find cheaper business energy tariffs. To balance these costs, other companies are looking to save money on other business utilities.
Business Water - Companies based in England and Wales can now switch their business water supplier and are no longer bound by the postcode lottery that determines their supplier. As the market becomes more competitive there are now large savings to be made by switching. You can fix water rates for up to 3 years.
Click here to compare business water suppliers.
Business Broadband - being connected to your customers is essential for any modern business but that doesn't mean the price should come at a premium. In fact, many companies are still operating on household broadband that is not fit for purpose and does not have the capacity to manage a speedy connection with adequate security when processing customer data.
Click here to compare business broadband deals.
What Happens If My Business Energy Supplier Goes Bust?
If your business energy supplier runs into financial difficulty and goes 'bust', you will be assigned a new energy supplier. This new energy supplier will get in touch with you. Your energy supply will not be impacted and your supply will be uninterrupted.
If you have credit built up and you suspect they are in financial difficulty, you should get in touch. Businesses do not have the same protections as UK households and you're not guaranteed to get your money back.
Whilst you may think it is a good idea to build up credit for the winter, as a business it would be wise to set this money aside in a business account and never let your credit build up too much. Regular meter readings will help you keep control of this.
If your energy supplier does go bust and you do have a large amount of credit built-up, keep all your past bills and documentation handy so you can try to get your money back.
Should I Switch Business Energy Suppliers?
Business energy prices are higher than you may be expecting. However, you should look to save money against future price increases. Although we cannot say for certain how long this energy crisis will last, we can expect prices to be high well into 2023 and maybe even 2024.
It may be wise to choose a fixed-rate tariff that is likely to be cheaper against future increases. If you're worried about the uncertainty, you may want to fix your prices for 1 to 2 years. This will help with your business budgeting as the price will not be variable.
Compare the latest business energy prices today and save.