| Business Essentials
Best Business Mobiles 2022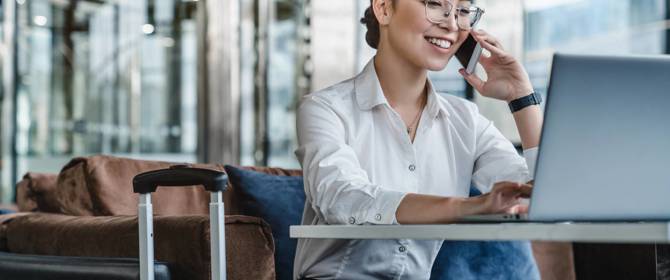 We use our mobiles in every part of our lives. Increasingly, they are also how we work and do business. It's not ideal to be handing out personal mobile numbers to customers and business contacts. To remain professional, many organisations use specific business handsets for their teams.
There are many benefits to this, including pooling minutes, data and texts. There's a bunch of features available to business mobiles that personal contracts are not able to offer.
With so much choice and so many options available, it is hard to know which are the best mobile phones for business.
This guide will help you choose the right business mobile phone deals for you.
Best Mobile Devices 2022
From battery life, emails and video calling, here's everything you need to know:
Samsung Galaxy Note 20 Ultra
The Samsung Galaxy Note range is designed for business. The latest in the line (though not cheap at around £850) is built for long days of heavy use. With a sturdy processor and heavy-duty battery life, the Samsung Galaxy Note 20 Ultra should see you through whatever you need it to do – all day long.
Pros:
Battery life
Large 6.9-inch display
Comes with an S pen – ideal for quick document editing.
Cons:
Slow charge
Quite heavy and awkward to hold.
iPhone 12
Apple's premier range of smart phones has been around a while. Smartphones from Apple are a household name. Apple iPhone are classic all-rounders. They have great screens, and powerful front and rear facing cameras for all your video-calling needs.
Pros:
Great screen
Solid build quality
Premium look and feel.
Cons:
Average battery
Good all-rounder but doesn't jump out
Google Pixel 5
Google's range of smartphones has gone through a complicated history. Initially aimed at the high-end market, Pixel phones are now high-quality, mid-price handsets. Many people don't want to spend too much on them. You either love or hate Goole Phones – a happy medium between an OS and android experience.
The Google Pixel 5 is a powerful, long lasting phone. However, it is available for around £350 – so represents a significant saving on other models.
Pros:
User friendly
Looks great
Powerful software and integrates with all Google features well.
Cons:
Doesn't feel 'premium'
Average battery life
iPhone SE
Great functionality without any 'gimmicks'. Another decent allrounder but doesn't come with the highest specs like other new Apple products. Very much the everyday businessperson's mobile. Typically, very good for sales teams.
Pros:
Affordable
Great user experience
Decent battery
Cons:
Old iPhone design
Front camera poor
Best mobile networks 2022
After you've decided upon a mobile you want, and found a deal that looks good to you, you need to make sure you get the network that works for you. Here's some background on the 'Big Four' mobile phone providers in the UK.
EE
EE is widely regarded as the best mobile phone network in the UK for 4G and 5G coverage. They also score very highly on customer satisfaction. They have very few 'black spots' in the UK.
O2
O2 has been around for many years and won back-to-back uSwitch awards for 'Best Network Coverage in 2019 and 2020. However, the prices for O2 contracts are usually quite high.
Vodafone
Vodafone has been a staple brand in the UK for many years. They have reliable networks but has suffered in the past from reports of poor customer service.
Three
Three are known as the 'Best Network for Roaming' and has won back-to-back uSwitch awards for 'Most Popular Mobile Network'.
The best business mobile packages
This depends on the requirements of your team. Before you start looking at mobile packages, think about the kind of features your team needs.
We have unique commercial agreements with EE, Vodafone, O2, Apple, Samsung, and Huawei to provide reliable and the best handsets and coverage. Each business mobile tariff can be custom built to match the needs of the business.
From unlimited data to shared data plans, there's something for all businesses with our mobile tariffs. What's more, choose from a range of the UK's best networks and tailor a tariff to work for you. Click here for more information.