| Business Essentials
Internet Security for Businesses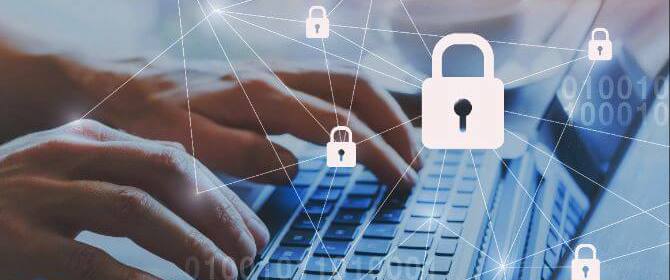 Businesses take a lot of care to keep their physical premises secure. But it is important to take the same precautions to your businesses online space. This is often lacking as there's an argument that technology has not reached the maturity stage in the business space.
Technology is fundamental to how we operate in life. Internet security goes further than protecting your website and emails.
We've put together this brief guide to help you build an understanding of business security and provide you with the tools to assess your businesses online security.
What cyber security risks do businesses need to consider?
It starts by having a basic understanding of risks and where they can come from. Most cyber security risks can be mitigated by simply educating your employees.
It is a common misconception that small businesses are a target for hackers. This because many small businesses can be an easy target.
Think about what a data breach could mean for your business.
What are the risks?
Ransomware
This is malicious software that attempts to 'scramble' your data and the hold it ransom to release an unlock code. Most threat come from malicious emails.
How to protect a business from ransomware?
Employee education is key; be careful and do not click any links they are unsure of. Many of these emails can be disguised as an offer or look like it is from someone they know.
Malware protection software offers good protection against such attacks.
Regular software updates can fix any system weaknesses.
Regularly back up your companies' data.
Phishing
This is a type of attack to gain access to sensitive information. It is your businesses responsibility to protect sensitive data as not doing so has legal ramifications. Typically, these attacks come from people disguised as trustworthy sources. This could be a bank or an online service.
How to protect a business from phishing?
Companies do not ask for sensitive information.
Be suspicious of unexpected emails.
Malware protection software offers good protection against such attacks.
Set up spam filters to avoid receiving such emails.
Hacking
Hackers can access IT systems remotely. They typically target bank account information but can target other forms of sensitive data. Having strong passwords and great security software will provide good protection. Many hackers take time into tricking employees to give up usernames and passwords.
How to protect a business from hacking?
Employee awareness.
Firewalls and good internet security.
How to protect your business from cyber threats?
Clearly, there are plenty of ways your business can sustain damage online. But don't worry, there are effective ways to mitigate the risks out there and ensure that you and your customers' data stays secure and your business operating normally.
The first thing to do is write an IT security policy. The content will vary, depending on your sector and commercial priorities. Nevertheless, it should include the following to ensure it is an useful tool for your business:
Outline the rules for employees and third parties who access or use company hardware or software.
Include an expectation of password or other credential checks.
Contain guidance on internet-access restrictions, such as accessing insecure content or downloading unauthorised applications.
Outline access controls to keep commercial data secure and stay in line with relevant legislation, such as the Data Protection Act.
Contain clear guidance for how to report data security and guidance for minimising the risk falling victim to cybercrime.
Keeping safe online
In addition to a security policy, there are several ways to beef up your online security.
Firstly, ensure all your work computers have antivirus software installed and operating. Ideally, this should be software designed for commercial use. This also applies to smartphones and tablets if they are in use – although they can be a bit more difficult to set up. Firewalls should also be operating.
Equally, you should make sure that software is updated when required. Your systems operator will usually prompt computer users when an update is available. Your IT policy should reflect "automatic update" status on all workstations and other devices.
To reduce the potential impact of phishing, consider restricting employee user accounts to non-Administrator settings, unless essential. This means that they cannot make changes that will impact other users. If an employee is a victim of a phishing email, the damage will be minimised.
Take the time to talk to staff and inform them of potential risks. New tactics are introduced by scammers frequently. Let employees know they should report scams that they see so that difficult to spot threats can be noted and communicated across your team.  
Preparing for the worst
Imagine your company was the victim of a cyberattack. It could prevent you from accessing your online systems. One of the most pressing concerns would be how to continue your business.
Much of our critical commercial data is now stored online, so even a short-term restriction in access could be harmful both reputationally and financially.
One way to mitigate this threat is to ensure that your business-critical data is regularly backed up. Many businesses use cloud storage, and back up data at the end of every business day. But there are other options, such as storing on external servers. It is critical to know what data is imperative to your business and come up with a plan to make sure that you could access it, even if your computers or online databases were unavailable.
Want more information or support? The National Cyber Security Centre provides a government-back scheme called 'Cyber Essentials'. This service provides tools, support and certification to secure your business from cyber threats.