Homepage

>

How much energy does a fireplace use?
How much energy does a fireplace use?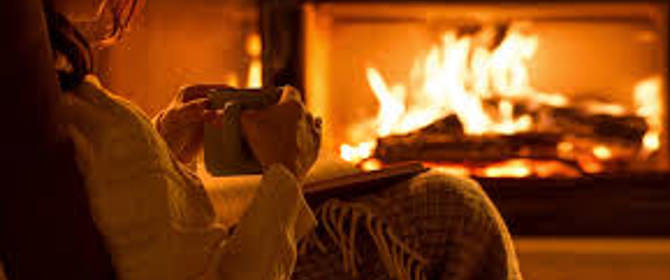 Winter is a great time to light the fire and relax. Sitting around a roaring fire is one of the joys of cold weather. Getting cosy with family and friends, while the weather outside is frightful, can be a real treat.
We all know that the onset of winter is associated with higher energy bills. Heating costs can make up more than three-quarters of your domestic energy bill in cold weather.
But what about your wonderful fireplace, does it help to save or waste money?
Types of fireplace
The three most common types of fireplaces in UK homes are wood-burning stoves, electric and gas coal fires.
Only gas or electric fireplace will contribute to your home energy bills. Wood-burning stoves use wood as the fuel. The cost to use it will depend on your stove's efficiency, the price you pay for wood locally and your usage.
If you're thinking of getting a new fireplace, you may be interested in how much it will cost to run. While wood-burning stoves are very romantic, gas and electric fireplaces can look very beautiful. They are also much cleaner and tend to need less maintenance.
Electric fireplace running costs
You will need to work out the efficiency of the electric fire. Different models run at different kWh input.
Let's imagine that you have a fireplace that uses 2 kWh. Let's also assume you were to use this fireplace for three hours each day, for three months.
You will need to determine how much your electric fire costs to run based on your home energy tariff. If you have an expensive standard variable contract, you pay a higher unit price.
Let's estimate you are paying 14.37p/kWh. If you want to work this out yourself, you can check a recent bill to see your unit rate.
If you run an electric fireplace for three hours it will cost:
2 kWh x 3 hours x 14.37p/kWh electricity unit rate = £0.86
If you run your electric fire for a week for three hours each day:
2 kWh x 3 hours x 7 days x 14.37p/kWh electricity unit rate = £6.03
If you run your electric fire for a month for three hours each day:
2 kWh x 3 hours x 30 days x 14.37p/kWh electricity unit rate = £25.86
Electric fires have a reputation, particularly among the older generation of being expensive to run. That is partly due to electricity having higher unit costs than gas. However, modern electric fireplaces run at very high energy-efficiency. Plus, unlike wood-burning stoves, you lose less energy through heat loss.
Gas fireplace running costs
Like with electric fires, the exact cost to run your gas fireplace will depend on several factors. If you have recently bought a gas fireplace, you can check the packaging for energy efficiency.
How much you pay is determined by the unit price you pay for gas.  You can check a recent energy bill to be sure.
We have provided an illustrative example below to show how much a typical gas fireplace will cost. We have assumed a gas fireplace of 3 kWh input. We have also assumed a gas unit rate of 3.8p/kWh
To keep a gas fireplace running for three hours one evening would cost:
3 kWh x 3 hours x 3.8p/kWh = £0.34
To run the same fireplace for a week for three hours each day:
3 kWh x 3 hours x 7 days x 3.8p/kWh = £2.39
And to run for a month:
3 kWh x 3 hours x 30 days x 3.8p/kWh = £10.26
Gas is much cheaper to run than electricity.  They are very cost-effective. However, unlike with electric fireplaces, gas fireplaces will result in heat loss from the chimney.
How can I reduce the amount I spend to run my fireplace?
Two significant factors impact most on the cost of running your fireplace – gas or electric. The heat input of your fireplace, i.e. how much energy it uses. You can find out your fireplace's usage by contacting your manufacturer. In most cases, the information should be written on your fireplace.
The more efficient your fireplace, the less energy it will use. Most modern fireplaces comply with high levels of efficiency standards. Electric fireplaces in particular, as they produce zero direct waste. This is excellent news for your wallet and the environment.
The other factor is the unit price you pay for electricity or gas. The easiest way to reduce the amount you pay is to compare energy contracts and check you are on the best deal.
If you use your fireplace mostly in the evenings, along with the rest of your energy usage, you could benefit from an Economy 7 or Economy 10 deal. These contracts charge less for the electricity and gas you use after 8 pm. That means running your electric or gas fire at night could be much cheaper.
Finally, consider your usage. It's rarely cost-effective to leave your fireplace running. It is not advisable to leave your fire on overnight when there can also be safety risks.