| Money Saving
Energy Labels And Your Home Appliances: Energy Efficiency Guide
It has never been more important to be aware of the costs associated with using your home appliances. With rapidly increasing energy bills, understanding energy labels when selecting your new appliance may save you £100s each year. 
We understand that it's not always affordable to change appliances that are old and rated low on the energy efficiency label. However, if the cash is available, significant annual savings are available. In addition, if you're on an Economy 7 or 10 energy tariff your energy may be cheaper at night. With savings available to help cushion the rising costs, we have put together this guide to help you understand the energy label and how they impact the costs of your energy bills. 
What Is An Energy Label? 
Every appliance in your home has been assessed based on its energy efficiency. Ratings are marked on a scale from A to G. Confusion may be caused as the labeling system has just changed making A+, A++ and A+++ redundant. Legislation changed in November 2020 stating that manufacturers must provide the rescaled product information to retailers. 
We have been using the new energy label system as consumers since January 2021. This means that any appliance purchased before this date will not have an accurate energy efficiency rating. 
New features on the energy label include a QR code making it easier for consumers to access useful information about the product. 
The new energy label applies to the following household appliances: 
Televisions 
Dishwashers 
Refrigerators and freezers 
Washing machines and dryers
A new addition to the energy label is noise emissions and other useful consumption information. 
Here's what the new energy label looks like: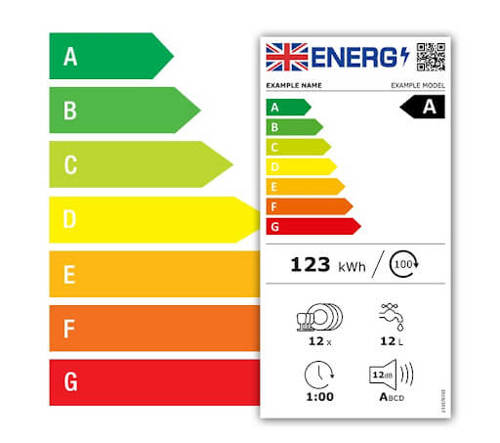 Source: Energy Savings Trust 
Consumption will be displayed differently depending on the appliance you're purchasing. Some may display kWh per year, 1,000 hours or 100 cycles. 
Will This Impact My Current Appliances? 
The bad news is that many of your appliances purchased before the label change are much less energy efficient than you think. The goalposts have moved along with the new energy label being introduced. 
Many manufacturers downgraded models when the new system was introduced. This isn't just a one-off though. Manufacturers may downgrade appliances occasionally as technology improves.
The likelihood is that you could be saving a lot more money on your energy bills you purchased your appliances over 4 years ago. 
Will A Better Energy Efficiency Rating Cut My Energy Bills? 
Whilst purchasing an appliance with a better energy efficiency rating is more expensive initially, it does save you more money in the long run. Typically, appliances with higher energy ratings can save you up to 50% on running costs annually. 
Here's a breakdown of the average operating costs per year by household appliance: 
| | | | |
| --- | --- | --- | --- |
|   | Washing Machine | Fridge Freezer  | Dishwasher |
| A-rated energy efficiency  | £28 | £38 | £39 |
| G-rated energy efficiency  | £62 | £151 | £86 |
Investing in energy-efficient appliances can not only positively impact your energy bills. It can also help the environment by lowering your carbon footprint.
What else can I do to reduce my appliances' energy usage?
Choosing energy-efficient appliances is important. However, you should also consider how you use appliances in the home.
Below we list some simple tips that could help you save energy and reduce your utility bills:
1. Turn appliances off standby
Your appliances still use energy when they are in standby mode. Turning them off completely could help you save around £35 a year.
2. Invest in smart devices
Smart meters and smart thermostats will help you monitor your energy usage. You can even identify which appliances use the most energy. You can then consider changing the way you use those appliances.
3. Install Home insulation
Insulating and draught-proofing your home could make you less reliant on heating. Insulating areas such as your loft could help you save up to £395 on your yearly energy bill. Visit our Home Insulation guide to find out more.
4. Use alternative measures
Aim to limit your usage of high energy consumption appliances. For example, drying clothes outside or on a clotheshorse.
When using washing machines or dishwashers, make sure you get the most out of them. For example, wait until you can fill your dishwasher to make full use of each cycle.
5. Switch energy suppliers
When aiming to save energy, it's vital to ensure you're on the right energy deal. An expensive deal could be preventing you from making real savings.
By switching suppliers, you can quickly lower your energy bills. You'll have peace of mind knowing you're on the best deal for your home.
With Love Energy Savings, you can compare great prices from our wide range of trusted energy suppliers.
To find the right tariff for your needs, try our quick energy comparison tool today.
Or, find out more about energy saving by visiting our energy guides.