Homepage

>

The Importance of Boiler Efficiency
The Importance of Boiler Efficiency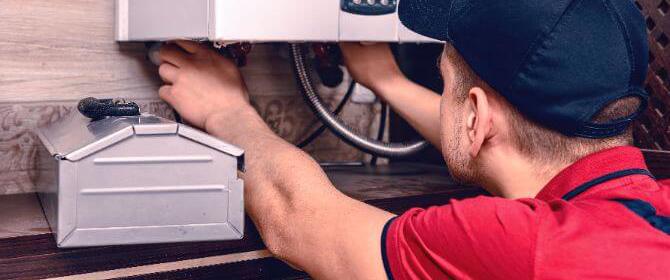 Over half of the amount you spend on your household bills goes towards heating. This means it is essential to ensure that your boiler is in tip-top shape.
Your boiler is the heart of your heating system. Keeping it well-maintained can help to enhance the quality of your home heating and reduce your bills.
In this guide, we'll provide you with some top tips on boiler efficiency to help ensure that your heating system performs efficiently for years to come.
Why is boiler efficiency important?
Boiler efficiency is key if you want to lower your household bills. According to recent figures, an inefficient boiler could cost you an extra £340 per year [1]. A substandard boiler system could also fail to provide you with the heating and hot water you need.
Boilers tend to lose their efficiency after around 10 years. So, if your system has passed this age, it may be time for you to invest in a new one.
How can I increase my boiler's efficiency?
At Love Energy Savings, it's our goal to help you make your home as energy-efficient and cost-effective as possible.
Below we list our 8 top tips for increasing your boiler and heating system's efficiency.
Check your boiler pressure
The ideal pressure for your boiler is between 1-2. Check your pressure gauge to find out your boiler's current pressure; it's usually located at the front of the system. If your pressure is set too low, your boiler won't be able to operate efficiently, which could cause high heating bills.
Low pressure can indicate a leak, so we recommend checking around to for any signs of water leakage. If no leaks are found, you can increase your water pressure by repressurising your boiler.
If your boiler pressure is set too high, this could lead to an eventual breakdown. You can usually fix this by bleeding your radiators.
Lower your temperatures
You should aim to set your thermostat to the lowest comfortable temperature. According to the Energy Saving Trust, reducing your temperatures by just one degree could help you save as much as £60 per year [2].
Not only should you monitor your heating efficiency, but you should also aim to use hot water in an efficient manner. Try opting for lower (yet comfortable) temperatures for your showers and baths, and also for activities such as washing dishes and clothes. We recommend setting appliances such as dishwashers and washing machines to water saving settings. Additionally, choosing to have a quick shower instead of a bath could help you save around £10 on your yearly energy bill.[2]
Invest in a new boiler system
A new A-rated boiler could help you save up to £315 on your annual energy bill. A-rated boilers can have an efficiency rating of over 90%, which can provide you with better quality heating and hot-water, as well as lower bills.
Additionally, new boilers often come equipped with innovative features, longer warranties and flexible finance options.
Upgrade other appliances
Although your boiler is the centre of your heating system, it's important for you to ensure that your other heating appliances are also functioning efficiently.
For example, investing in new radiators could help to improve the quality of your heating, whilst investing in efficient taps and shower heads could help to improve your water efficiency.
Insulate
Insulation and double-glazing your windows can allow you to keep more heat inside your home. These measures help to reduce the pressure placed on your boiler and enable you to save money on your energy bills.
Insulating your walls, roof, floors, pipes and tanks can all help to reduce your energy bills significantly. Although the initial costs of these measures can be high, the savings you'll make are likely to outweigh what you invest.
If you're looking for a quick and easy way of keeping heat in your home, we recommend draught-proofing.
Invest in a smart thermostat
A smart thermostat could help you gain greater control over your heating. These innovative devices are designed to monitor your heating usage and create bespoke heating schedules to match your daily routine.
Smart thermostats such as Nest, Hive and Honeywell allow you to monitor your heating usage, so you can identify any inefficiencies and make improvements accordingly. This can thus help to lower your bills.
Additionally, you can make changes to your heating from anywhere using an interactive app.
Get an annual service
Organising an annual boiler service is a great way to keep your boiler efficient. A yearly service is often a requirement of your boiler's warranty. So, arranging a servicing appointment with a qualified engineer could help to keep your heating system protected.
A yearly boiler service provides an opportunity for any faults to be identified and rectified before they worsen. So, it could end up saving you money in the long run.
During your service, your engineer will ensure that your system is functioning safely. This can help to keep you safe and reduce the risk of carbon monoxide poisoning.
Get a system Powerflush
A central heating Powerflush can help to restore your heating system's efficiency. During this procedure, a qualified engineer will send a chemically-infused liquid through your boiler, radiators and pipes at a high velocity. This will get rid of any debris, rust or dirt that may be inhibiting the system. A build-up of these materials could cause a blockage and an eventual breakdown.
By improving your heating system's efficiency, a Powerflush could help to lower your energy bills and also potentially prolong the lifespan of your boiler.
What else can I do to reduce my heating bills?
Looking to reduce your household energy bills? If so, we highly recommend switching energy suppliers. If you're on the wrong energy tariff, you'll face expensive energy bills even if your heating system is efficient.
Here at Love Energy Savings, we're experts in both household and business energy. We can help you compare gas and electricity deals to find the most suitable option for your home.
Simply enter your postcode, contact details into our free energy comparison engine and in just a few moments you'll be provided with your free quote. Our energy experts are also on hand to support you throughout your switching process.
[1] https://www.express.co.uk/life-style/property/1369794/heating-uk-property-homes-boilers-how-to-save-money-radiators-frozen-pipes
[2] https://energysavingtrust.org.uk/hub/quick-tips-to-save-energy/
[3] https://energysavingtrust.org.uk/advice/boilers/