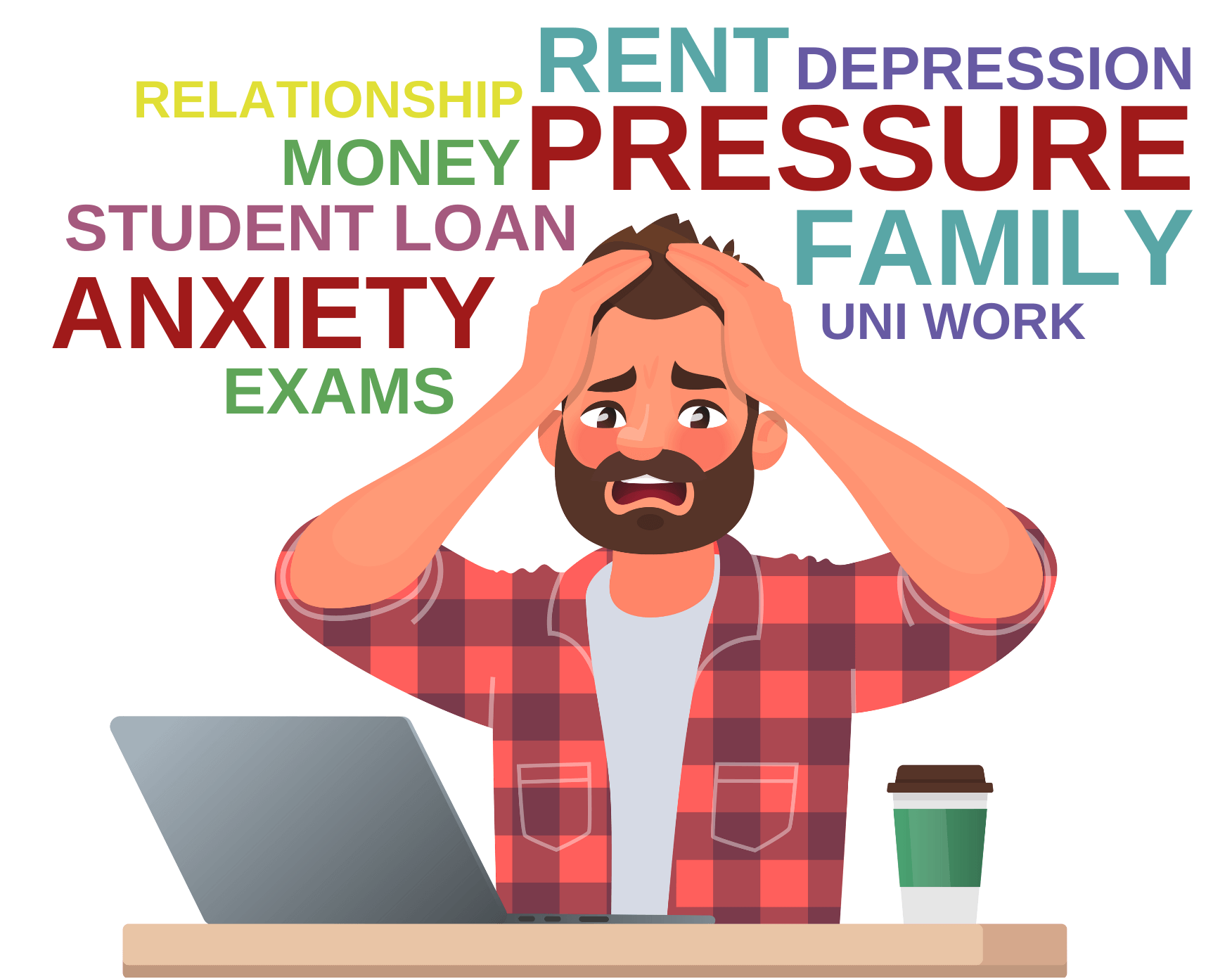 THE STUDENT EXPERIENCE
An exploration of how the pandemic has impacted students finances, relationships, and living situations over 2020-2021


90% of UK Students Feel ABANDONED by the Government
90% of students believe the government is NOT doing enough to financially support them during the pandemic.
71% of students

are currently

NOT living in their Uni halls

2021 has seen a

70% decrease in students living in private house or flat-shares
Students think the UK Government should: fund refunds on uni accommodation fees (87%), reduce forthcoming uni course fees (77%), offer struggling students cash grants (61%)
80% of students support the idea of withholding rent payments for uni accommodation
Over 80% of students did NOT contribute

towards the

rent/mortgage or household bills while living with family

during the pandemic

78% of students

said their

private landlord or estate agent has not eased the financial burden on them

as much as reasonably possible during the pandemic.

73% of students

said they would

pay more for a green energy tariff

but

only 3%

are

currently on one
70% of students

who

lived with a partner

during lockdown said it

made their relationship better
46%

of students who are

in their overdrafts

think this is

down to the pandemic
'Angry' and 'Abandoned'
University students have been left "angry" and feeling as though they have to "fend for themselves" during the current COVID-19 pandemic.
With many struggling financially and feeling the constant pressure of maintaining 'normal' performance standards in a working environment that is anything but, students have criticized the Conservatives for their lack of support. Many claim to feel "abandoned" and "forgotten by the government" during the pandemic.
Students also issued concerns with the ways in which universities have handled the pandemic. With wasted accommodation fees and limited access to campus facilities, students do not feel that they are receiving anything near to what they paid for.
These issues raise the question: Should students receive refunds or reductions on their university and accommodation fees?
Here at Love Energy Savings, we surveyed 1,023 UK students to find out how they're feeling amid the third national lockdown, and how the pandemic is affecting their finances, relationships, and everyday life.



As the data shows, 77% of students believe that forthcoming university fees should be reduced and 87% feel that they should receive refunds on their accommodation fees.
This is likely to be a result of students being unable to return to their accommodation for the majority of their term time, displacing over half of students back to living with family. Yet they are still being expected to pay for unoccupied housing.
Our study revealed that the average student is expected to pay around £500 per month on rent and bills for accommodation they cannot use! To make things worse, the closure of retail stores, restaurants and other spaces that offer part-time work to students means that they are unable to earn extra cash.
"This is an inconvenient situation that is out of our hands, so we should not be asked to pay rent as most of us cannot go out and work," said a 22-year-old female student.

Due to their frustrations, 80% of students are in favour of withholding their accommodation payments. This includes students living in privately rented housing.

However, not all students share this viewpoint:

"While ideally I wouldn't be paying for accommodation I'm not currently living in, I respect the fact that I signed a contract to pay," said a 19-year-old male student.
Nevertheless, 9 in 10 students believe that the government is not doing enough to financially support them during the pandemic.
So, what can government officials do to compensate for these issues and mend bridges with the nation's scholars? The conventional student experience can't be expected during a pandemic, but what can be done to help?
Other than refunds and reductions on university and accommodation fees, students believe that cash grants should be offered to those who are struggling.

"The government and universities aren't helping students who are struggling financially enough. We're not getting our money's worth. We feel like we're being forgotten," said a 21-year-old male student.
Another student said,

"University students have been neglected during this pandemic. We've been provided with platitudes and empty promises. The government has let us down."

In commentary received from 200 UK students, the most common words and phrases used to describe their experience were: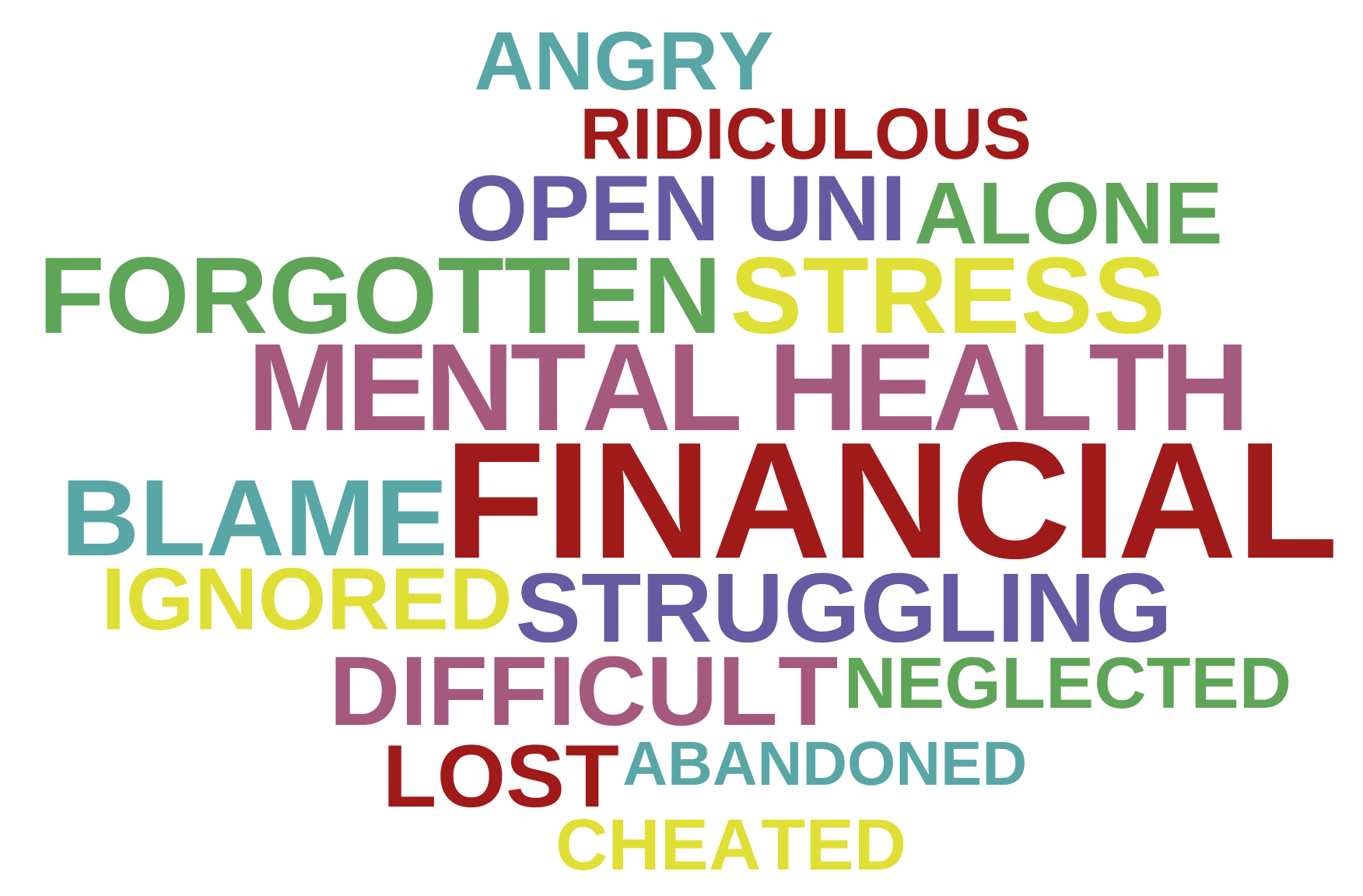 According to the data, the most common matter highlighted by students when describing their current experience was the financial burden they face.
With accommodation costs, bills and general living expenses to manage, exams and deadlines aren't the only factors placing students under pressure.
Now, of course, financial burdens are being felt by everyone throughout the UK and worldwide. However, one can't ignore the stress and mental strain faced by students trying to obtain a degree during a global pandemic.
It's therefore not surprising that mental health was the second most common phrase mentioned by students when describing their current university experience.
A 20-year-old female student stated:

"Paying £9,250 for a degree that has been all online and receiving no support from the universities or the government is straining many students' lives, not to mention their mental health."
It's common knowledge that students aren't particularly flush with cash. But with costs piling up during a particularly stressful period, students' financial woes are being exacerbated. A whopping 46% of students are currently in their overdraft and attribute this to issues caused by the pandemic.
These financial troubles are resulting in many students struggling with their mental health. This is evidenced in words such as 'forgotten,' 'struggling,' 'neglected,' and 'lost,' being used by students to describe their feelings. All of which convey a deeply stressful and troubling experience.

"It's becoming emotionally painful to exist as a student in these times. It really hurts to have to fork over thousands to rent an apartment that I can't even visit, when I'm struggling so much already," stated a 20-year-old male student.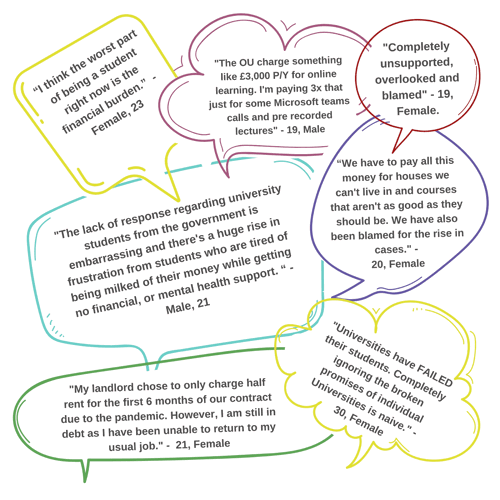 A clear link can thus be made between students' financial worries and their struggles with mental health.
It's clear that students are frustrated with the government and universities' handling of the Coronavirus pandemic.
Many have voiced their dissatisfaction with the standard of learning being provided.

"We're being forced to pay over 9k for a university course that's been transformed into a glorified youtube channel," said a 23-year-old male student.
Students have drawn comparisons between their online courses and the teaching provided by The Open University. They've highlighted their dismay for having to pay almost three times as much for very similar forms of study.

"We've always been told that watching lectures virtually is never as beneficial as attending in person, then all of a sudden the Uni changes its attitude and expects us to still pay full fees for lectures that are years old," said a 20-year-old male student.
With many students stating that they are being provided with old lecture recordings and fewer seminars, it's clear that the quality of learning offered by universities has slipped during the pandemic. No wonder so many feel "cheated."

"Teaching quality has greatly reduced. However, this is not reflected in the support given or the fees." said a 20-year-old male student.
Looking forward, some have speculated that future workplaces may be impacted by the lack of support and reduced quality of learning currently provided to students.
A 24-year old female student stated:

"Future workplaces may be less productive, which could lead to failures and omissions from these students due to the lack of financial/mental support."
The government hasn't made clear any plans to help university students, emotionally or financially. Many have called out the Prime Minister for his failure to address these issues. He has been questioned on multiple occasions about his plans to compensate student accommodation fees, but so far, he has provided no straight answer.

"I feel that students are just forgotten about. Boris doesn't mention us," said a 20-year-old male student.
Another student stated:

"I feel lost and forgotten about. The government only seems to be supporting secondary and primary schools and have forgotten about universities."


Student Displacement
So, with many students being unable to use the accommodation they forked out hundreds of pounds to pay for, one begins to question: Where exactly are students staying during the COVID-19 pandemic?
We at Love Energy Savings spoke to 1,023 students to find out where they've been living during the pandemic and how their current conditions match up to their original plans.
The infographic below shows where the students we surveyed ARE living vs. where they WOULD BE living if the pandemic hadn't occurred.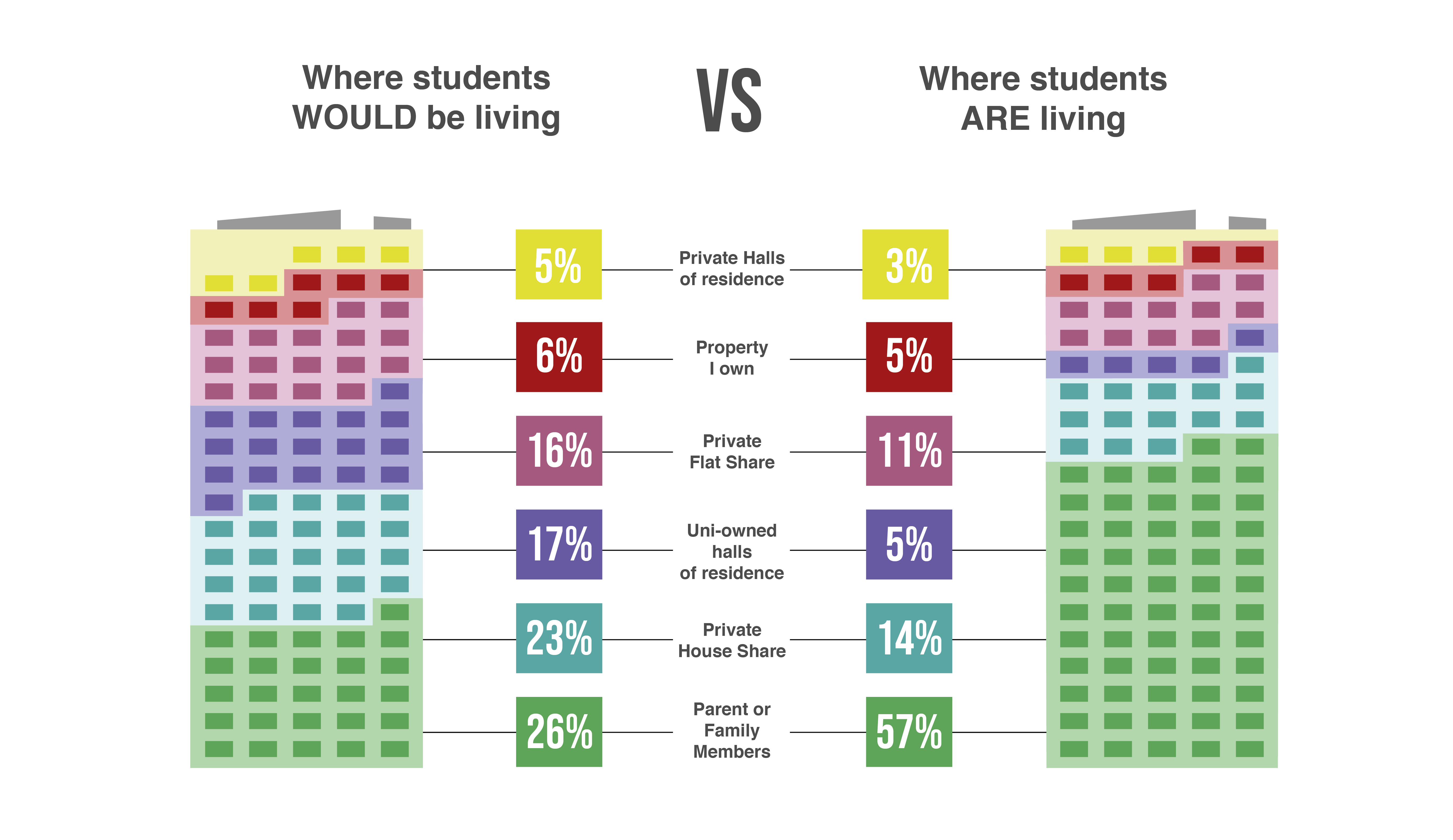 *Omitting students who weren't sure where they'd be living

As the table illustrates, 57% of students are currently living with their parents due to the coronavirus pandemic. This equates to 1.36 million students, compared to the 621,000 that were actually set to live with parents had the pandemic not occurred (an increase of 739,000)! This means there has been a 119% increase in students living with parents instead of at their rented accommodation!
Equally shocking is the fact that around 71% of students are not living in their university accommodation, with only 5% of students currently staying in their rented halls.
There's no doubt that this change in plans will be disheartening for students after having their first foray into independence, and the peace of mind and clarity provided by having your own place, ripped away.
It has also had a large impact on students' relationships, with 26% of students saying that living with their family during the pandemic has negatively affected a romantic relationship. A further 49% stated that living with family has negatively affected their sex lives.
Not all students have the privilege of being able to live with parents however, especially due to concerns regarding the spread of COVID-19.25% of students are staying in places listed as 'other.'
Students who planned to stay in privately-rented housing have also seemed to jump ship. The data shows a 70% decrease in students living in private houses and flat shares! What's interesting is the fact that many of these students actually made the choice to live elsewhere.
Some students currently find themselves living with their partners during the pandemic.
Although one may assume that this would invoke an increase in lovers' tiffs, it would seem that absence doesn't actually make the heart fonder when it comes to young love – 70% of students said that living with a partner during lockdown made their relationship better and 18% of students also stated that it helped them save!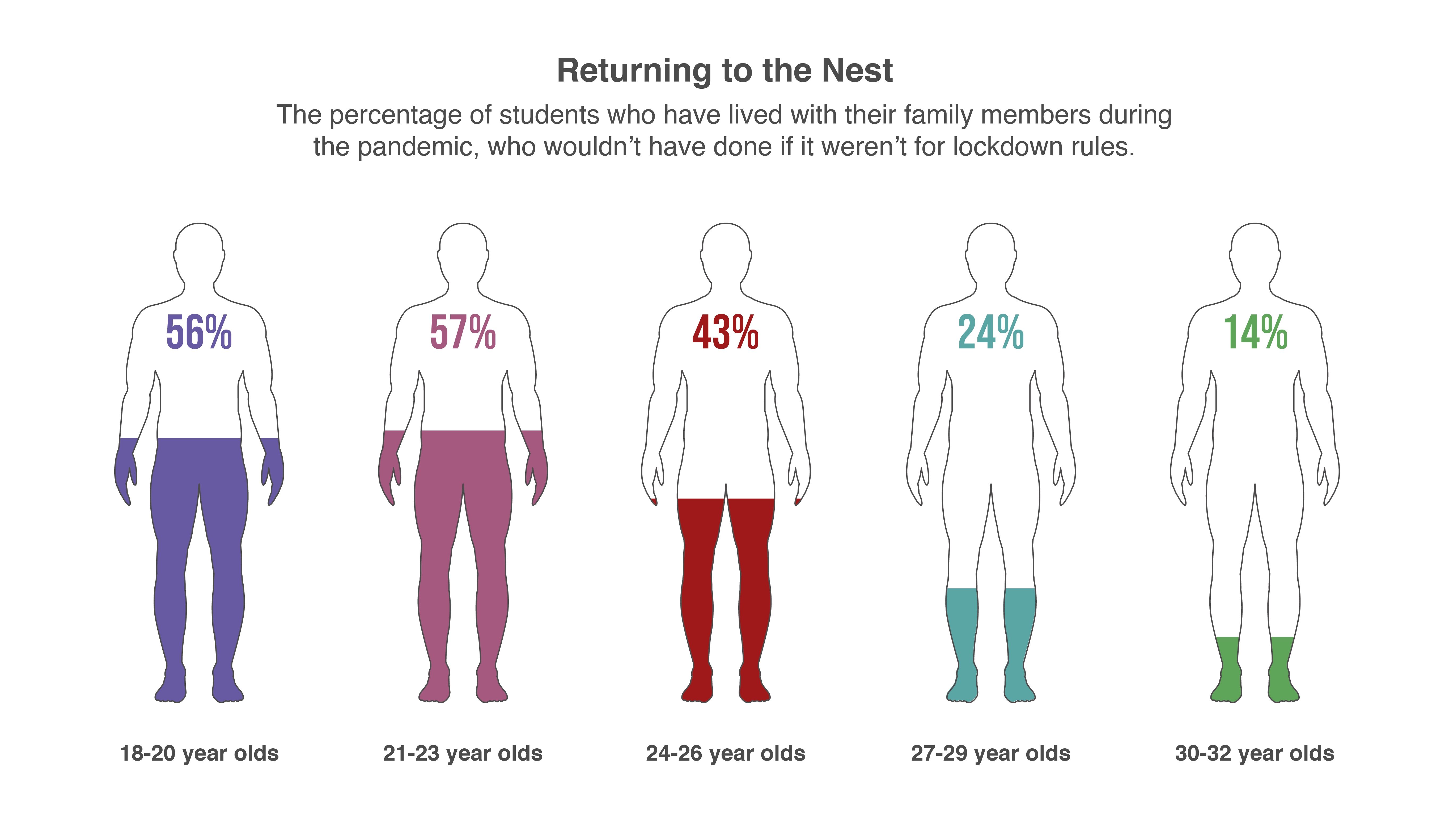 As aforementioned, a large percentage of students are currently staying in their parents' homes during the pandemic. This includes scholars of various ages.
Whilst you would expect younger students to move back in with mum and dad, even older students, who you would assume have a more established independence, have had to pack up and return to family homes due to difficulties caused by the pandemic.
One-third (33%) of 24-29 year-olds have moved in with family members since the start of COVID-19, and 14% of 30-32-year-olds have done the same
With so many students now living with family, what impact is this having on mum and dad?

As we can see, an adult child moving back home will have put parents considerably out of pocket. Over the 10 months of lockdown, a student living at home would have added an additional £1,480 to household expenses on average!

However, the financial fallout parents are experiencing is disproportionate. The lockdowns and adult children moving back in, is seeing parents in the poorest fifth of the population out of pocket by an average of £3,180, and this isn't even factoring in a job loss or having more than one adult child! Parents might also be fronting the cost of their children's Uni accommodation, with 44% of students saying that none of the main household bills come out of their personal bank account.
This disproportionate financial hit is also having a huge impact on students. While living with family, we found that 48% of students have been forced to continue paying towards rent and 28% forced to continue paying bills for their student accommodation, with the average student expecting to spend £500 (median) each month on rent and bills for housing they cannot use.
For the 16% of students who contributed towards their parents household bills and rent, their expenses shoot to an average £632 a month. With the pool of part-time hospitality or retail jobs that students usually rely on currently unavailable, this could leave many in extreme difficulty. Particularly those who are expected to also help support their families.
With both students and parents being under such heavy financial pressure, many question whether universities should be taking on more responsibility and helping ease the burden.

"Our university has offered to halve accommodation fees for the month we are unable to attend which I think is fair and a good middle-ground. But other universities have been unable to make such a compromise, which I'm sure is really disappointing to students who have to remain at home"- said an 18-year-old male student.

Students and parents also believe that the government should be helping out more.

A 19-year-old female student stated:

"Many universities and the Government are only doing the bare minimum for the students. There's barely any support that not only affects us financially, but emotionally and mentally."


Mental Health
With the pressures of studying for a degree, ongoing financial distress, adapting to a new way of learning, not to mention the anxiety caused by living through a worldwide pandemic, it's no shock that many students are struggling with their mental health.
Students are in turmoil, and mental health issues are being caused and exacerbated by their current states of distress.

We at Love Energy Savings spoke to 1,023 UK students to find out how the pandemic and their situations with uni are affecting their mental health. Even in the normal (pre-pandemic) world, student life can be stressful, with a plethora of modules, assignments and deadlines to keep up with.



Many students suffer from depression and anxiety. But current circumstances are worsening these conditions and making them harder for students to deal with.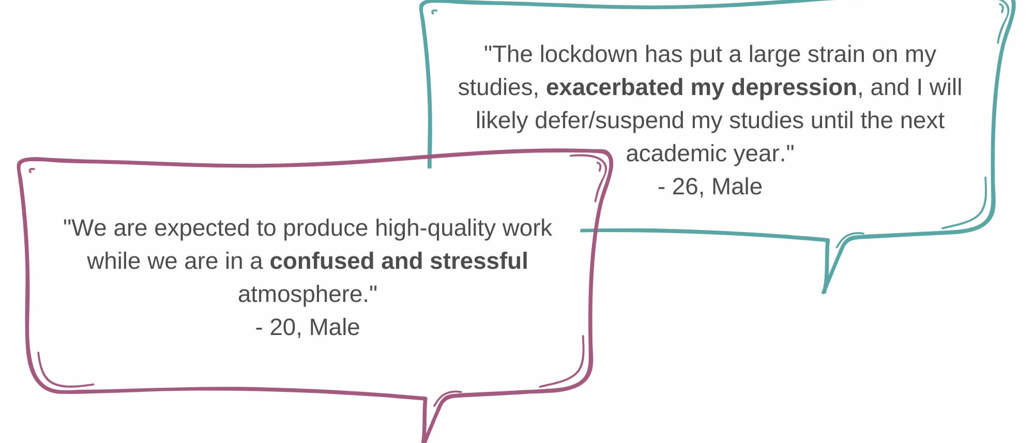 Students have voiced difficulties with producing high quality work during the pandemic. And with most feeling unsupported by their universities, many have been left feeling down and depressed.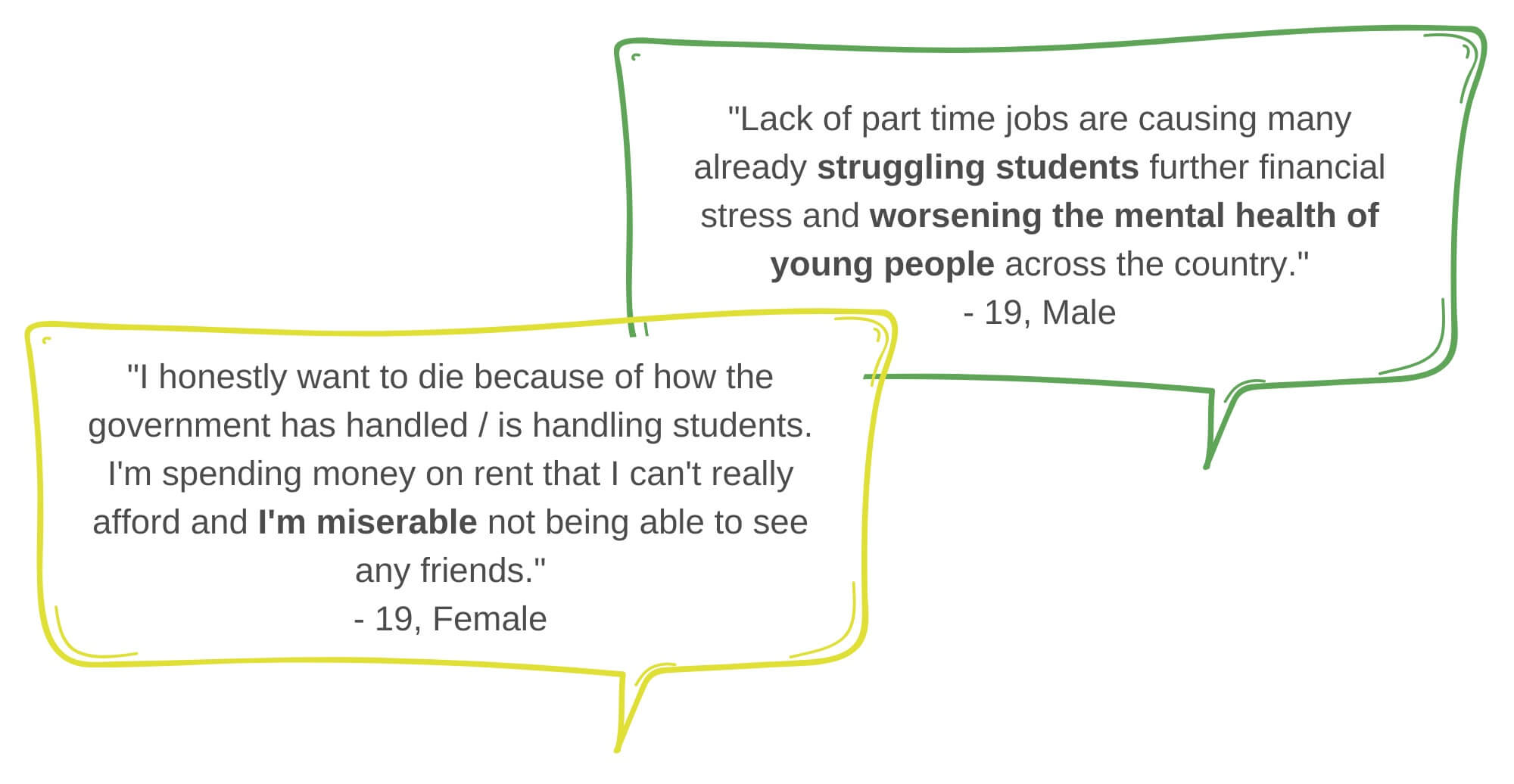 Lockdown and social distancing has also meant that students have missed out on one of the signature elements of university life: forming bonds with one another. Lifelong friendships and relationships are often formed out of university, which is why many prefer it to online training. However, due to COVID-19, most students are now feeling lonelier than ever.

"[I feel] disconnected, as I can't seem to make meaningful friendships through online classes. You don't have that camaraderie with other students who are as stressed/defeated as you are," said a 24-year-old male student.
Of course, many people worldwide are struggling and feeling alone during the pandemic. However, the majority of employees separated from their usual workforce and working from home still tend to have more interaction than students.
Zoom meetings, phone calls, staff communication platforms such as Slack and the occasional digital social event cannot compare to large lecture zoom meetings with hundreds of students and infrequent or non-existent seminars, and the impact this has on students' ability to build relationships.

"Some courses have 1 contact hour a week, yet students are paying £9,250 a year for their education. The government should be ashamed of themselves," said a 22-year-old female student.

One thing which is certainly unlikely to help with students' mental health is the frequent blame being placed on them for the spread of COVID-19. The government, public and the media have often called out young people for their failure to adhere to social distancing rules.

Whilst some students have admittedly flouted the rules, such as the infamous January snowball fight which took place amongst uni students in Leeds, many students refuse to take on the blame for COVID-19 spikes.

"We get a lot of the blame for this pandemic even though a lot of students are classed as essential workers and are trying to do their jobs as well as gain a degree with little to no support," said a 23-year-old female student.


Student Living

While the first-year students have had trouble accessing their halls, a great deal of the rest of the student population have been renting. We wanted to take a look at how students have felt they've been treated by their landlords and estate agents throughout the pandemic and before, so, our team at Love Energy Savings surveyed 1,023 UK students to learn more.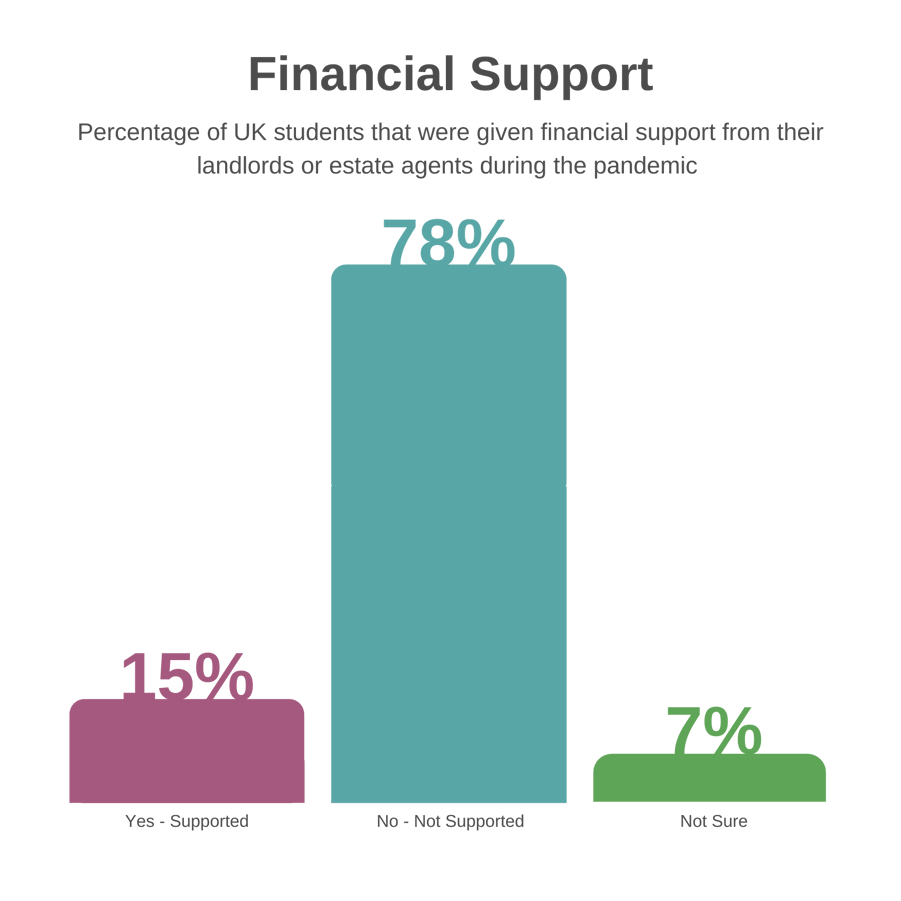 It seems as though students in private rentals are feeling just as neglected, with a whopping 8 in 10 students feeling that their landlord or letting agent HAVE NOT eased their financial burden to a reasonable degree during the pandemic. So, how helpful did students feel they were before the pandemic?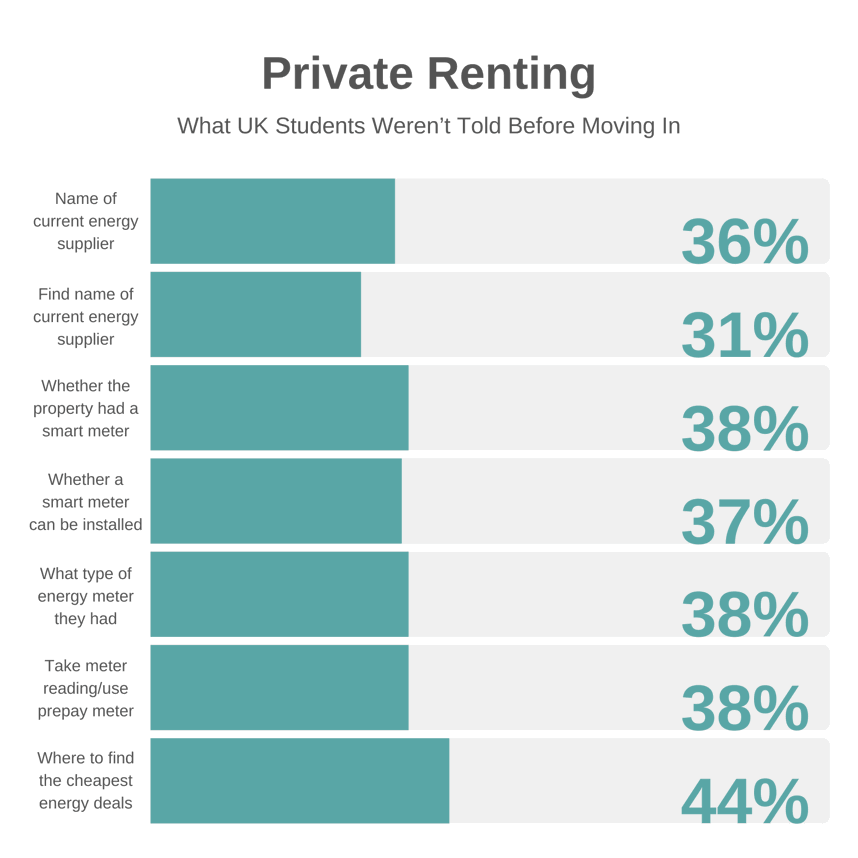 It seems a large portion of students weren't being told much about their energy bills. In fact, 70% of students said there was at least one piece of advice about their energy supply that their landlord failed to mention before they moved in which they would have found useful to know.

With 47% of students paying for their household bills as part of their rent (an all-inclusive deal), it seems it might be easy to see why. We posted on a popular student forum group, with over 5.4 thousand members, 'Leeds Student Group.'

We asked if students knew how much they were paying for their household bills if they were renting with an all-inclusive deal and requested that they let us know if they had any relevant stories or information regarding how they have been handled by their landlord/agent. The response was overwhelming, and it seemed a lot of people had something to say on how badly their household bills (and more) were being managed (or, in this case - mismanaged).






We contacted Red Door Lets for comment who stated: "If tenants contact our office expressing issues during their tenancy they are instructed to speak with Bills Inc as this is not something we can assist with."

Bills Inc. had this to say: "Bills Inc Ltd do not guarantee Wi-Fi speeds or connection to every room, though we have trialled supplying Wi-Fi boosters to the tenants where a small amount of complaints have occurred with great success."
We also reached out to Aston Properties, who declined comment.
As it turns out, many students feel that their landlords and estate agents should be doing more.
Private landlords and letting agents have received a bad name for their lack of empathy towards students' current situation.

"Private landlords are exploitative and scummy, and have used the pandemic as an excuse to not keep up with their duties even if legally obliged to (e.g. broken down white goods, landlord refused to fix or replace them 'due to pandemic'). I don't expect any government help because we rent privately, but I think the government should compel private landlords to assist student tenants in some way, because they'll never offer the slightest bit of help without a push - or even keep up with their existing minimum obligations, as mentioned! - if not." - 21, female.

"My landlord had no understanding of the situation and we have been paying full rent," 27, female.

"Our landlord used predatory pricing and increased rent to capitalise on a bad situation" - 21, male.
A source who wishes to remain nameless and owns a business working closely with student letting companies had this to say on the subject:



From these comments, it would seem that lack of knowledge is a key cause of some of the issues they face with accommodation costs. Of course, it's the landlord's responsibility to ensure that they provide their tenants with adequate information, but students must educate themselves and conduct research to ensure that they are not taken advantage of and swindled for their funds.
University student Alex (mentioned above) is currently on an all-inclusive bills deal with her housemates; paying £70 per month. However, through research, they found that they could save around £30 per month if they organised their utility bills themselves.
This reiterates how important it is for students to do a utilities comparison and ensure that they choose the best option to save them money on their household bills.

Student Attitudes Towards the Environment
COVID-19 has in many ways reminded us of the impact we have on the environment. For example, the canal water in Venice has become beautiful and clear due to less tourism and reduced pollution.
Many students profess to be eco-conscious. However our team at Love Energy Savings survey of 1,023 UK students seemed to prove the reverse.
With 73% of students saying that they were willing to pay an average of £5 a month extra for a renewable/green energy tariff, it seemed odd that our research revealed that only 3% of students are currently on one.
We wanted to understand the reason behind this. So we asked them to define what a green energy tariff is.
The correct definition: a green tariff is a type of energy deal where your energy supplier matches the energy you buy with purchases of renewable energy.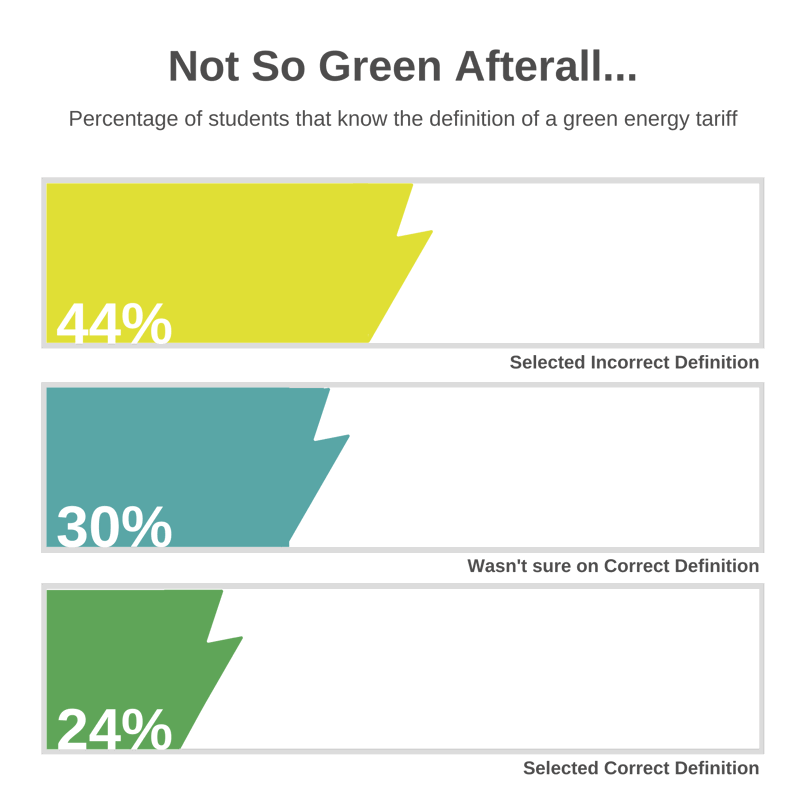 The research shows that only 24% of students knew what a green energy tariff is, with a whopping 74% being unsure or incorrect when asked to define its definition!
Moreover only one third of students professed to believe that saving the environment is more important than saving money.
While it may seem that students don't appear to be as eco-friendly as they pretend to be, a lot of this could be down to education on the topic.
Methodology
1,023 students living in the UK were recruited to take part in the survey via an online, independent behavioural research platform. Responses were collected on January 12th, 2021. Results are shown using a 95% confidence interval with a 3 percent margin of error. Where percentages are expressed as an estimated total number of students, the total number of higher education students in the UK is assumed to be 2.38 million, in line with the latest figure from the Higher Education Statistics Agency.