| How It Works
How Football Is Driving Energy Efficiency and Sustainability Targets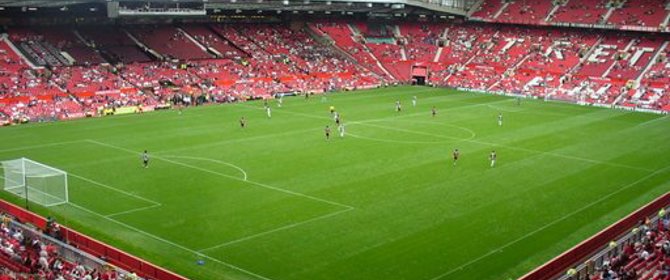 Have you ever wondered how the world's sports arenas are powered?
As stadia become more and more sophisticated, one would presume that the amount of energy needed to keep them running has increased also and they would be right.
Thankfully, football stadiums around the world are leading the charge towards sustainability goals, as we explore in this intriguing Love Energy Savings Guide.
There is broad agreement that we need more investment in renewable energy to safeguard future generations. Fossil fuels are big contributors to climate change and a finite resource.
It is therefore sensible to lower our consumption and find more sustainable energy sources. Football is the national game, and along with other sports is big business, so has a role to play.
How Much Energy Does a Sports Venue Consume?
This depends on many factors. Sports teams obviously vary in size and stature, from small local teams like Stockport County or Chester City to global brands such as Liverpool or Real Madrid.
The biggest Premier League teams have capacity in their stadiums for tens of thousands of people. Old Trafford, the largest capacity football club stadium in the UK can hold over 74,000 people. These larger venues use an eye-watering amount of power – up to 25,000 kWh per match day. That is enough to power 10 houses for over a year.
In the US stadiums can be even bigger – one arena made the news for using more electricity than an entire African country. According to CBS Sports, the Dallas Cowboys, based in Texas, use more electricity in their arena than Liberia - with a population of more than 4 million people.
How Are Sports Teams Addressing Energy Efficiency?
It is clear that football can be extremely thirsty when it comes to energy consumption, especially with regards to electricity. Alongside lighting, video walls, refreshments and hospitality during match days, many football stadiums host a huge range other sporting and cultural events throughout the year.
Luckily, many football teams in the UK take seriously the need to reduce their carbon footprint and are leading the way for other businesses. Some teams are helping to generate green energy, while others like Liverpool have completed an energy audit of their operations and have published their energy efficiency and eco-friendly efforts to inspire others.
The Beautiful (and Green) Game
Football clubs have all sorts of overheads to pay and naturally want to save money if they can. Energy efficiency can therefore be a motivator not just to for a team to demonstrate their green credentials, but to save on running costs.
Brazil, famous for football, has seen its football clubs introduce new 'green' technologies. Brazil is likely to suffer adversely from the impact of climate change and football clubs have resolved to show a new, more sustainable, game.
For example, renewable energy tiles have been trialled in a high profile initiative by Shell in Brazilian football stadium Morro da Mineira in Rio de Janeiro. Pavegen tiles sit underneath the pitch and store the kinetic energy produced as players move around the pitch. Each footstep creates around 5 kW/s of energy which can then be used to power the stadium, supported by solar panels.
The player-powered football pitch has even been championed by all-time record goalscorer Pele, emphasising the support the project has back in Brazil.
Forest Green Rovers
Closer to home, Forest Green Rovers may not be in the upper echelons of the football league, but their energy efficiency efforts are leading the way!
One of the few clubs in Gloucestershire, Forest Green are well and truly living up to their name as the most pro-active sustainable football team. They are the only team with a 100% organic pitch and have eliminated nitrogen based fertilisers from their ground-keeping.
Forest Green Rovers have radically reduced their environmental impact by using organic materials such as compost tea and coconut wetting agents as fertiliser. The club has banned the sale of red meat and even held the word's first ever vegan match against Lincoln City in November 2014.
The club is sponsored by Ecotricity Energy Supplier, an energy supplier with renewable energy at the heart of its ethos. This is due to the firm's green energy tycoon, Dale Vincent, taking over the club in 2010.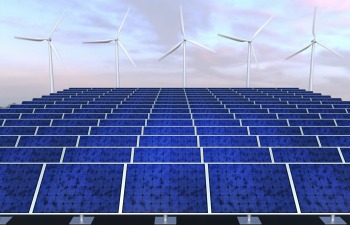 Additionally, Forest Green's ground, The New Lawn, used photovoltaic solar panels to generate energy, which help offset costs the club has accrued as a result of going organic. An autonomously driven mower which fertilises the pitch as it mows and the washing of the club's kit with phosphate free washing detergent really underline Forest Green Rovers' efforts and we are starting to see many of the major clubs follow their lead.
Forest Green have continued to display their green credentials with the release of their 2021/22 kits. Each kit is made from sustainable materials, with the home shirt made from waste coffee grounds and recycled plastic water bottles.
Recycling Turf
Both Real Madrid and Manchester United have been setting standards when it comes to recycled training pitches of late. Real Madrid have been using 11 training pitches created with new generation turf from Dutch company Desso which never needs to be mown, watered or fertilised. The cradle to cradle pioneers have vowed to make these facilities available to schools and sports clubs in the future, which will give sustainability a huge boost.
Similarly, Manchester United have been using training pitches made from old recycled tyres from India-based firm Apollo. The pitch at their Old Trafford complex is made from 10 tonnes of recycled rubber, approximately 2,200 tyres. The facility has been FIFA-certified as completely safe to use and is also open to the wider Manchester community.
Southampton F.C. Seeing the Light
Southampton F.C. made history in 2014 when they became the first club in Europe to introduce LED lighting to their stadium St Mary's.
Many of the other clubs in the UK were quick to follow their lead, including Arsenal F.C. who invested in a state of the art LED light system soon after – noting the significant financial savings that would be made long term. LED lights currently used in football stadiums show over 16 million colours and create a dazzling display for fans.
Not only does this allow for some quite breath-taking moods and shows to be created within the ground, but in comparison to traditional lighting systems in stadiums LED lighting is 60% more energy efficient; this equates to a saving of 362 tonnes of carbon dioxide per year.
Solar San Francisco
One NFL team takings its commitment to sustainability very seriously are the San Francisco 49ers.
Before a ball had even been kicked, or thrown as the case may be, the 49ers had already taken home their first piece of silverware of the season: the LEED Gold Standard for Sustainability.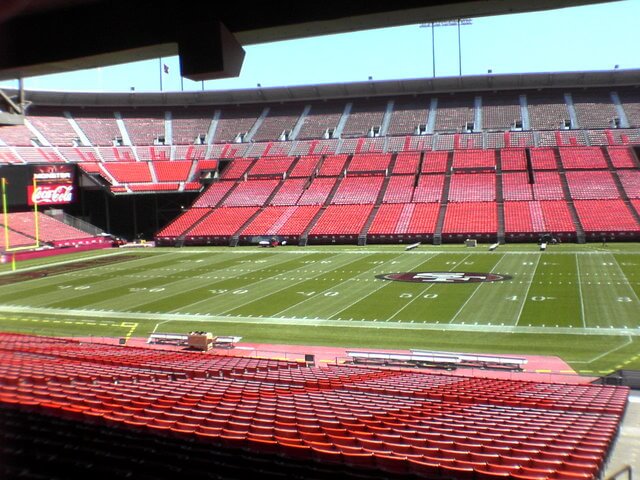 The Levi's Stadium opened in 2014, costing a colossal $1.3 billion and boasts a 1,900 metre squared, 400 kW solar power plant which provides the entirety of the venue's energy requirements. The arena, located in the city's Santa Clara district, has a capacity of 68,500 and boasts an impressive 2,500 metre squared roof garden and community facilities.
The stadium has added features such as a geothermal heat pump to transfer heat from the ground to heat their water and an irrigation system which can produce around 1,800 gallons of grey water every minute.
Conclusion
We hope we have demonstrated that there are some shining lights in the world of football and sustainability, and even examples from other sports around the world.
Nevertheless, sports venues are significant net contributors to our carbon footprint and need to move faster to reduce their environmental impact. We as fans can support this by supporting green initiatives in our clubs and calling on owners to do more.
There are a myriad of options available to football teams wanting to take control of their green energy and efficiency efforts. Football clubs can also help to promote sustainability and energy efficiency within their communities, if you feel inspired check out our energy efficiency resources for your home or business.