| Money Saving
Guide to Saving Energy at Home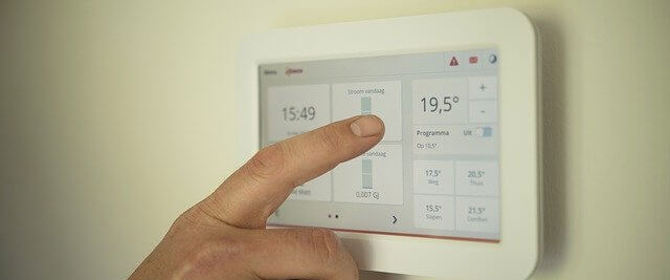 We'd all love to lower our home energy bills. Fortunately, our homes provide plenty of opportunities to reduce how much energy we use.
There are many benefits to improving your home's energy efficiency. This includes lowering your bills, taking control of your energy usage, and knowing that you're doing your bit for the environment.
In this guide, we'll inform you of a variety of ways in which you could improve your household's energy efficiency.
How can I improve energy efficiency at home?
If you want to improve your household energy efficiency, you use energy at home. We've highlighted some key areas for household energy use. You can find recommendations on how you can increase your energy efficiency.
Heating
Your home heating accounts for around 62% of your annual energy bill; this includes water heating. Heating your home more efficiently is likely to have a positive impact on your energy bills. Energy-saving measures include getting a brand-new boiler, home insulation, and draught-proofing.
A new boiler could help you save around £200 on your annual energy bill. Insulating areas such as your walls and loft, could help you save hundreds of pounds a year. These measures will not only help you save, but they'll also improve the quality of heating in your home and make you more comfortable in your living space.
Smart technology
Installing devices such as a smart thermostat and smart meter into your home could provide you with an enhanced level of control over your energy usage. Smart thermostats like Nest and Hive allow you to make changes to your heating from anywhere using WIFI control and an interactive phone app. You can even create personalised heating schedules.
Described as next-generation electricity meters, smart meters help you to keep a close eye on your energy usage. They can display your energy consumption in pounds and pence, and even provide automatic meter readings. You can finally say goodbye to estimated bills!
To find out if your home can benefit from smart technology, visit our Smart Meter and Devices guide.
Appliances
When it comes to appliances, you should consider efficiency as well as performance. Ensuring that appliances such as your fridge and washing machine have high EPC ratings (Energy Performance Certificate), could help to reduce your energy usage and lower your energy bills.
You should also look at how you use your appliances. For example, turning them off at the switch instead of leaving them on standby could save you around £35 a year on your energy bills. Visit our energy-saving guide on Appliances for more tips and information.
Water Use
According to the Energy Saving Trust, each home in the UK uses approximately 345 litres of water per day. Water also accounts for about 28% of your heating bill. So, being more efficient could help to lower the amount you spend on both water and energy.
Making minor changes to the way you use water can go a long way. For example, replacing your shower head could save you up to £95 on your utility bills. Reducing your time in the shower by just one minute could save you up to £8 per year. Take a look at our Water Saving guide for more handy tips and information.
Lighting
Many underestimate how much energy is used to provide light in our homes. It means that we also misjudge how much we can save by using light efficiently. For example, switching to energy-efficient LED lightbulbs (Light Emitting Diodes) could save you around £40 per year on your energy bills.
Similar to water use, changing the way that you use lighting in your home can also help to lower your energy usage. Find out more by visiting our Lighting energy saving guide.
Switch suppliers
Switching energy suppliers is a simple and effective way of reducing your energy bills. If your energy tariff is not suitable for your needs, you could be spending an excessive amount of money — regardless of whether your home itself is efficient or not.
Switching suppliers could save you hundreds of pounds and it's pretty simple to do! You could find a suitable energy tariff using our quick and easy comparison tool.
All you have to do is answer a few questions about your home and within just a few moments, you'll receive a breakdown of the best options for you.
Energy Saving in different rooms and spaces
To make your home as energy-efficient as possible, you should target all areas of your property. For instance, there's no point in insulating your living room if the room next door has a bad draught. Find out how you can save energy in different rooms and spaces.
Kitchens
According to the Energy Saving Trust, cooking accounts for 13.8% of electricity use in UK homes, whilst freezing and cooling appliances account for 16.8%.
Steps such as using energy-efficient cooking appliances and switching off the heat just a few minutes before your meal is cooked could help to reduce the amount of energy that is consumed in your kitchen. Our guide on saving energy in the kitchen provides some great tips and advice.
Living Rooms
Most of us spend a lot of time in our living rooms. It's a place where we can relax, interact with our family and catch up on our favourite shows.
The living room also sees a great deal of energy usage. Appliances such as our televisions and speakers are common culprits for energy consumption. Simple steps such as wearing warm clothes whilst in your living room could help to lower energy costs by making you less reliant on your heating.
Find out more about energy saving in your living room by visiting our helpful guide.
Bedrooms
Your bedroom is where you should feel most comfortable and at ease. We often crank up the heating, make our lights perfectly dimmed and keep our phone chargers on through the night. We're all guilty of doing at least one of these things.
Unfortunately, these habits can have an impact on our energy bills. Using energy more efficiently in your bedroom can help to reduce your household energy usage. For example, you could invest in thick, thermal curtains to prevent heat from escaping through your windows.
Visit our guide on saving energy in bedrooms for more information and tips.
Bathrooms
When it comes to bathrooms, you'll want to focus on reducing your water usage. Low-flush toilets help to save at least one litre of water in each use. You could also invest in energy-efficient light bulbs to help lower energy usage in your bathroom. Find out more useful tips in our bathroom energy saving guide.
Offices
The number of people using home offices has increased dramatically recently. With laptops, computers, and printers running, it can be a drain on our home energy.
Taking simple steps such as avoiding standby mode, using energy-efficient lighting, and going paperless can help you reduce your home energy costs.
Garden
We often overlook our gardens when thinking about energy saving in our homes. However, factors such as the type of lights used in our gardens will have an impact on our energy bills. Water use whilst gardening should also be considered.
Flats and apartments
It's not uncommon for tenants to think that they are helpless when it comes to energy-saving in their rented apartments. After all, they cannot make any large changes to the property such as wall or loft insulation.
If you live in a flat or apartment, there are some measures that you can take to lower your energy bills, regardless of whether you own the property or not. For example, if you have wooden floors, you could place a rug down to help with insulation and to keep as much heat in your apartment as possible.
Take a look at our guide to saving energy in flats and apartments to find out more.
Another step you could take is switching energy suppliers. Some tenants believe that they must stick with the energy supplier that is in use when they move in.
However, this is not the case. You can make your own choice about your home's energy supplier and it is key that you choose a tariff that suits your needs.
Our comparison tool could help you find a suitable energy supplier within just a few seconds.
Find out more about energy saving by taking a look at our helpful guides.