Bulb reviews, prices and tariffs
Bulb was founded by two friends working in the energy industry who identified issues with the big providers; inefficient processes, poor customer service and expensive, non-renewable energy. So, Hayden Wood and Amit Gudka set out to change that by providing an alternative for consumers with simpler, cleaner and greener energy. Launched in 2015, Bulb's simplistic approach has led to them offering just a single variable tariff, using 100% renewable electricity and 100% carbon neutral gas. They have experienced rapid growth and have attracted 1.5 million customers to join them on their journey so far. Bulb employee a team of 270 people at their head office in London, and in 2019 announced they were expanding into France, Spain and Texas.
A guide to Bulb Energy
Bulb's community forum is part of their commitment to their customers. Ideas such as refunds for exit fees from previous providers has led them to gain many fans and very positive reviews. Bulb are also a certified B Corp company meaning they meet the highest standards of verified social and environmental performance, public transparency, and legal accountability. Bulb has enjoyed huge success when it comes to awards. Bulb is highly rated by their customers, which is reflected in their reviews plus their green credentials make them a favourite with customers looking to reduce their carbon footprint.
Best corporate social responsibility project - Charity Times Awards 2018
2017 Start-Up of the Year - Startups.co.uk
Best Green services in the uSwitch Energy Awards 2018, 2019
Best Deal for You in the uSwitch Energy Awards 2018, 2019
Easiest to Switch To in the uSwitch Energy Awards 2018, 2019
Best Account Management in the uSwitch Energy Awards 2018
Best Energy Saving Support in the uSwitch Energy Awards 2018
Best Value for Money in the uSwitch Energy Awards 2018
Bulb Energy prices and tariffs

Business Electricity Tariffs

Bulb's business tariff is one of the cheapest around when compared to the bigger suppliers according to their website. With one simple energy tariff for all, it's about as uncomplicated as it gets. With their app, you can manage multiple properties on your online account. 

Residential Tariffs

As part of their mission to keep things simple Bulb offer just one variable tariff, so their customers get one single tariff for gas and electricity aptly named 'Our tariff for all'. 

Bulb energy focuses heavily on customer service, with an emphasis on keeping their prices competitive to manage customer expectations. The Bulb app makes it easy to keep your meter readings up-to-date and straightforward to track your energy usage.

How to compare Bulb Energy tariffs

If you're interested in switching to a Bulb Energy tariff, Love Energy Savings can help you find the best deals available.

You can compare Bulb Energy prices against a large selection of domestic and business energy suppliers to ensure you can switch to the right tariff.

To compare the latest Bulb Energy deals, all you need to do is enter your address and contact details into our innovative energy comparison engine.

You will then receive a list of tariff options allowing you to compare the latest gas and electricity prices in just 60 seconds.

 To help find the right gas and electricity provider, you can even compare supplier review ratings on our energy suppler table.

How to switch to a Bulb Energy tariff

If you've found a Bulb Energy tariff that you are happy to switch to, you can complete the entire process with Love Energy Savings.

For businesses, switching energy suppliers using Love Energy Savings will provide you with a dedicated account manager. They will get you set up with Bulb Energy and can even inform your old supplier that will be switching to a new contract.

Your new contact can be arranged to begin as soon as your contract ends with your old supplier. During your switch, there will be no interruption to your supply as all suppliers use the same supply network.

For domestic energy switchers, you will have peace of mind that all the admin is taken care of with no interruption to your energy supply.

Ownership

Bulb Energy Ltd is privately owned: their sole shareholder is Simple Energy Limited. Since their launch in 2015, Bulb has experienced phenomenal growth leading to them becoming one of the fastest-growing startups in the UK. Initially funded by friends and family, large-scale investors DST Global and JamJar Investments came on board to help finance their rapid growth. 

 

Location

Bulb Energy's registered address is listed as:

Bulb Energy Ltd

155 Bishopsgate

London

EC2M 3TQ

If you choose to switch through Love Energy Savings, one of our representatives will contact the Bulb Energy team on your behalf, saving you the hassle of back and forth communications. That way, you get the energy tariff you want with minimal fuss.

Supply Source & Green Performance

Bulb's fuel mix isn't complicated. They're completely sustainable, with 100% renewable electricity and 100% carbon-neutral gas, with a mix of 10% renewable and the remaining 90% is offset against their carbon reduction projects.

Compare these statistics to the typical fuel mix from UK suppliers in our wholesale energy guide.

Financial Performance

The latest financial figures for Bulb are from End of March 2019. They are as follows:

| Metric | 2019 | 2018  |
| --- | --- | --- |
| Revenue | £823.3m | 182.8m |
| Gross Profit | £8.4m | £7.8m |
| Loss For Financial Year | (£129.2m) | (£28m) |

Cancellation policy

Bulb do things differently so it's no surprise they don't charge cancellation fees. If you're looking to leave it is a simple process. Just be sure any outstanding debits are able to be cleared and you're free to leave. 

Your bill will be generated within 6 weeks of your switch date when any outstanding credit will be refunded or any outstanding debit will be collected.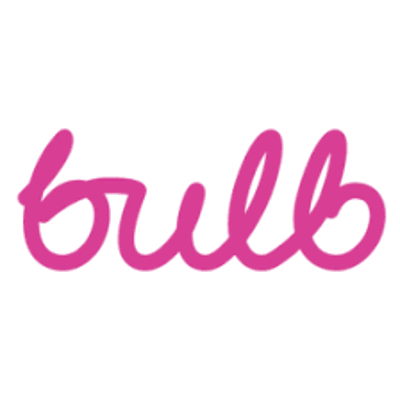 See how much you could save on your business energy in 60 seconds!
Understanding your Bulb Energy bill
How to switch to Bulb Energy
Love Energy Savings can handle a switch to Bulb for you, whether you're coming from another supplier or you simply want to change your Bulb tariff. We'll get everything sorted for you by liaising with the Bulb team on your behalf.

Enter your details here to generate a quote for your home and then simply choose the tariff that's right for you.
See how much you could save on your business energy in 60 seconds!