Bulb reviews, prices and tariffs
Bulb Energy was founded in 2015 offering green energy for all. In 2019 the supplier expanded services to the United States, Spain, and France and had 1.7-million customers.
However due to market instability, the company entered administration in 2021 and in 2022 the supplier was acquired by Octopus Energy.
In 2023, it is no longer possible to swich to Bulb, but the brand still trades while it's customers are being migrated to Octopus, which as of 20th of March 2023 was about 70% complete - about a million accounts.
Bulb Energy prices and tariffs

Bulb offers some great options for both home and business energy.

Domestic Customer Tariffs

Bulb offers one standard tariff. The average price of the Bulbs Tariff is £108.84 per month.

Tariff Information  

No exit fees
100% renewable energy
Easy management
Electricity Standing Charge: 23.87p per day
Electricity Unit Rate: 18.209p per kWh
Gas Standing Charge: 25.68p per day
Gas Unit Rate: 3.295p per kWh

Average price calculations are based on a family of 4 living in a 3 bedroom house.

 

Business Energy Tariffs

Bulb Business Energy offers a simple and transparent tariff. The price depends on the business location and usage.

Please note that if you compare with Love Energy Savings, cheaper prices may be available as we have negotiated exclusive deals with a wide range of suppliers. You can compare prices here.   

Ownership

Bulb Energy is owned by Octopus Energy, who bought the brand in 2022 from special administration. 

 

Location

Bulb Energy's registered address is listed as:

Bulb Energy Ltd

155 Bishopsgate

London

EC2M 3TQ

If you choose to switch through Love Energy Savings, one of our representatives will contact the Bulb Energy team on your behalf, saving you the hassle of back and forth communications. That way, you get the energy tariff you want with minimal fuss.

Awards

Despite only being around since 2015, Bulb Energy are a multi-award-winning energy provider.

Its notable awards include:

Best corporate social responsibility project - Charity Times Awards 2018
2017 Start-Up of the Year - Startups.co.uk
Best Green services in the uSwitch Energy Awards 2018, 2019
Best Deal for You in the uSwitch Energy Awards 2018, 2019
Easiest to Switch To in the uSwitch Energy Awards 2018, 2019
Best Account Management in the uSwitch Energy Awards 2018
Best Energy Saving Support in the uSwitch Energy Awards 2018
Best Value for Money in the uSwitch Energy Awards 2018, 2020

Green Performance

2021 Bulb Energy Fuel Mix

All Bulb Energy tariffs offer 100& renewable energy. The breakdown looks like this:

Wind: 78%
Solar: 18%
Hydro: 4%

Cancellation policy

Bulb do things differently so it's no surprise they don't charge cancellation fees. If you're looking to leave it is a simple process. Just be sure any outstanding debits are able to be cleared and you're free to leave. 

Your bill will be generated within 6 weeks of your switch date when any outstanding credit will be refunded or any outstanding debit will be collected.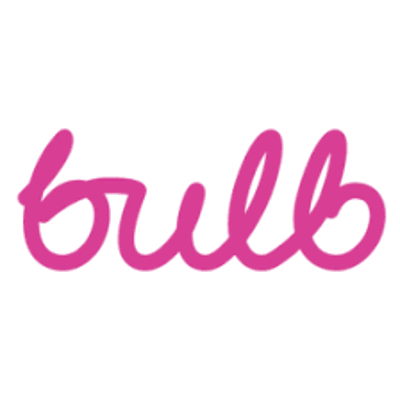 See how much you could save on your business energy in 60 seconds!
How to switch from Bulb Energy
Love Energy Savings can handle a switch to Bulb for you, if you're coming from another supplier. We'll get everything sorted for you by liaising with the Bulb team on your behalf.

Enter your details here to generate a quote for your home and then simply choose the tariff that's right for you.
See how much you could save on your business energy in 60 seconds!