Green Star Energy reviews, prices and tariffs
Launched in 2013, Green Star Energy (formerly Pioneer Energy) set its sights on providing excellent customer service and cheap pricing that is easy to access and understand. It's a tried and tested method that's seen the company successfully serve 2 million customers in the USA and Canada under its former parent company, Just Energy Group Inc; an achievement it is hoping to replicate in the UK.
Green Star started life as the residential arm of UK commercial electricity and gas supplier Hudson Energy Supply UK Ltd, giving it a lot of experience of the UK market. In 2018, they were appointed by Ofgem to take over the customer accounts of Newcastle-based Future Energy, which ceased trading in January 2018. The company was acquired by Shell Energy Retail Ltd at the end of 2019, but due to its strong brand, it will continue to trade under the Green Star name.
Green Star Energy also offers a Perks Reward scheme to its customers who sign up to its Perks plan, that allows them to redeem points earned on gift cards across shopping, dining and entertainment retailers. Environmentally conscious, Green Star Energy is committed to providing renewable energy and low carbon alternatives to its customers.
Ownership

Green Star Energy is now owned by Shell Energy Retail Ltd following their acquisition of the company in November 2019.

Shell Energy Retail Ltd is owned by Royal Dutch Shell plc, incorporated in England & Wales. Formerly First Utility, the company was founded in 2008 by Mark Daeche, Marcus Citron, and Darren Braham, a spin-off from First Telecom targeting the domestic and business energy markets.

Location

Green Star Energy's postal address is:

Elder House 3rd Floor,

586-592 Elder Gate,

Milton Keynes,

MK9 1LR.

If you choose to switch through Love Energy Savings, one of our representatives will contact Green Star Energy's team on your behalf, saving you the hassle of back and forth communications. That way, you get the energy tariff you want with minimal fuss.

Green Star Energy prices and tariffs

Residential Tariffs

Green Star Energy has a range of tariffs to suit it's customers needs.

Fixed Rate

A fixed-rate tariff offers customers peace of mind with fixed prices for the duration of the contract. Be aware that although the prices are fixed, if your usage varies your bill will too.

They have 3 fixed rate tariffs running currently:

Smarter Home 36m v1

Fixed for 36 months
Direct Debit only payment
Green Energy
Perks Rewards
Smart Bundle Discount

Fix for Less 12m v5

Fixed for 12 months
Direct Debit only payment
Green Energy

Fix fand Beat Cancer 12m v1

Fixed for 12 months
£25 donation per fuel to the new MK Cancer Centre
Direct Debit only payment
Green Energy


Variable Rate

Green Star Energy's variable rate tariffs will go up and down in line with the market, so although you may benefit from lower prices if there's a drop in the market price, you will also see your prices rise should the market prices go up.

Standard Plus

Variable Rates
Direct Debit, Cash, Cheque

Standard PAYG

Supply Source

The supply source for Green Star Energy is 100% renewable.

Compare these statistics to the typical fuel mix from UK suppliers in our wholesale energy guide.

Financial Performance

The latest financial figures for Shell Energy are from End of 2018. They are as follows:

| Metric | 2018 | 2017 |
| --- | --- | --- |
| Turnover | £850.4m | £858.3m |
| Gross profit | £115.9m | £133.5m |
| (Loss)/Profit for the Year | (£20.3m) | £23.9m |

You can view a full statement for Shell Energy's financial report here.

Awards

At time of checking, we were unable to find any awards for Green Star Energy.

Cancellation policy

Green Star Energy's terms and conditions on their website state that you can cancel your contract within the first 14 days, after that it is a binding contract and cancellations may be subject to an exit fee.

Green Star Energy will notify you of any money owed to you, or any money owed by you in your final bill, which must be settled in full.

Green performance

Green Star Energy guarantees 100% renewable electricity. They actively offset carbon emissions with the help of Carbon Footprint, and also support reforestation projects both here in the UK and in the Amazon. On the website Green Star Energy features a carbon footprint calculator so customers are able to see the impact of their annual emissions and advice on how they can offset them.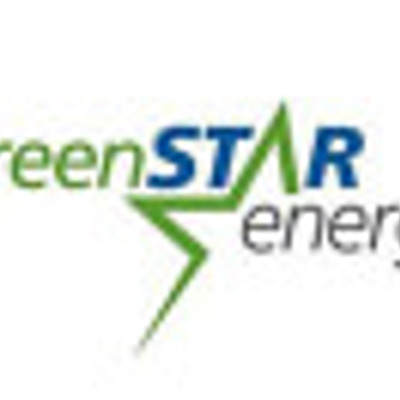 See how much you could save on your business energy in 60 seconds!
Understanding your Green Star Energy bill
Your online or paper bill will tell you:
The billing period (typically monthly)
The tariff that you're currently on (called Product Type)
What you owe and when it needs to be paid
Your estimated energy usage over the billing period
A detailed breakdown of your usage (on a dual-fuel tariff, you'll get a breakdown of both gas and electricity)
A breakdown of how the price has been calculated for transparency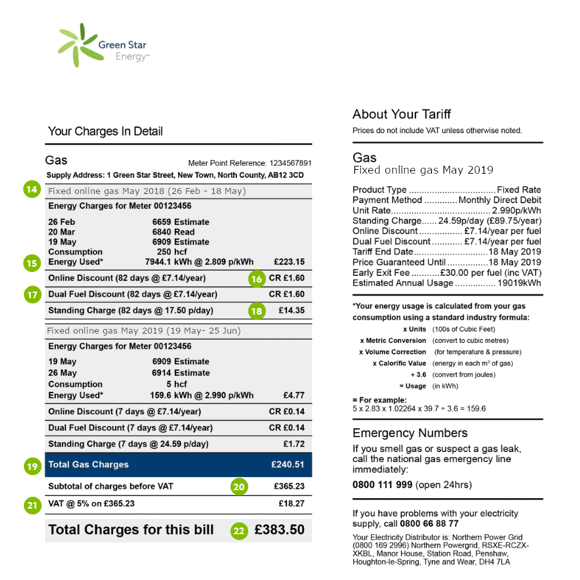 How to switch to Green Star Energy
Love Energy Savings can handle a switch to Green Star Energy for you, whether you're switching from a different supplier or just want a different Green Star tariff. We'll get everything sorted for you by liaising with your current provider and the Green Star Energy team.
Enter your details here to generate a quote for your home and then simply decide if it's the right supplier for you.
See how much you could save on your business energy in 60 seconds!