Haven Power Reviews, Prices & Tariffs
Haven Power is an Ipswich-based commercial energy specialist that's been active in the market since 2006. They have a wide range of renewable energy products available for SMEs and larger organisations across the UK, claiming to be "the supplier that makes customers happy".
Haven Power is dedicated to helping customers, communities and the planet. Collaborations with like-minded partners — from respected academic institutions to leading industry specialists — allow them to create sustainable solutions.
Ownership

Haven Power was acquired in 2009 and now operates as a part of Drax Group plc, the UK's largest independent power generator. Much like haven Power, Drax Group plc focuses its core values around creating environmentally conscious energy solutions.

With a portfolio of flexible, low-carbon and renewable UK power generation — not to mention being a leading producer of wood pellets from sustainable low-value commercial forestry resides — Drax Group plc shares Haven Power's goal of greener energy for businesses.

Location

The headquarters of Haven Power is located in Ipswich, England. Their address is:

32 The Havens
Ransomes Industrial Estate
Ipswich
IP3 9SJ

If you choose to switch through Love Energy Savings, one of our representatives will contact the team at Haven Power on your behalf, saving you the hassle of back and forth communications. That way, you get the energy tariff you want with minimal fuss.

Haven Power Prices and Tariffs

Prices

| Profile class | Day rate pence/kWh | Night rate pence/kWh | Standing charge pence per day | Other costs |
| --- | --- | --- | --- | --- |
| 1,2,3,4 | 23 | 14 | 50 |   |
| 5,6,7,8 | 23 | 14 | 500 |   |
| 0 (half-hourly) | 25 + TNUoS* |   | 1000 + HHAC* | Metering/DA*/DC8/Reactive power at cost |

*TNUoS - Transmission Network Use of System: the transmission cost associated with the relevant Half-Hourly charge; National Grid Company levies this charge

*HHAC - Half-Hourly Availability Charge: we calculate this by multiplying the Network Operator's published availability rate for the relevant HH supply by the customer's Chargeable Supply Capacity

*DA - Data Aggregator
*DC - Data Collector

Tariffs

Fixed — Fixed-price electricity that allows you to manage your budget efficiently and avoid the risk of buying energy at the wrong time. You'll secure your energy upfront without having to worry about fluctuating energy costs. The right choice for companies that want to focus on running their business.
Flex — Flex plans allow you to watch the market and control when you buy your electricity. You'll receive access to market data and support from dedicated flex traders. Ideal for companies that have the resources to track the flow of the market.

Supply Source

Although Haven Power offers both renewable and conventional fuel products, the majority of the power generated in the 12 months ending March 31st 2019 came from renewable sources (93.4%).

Financial Performance

Total Gas & Power most recently filed interim accounts in May 2019, detailing the 12 months up until December 2018.

| Metric | 2018 |
| --- | --- |
| Turnover (loss) | (£1.4bn) |
| (£36.9m) | 23 |
| Profit/(loss) before tax | (£1.7m) |

For full details of Total Gas & Power's financials, see their latest accounts here

Awards

Haven Power is a well-respected supplier in the energy industry and as such, receives multiple awards and nominations for its services, both for customers and communities.

Notable mentions include:

Best B2B Brand - 2019 Charge Energy Branding Awards (Winner)
Commercial Building Energy Project of the Year - 2019 Energy Awards (Shortlisted)
Community Initiative of the Year - 2018 Utility Week (Shortlisted)
Supplier of the Year - 2018 Energy Awards (Shortlisted)
Supplier of the Year - 2017 Energy Awards (Shortlisted)
Supplier of the Year - 2016 Energy Awards (Winner)

Cancellation Policy

Haven Power customers are unable to cancel until their contract has been fulfilled and an applicable termination notice is given.

Termination notices must be submitted a minimum of 90 days prior to your contract end date for gas contracts or 30 days prior to your contract end date for electricity contracts.

Green Performance

Haven Power offers its customers a range of 100% renewable energy plans. They source clean energy from a number of sources, including solar power, hydroelectricity and wind. Plus, their responsibly-sourced biomass electricity costs no more than conventional energy, yet produces 86% less carbon than coal-generated power — so customers can start cleaning up their carbon footprint from the moment they switch.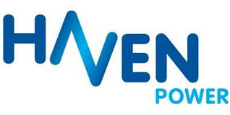 See how much you could save on your business energy in 30 seconds!
Understanding your Haven Power bill
Your online or paper bill from Haven Power will tell you:
Your unique customer account number
Your name and billing address
The billing period of the invoice
Service account number and invoice number
Supply address
Breakdown of charges being applied for the period and how they've been calculated
The number of invoices that are being totalled on your account balance
Total including any outstanding balance from previous bills
You can click here to see an example of a Haven Power bill, along with a full explanation of each section.
How to switch to Haven Power
Love Energy Savings can handle switching your contract with Haven Power whether that's from another supplier or from an old Haven Power tariff. We'll get everything sorted for you by liaising with the Haven Power team on your behalf.
Enter your details here to generate a quote for your home and then simply choose the tariff that's right for you.
See how much you could save on your business energy in 30 seconds!