Business Broadband Deals You Can Rely On
Reliable business broadband deals to suit every company. Whatever your requirements, we will work with you to explore business broadband packages to find the right one for you.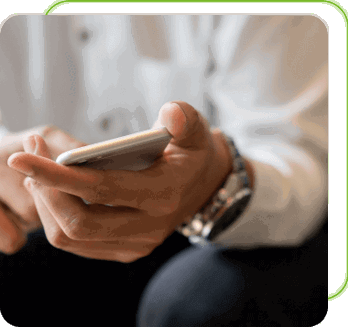 Award winning customer service team

Cyber Protection as Standard
Why switch business broadband?
Business moves fast, so your broadband needs to be fast too.
Business broadband has become a staple to the successful operation of all organisations. You may experience a flow connection, despite being on fibre broadband. This may mean you are on the wrong business broadband deal for your needs.
If you have not switched your business broadband for a couple of years, you are also likely missing out on a better deal.
We have teamed up with Daisy Communications, one of the UK's leading business broadband and telecom providers to deliver great speeds, unlimited downloads and unrivelled business support. As a partner, we can offer exclusive deals on a variety of business broadband and phone deals at a great monthly cost.
How It Works
Simply complete the quote form to help us understand your business broadband requirements. 


Our experts will get in touch and will provide you with a range of business broadband packages.


Your account manager will handle the switching process and keep you up to date throughout the process. We'll ensure that you never lose connection during the switch.
What business broadband speeds are available?
Business broadband speeds largely rely on the geographical location of your premises. You'll likely hear broadband acronyms like ADSL, FTTC and FTTP. This simply relates to the type of wiring delivering a connection to your business. You can read more about those acronyms and business broadband deals below.
Whilst both FTTC and FTTP offer very fast internet connections, FTTP's complete business fibre broadband connection offers much faster speeds.
FTTP is a much newer fibre-optic technology and is only available in some areas in the UK. If the technology is not available in your area just yet, the technology is radially growing and may be with you soon. ADSL is a standard internet connection available across 99% of the UK.
Business Broadband Packages
ADSL Broadband – Great for small businesses

ADSL broadband is a simple and low-priced internet connection perfect for small business operations. This business broadband package offers speeds up to 17Mbps. Small business without mission critical applications usually select this deal. It's perfect for businesses whose main use if to access emails and browse the internet at a low price.

Other benefits:
Unlimited data usage
Unlimited downloads
Free DDoS security
24/7 UK Customer Support
WiFi router and static IP address

Superfast 38 (FTTC) – Great for small & micro cloud-based solutions

Superfast 38 offers increased internet speeds for businesses who used cloud-based solutions. Small business users with mission critical applications usually sign up to this deal with speeds up to 38 Mbps.

This business broadband package has allowance to scale up with new technologies at a relatively low monthly cost.

Other benefits:
Unlimited data usage
Unlimited downloads
Free DDoS security
24/7 UK Customer Support
WiFi router and static IP address

Superfast 76 (FTTC) - Great for SMEs using cloud-based solutions

Superfast 76 offers greater speeds business broadband speeds for companies using more intensive applications and cloud-based solutions.

With speeds of up to 76 Mbps, your business will be able to implement up-to-date business technology.

Other benefits:
Unlimited data usage
Unlimited downloads
Free DDoS security
24/7 UK Customer Support
WiFi router and static IP address

Ultrafast 150 (FTTP) – Great for SMEs using cloud hosting

Ultrafast is the fastest and most reliable full fibre broadband connection. This is great for SME businesses who use intensive applications, require unlimited downloads, and a reliable high-speed connection.

Other benefits:

Unlimited data
Unlimited downloads
Free DDoS security
24/7 UK Customer Support
WiFi router and static IP address

Ultrafast (300) FTTP – Great for large businesses

Ultrafast 300 is the fastest internet we offer, and it is great for large companies with hundreds of users.

With speeds up to 300Mbps, businesses can use cloud hosting facilities and data-heavy applications.

An FTTP connection means your data will travel straight from the source to your premises, bypassing the exchange. This means the fibre broadband connection is more reliable, speeds remain consistent at all times of the day and has high-levels of support to ensure your business is always online.

Other benefits:
Unlimited data
Unlimited downloads
Free DDoS security
24/7 UK Customer Support
WiFi router and static IP address
Benefits of changing business broadband provider
All businesses want a fast and reliable broadband connection that meets their needs. Whether you simply require the capability to send files and check emails, or a connection that can power cloud-based services, Love Energy Savings can find the right solution for you.
If it's been a while since you compared business broadband providers, you could be overpaying for your connection. Out-of-contract rates can leave businesses spending much more than they need to on broadband and other utilities. By comparing the latest deals, you can be confident that your business is on the right broadband contract.
When you compare business broadband, you can benefit from:
Better productivity
The right broadband deal can improve the productivity of your staff by offering faster speeds and increased reliability. You can easily connect to high performing applications such as video and VoIP services without interruption.
Bandwidth to suit your needs
With our wide range of broadband options, you can select the bandwidth to suit the needs of your business. From FTTP to fibre broadband connections, we have a range of options to meet the requirements of businesses of all sizes.
You can benefit from downloads speeds ranging from up to 17Mbps on our ADSL broadband packages right up to 76 Mbps on our Superfast Fibre Broadband.
Ultimate protection
We understand just how important security is to any business. By switching with us, you can benefit from year-round cybersecurity and fraud protection to keep your business safe.
Wide range of choice
From bandwidth options to contract lengths, you will have a wide range of choice when comparing business broadband deals.
You can compare deals from major providers offering contract lengths of 12, 24, or 36 months. By switching with us, you can tailor your broadband contract to meet the exact requirements of your business.
What to consider when switching business broadband
The first thing to consider when comparing business broadband deals is the needs of your business.
For example, a business using VoIP and cloud-based software will require a much more powerful package than a business with more basic needs. As you would expect, a faster broadband connection will come at a higher price. The good news is that the relative cost per Mbps has reduced as providers introduce more high-speed options.
You should keep in mind that bandwidth requirements have increased for many of us with the introduction of more collaborative business applications such as Zoom and Teams. It's important to consider what you will need both now and in the future.
Don't forget to check your existing broadband contract
Before you switch business broadband providers, you should always check your current contract. Most broadband contracts are for 24 months, but this can vary. Once you have reached your renewal window and the minimum term has been passed, you will be free to switch to another provider.
If you still have a number of months left on your broadband deal, there is likely to be a fee attached if you wish to switch. If you do want to switch before your renewal window, you should factor any exit fees into your expected savings before taking action.
Business Broadband FAQs
What is the difference between home & business broadband?

Business broadband is more reliable and comes with a service guarantee. Businesses are also offered better customer support and greater security to ensure businesses remain operational 24/7.

Business broadband traffic is also prioritised over residential traffic. Businesses who opt for an FTTP connection will see much faster speeds.

We have a range of great business broadband deals to choose from. All of our business broadband deals come with unlimited downloads.

Which broadband suppliers are available?

When you switch with Love Energy Savings, you can compare a wide range of some of the leading UK suppliers including TalkTalk, Virgin, and BT. Our goal is to make comparing a wide range of suppliers as quick and easy as possible.

By simply answering a few questions about your business, you can find the latest broadband deals from trusted UK providers.

How can I maintain a strong broadband connection all around the office?

Business broadband requires powerful routers to reach all corners of the office. You will be provided with high-spec routers with long range connectivity to ensure internet connection is reliable in all corners of your business premises.

Will my workplace need more than one router?

For a small office of ten or fewer employees, one router should suffice. However, larger properties will often require multiple access points to maintain strength across the premises. When you switch with us, you can receive advice on the best setup to offer your business the best possible connection.

Why do businesses need static IP addresses?

A static IP address is crucial to enable remote working, managing a server and setting up a website. This is a unique identifier for the businesses internet connection and is more secure. 

What is DDos Security?

'Distributed Denial of Service' (DDos) is a type of malicious cyber-attack that uses online service and network resource to gain access to data. All our business broadband packages comes with this security as standard to ensure your business is protected.

Will I have any download limits?

Download limits are a vital consideration when choosing a business broadband deal. Hitting a download limit can have a real impact on your business and restrict the ability of your staff to do their job.

All of the broadband products offered by Love Energy Savings come with unlimited downloads and data usage.

Is line rental included with business broadband?

We have a variety of business broadband and phone packages available. Your phone line will come as standard, and you are able to scale this up as your businesses needs grow. Your businesses may require a more advanced leased lines package.

Will the PSTN Switch Off affect my business broadband?

The 2025 PSTN switch off will only affect those businesses using PSTN or ISDN services. 

Businesses using fibre based broadband services or leased lines will see no change in the services. To avoid disruption, it is advised that all businesses switch to a fibre broadband or leased line connection before the PSTN stop sell date of December 2023.

What other products do Love Energy Savings offer?

Here at Love Energy Savings, we offer a range of telecom and utility products to help your business make savings.

Our telecom products include:

You can also compare the latest business energy deals and switch business water with our expert team.