Business Energy Procurement
When it comes to energy procurement for business, our objective is equal to that of our customers: to obtain and secure the most economical supply arrangement available.
Here at Love Energy Savings, we proactively identify new opportunities as the markets evolve. To further reduce costs, we work in partnership with your business to negotiate, prepare and select key supplier contracts to minimise costs and align risk profile.
What Is Business Energy Procurement?
Business energy procurement is the process of finding the best energy solution for your business. A good plan will take into consideration your price, sustainability goals, current energy supply and the future needs of your business.
The best plans are tailor-made to each business. They find ways to reduce your bottom line without compromising on the amount of energy you need.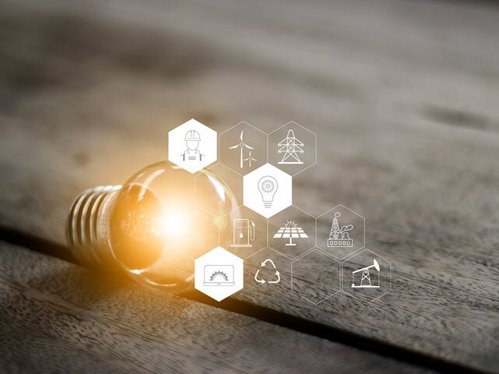 Types of Business Energy Procurement We Offer
Fixed Energy
The fixed price energy option gives you complete certainty for the duration of your energy contract, allowing you to control your budget with accurate forecasting of energy expenditure.
This type of contract can be fully fixed for up to 5 years and can be reviewed twelve months in advance of the current contract end date, therefore creating absolute certainty over costs for the duration of the agreement.
If you do not wish to be exposed to the volatility of the energy market, a fixed price energy contract will provide you with stability and budget certainty for the full period of your contract.
Benefits of fixed energy procurement
Regular fixed payments make budgeting easier than with other energy procurement methods
No rising future commodity and non-commodity costs
Suppliers absorb the long-term pricing risk
Less complex than other types of energy procurement
Risks of fixed energy procurement
Your supplier may increase costs to try and counter the long-term risk
Does not enable you to take advantage of any price reductions during the contract term
Passthrough Energy
Wholesale charges are fixed. However, non-commodity charges are passed through at the current rate. As a result, a passthrough contract could potentially lower your energy spend.
For organisations that are not averse to risk, do not require a fixed budget and would like more involvement with their energy contract, a passthrough contract could be the answer.
Consumption during peak periods can be expensive. Thankfully, Love Energy Savings works with your business to help you understand how you're using energy. We'll then recommend energy efficiency measures that will enable you to take full advantage of an ever-fluctuating market.
Benefits of passthrough energy procurement
If prices fall, you will be the one to benefit, not the supplier
You often get a lower price than you would with fixed energy procurement since it's the consumer who takes on the risk
You'll benefit if costs fall in the future
Great for clients who can manage usage patterns to avoid expensive triad charges
Risks of passthrough energy procurement
The lack of certainty can be a real issue if you're on a tight budget
Third-party costs can fluctuate
More complex than fixed energy procurement
Initial cost estimates are no guarantee of future costs
Flexible Procurement
Sometimes, fixed-price contracts are too restrictive. A flexible procurement contract allows clients to take advantage of an ever-changing energy market by spreading the risks associated with energy purchasing.
Love Energy Savings has a fully managed service that maximises choice for you. We help you take advantage of a volatile energy market; that way, you can capitalise on market upward and downward trends, all while reducing your costs.
When you choose flexible procurement with Love Energy Savings, our dedicated procurement specialists will handle the negotiations on your behalf. They will be your point of contact and will manage the relationship with suppliers.
Benefits of flexible procurement:
Take advantage of fluctuating energy market prices
Spread the risk over multiple purchase points
Provides you with complete control over your energy purchasing
Benefit from the help and ongoing support of our experienced industry professionals
Risks of flexible procurement:
It is an involved process and requires you to make complex purchasing decisions, as a result, you will need detailed knowledge of the energy market
Requires larger tradable volumes in order to access the wholesale market
Can expose you to some risk if not properly managed
Public Procurement
Public procurement is the process by which government departments or agencies purchase goods and services from the private sector.
Love Energy Savings has a dedicated public procurement division supported by a team of industry specialists with multiple years of experience with EU compliance.
Thankfully, our team is experienced in managing OJEU-compliant tenders. We work in partnership with public sector bodies in order to understand the challenges and opportunities your business faces.
How we can assist with your public procurement:
Compliance with all EU/public sector procurement legislation
Formulating, understanding and agreeing on energy purchasing objectives
Provide you with market advice through access to dedicated energy trader account management
Competitive tendering and a transparent supplier management process
Support from knowledgeable energy procurement specialists that have direct experience working within the public sector
Energy efficiency and sustainable energy initiatives