| Money Saving
Guide to Energy Efficiency in Bedrooms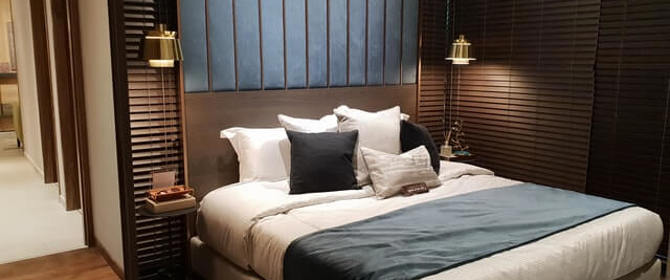 We often underestimate the amount of energy consumption that takes place in our bedrooms. That plugged in charger, the TV left on through the night and the thermostat turned right up, could all have a significant impact on your energy bills.
But don't worry, this guide will highlight ways in which you can make your bedroom more energy efficient. Read on to find out more.
How can I increase energy efficiency in my bedroom?
Your bedroom is the place where you feel most at ease, which is why we tend to be slightly more frivolous with our energy usage. However, there are ways in which you can lower your energy consumption in your bedroom without compromising your comfort. Here are some examples:
1. Switch to energy-saving lights
LED and CFL lightbulbs are energy-efficient alternatives to traditional lights. They're notoriously long-lasting and can help to lower your energy bills by using less energy to provide your bedroom with light. Replacing all lightbulbs in your home with LEDs could help you save approximately £40 a year.
2. Insulate your windows
Home insulation is an effective way of keeping the heat in your property. By insulating your windows or investing in double glazing, you can reduce heat loss and keep your bedroom as warm as possible.
Draught-proofing your windows by adding self-adhesive strips between gaps could also help to keep cold air out, whilst investing in thick curtains can help to keep heat in. These measures will help keep your bedroom warm and cosy and place less pressure on your heating system, thus helping you save.
3. Invest in seasonal bedding
The last thing you want during summertime is a thick duvet, and the worst thing you can do is have a bed cover too thin during winter. Ensuring that you seasonally alternate your bedding types can help to make you less reliant on your central heating and cooling appliances like fans — which will also help to lower your energy bills.
4. Unplug that charger
Many of us are guilty of leaving our phones, laptops and tablets charging through the night so that they have a full battery in the morning. However, this can consume a substantial amount of energy, especially since these devices do not need to be charged throughout the night. Switch your chargers off at the plug to save energy. You should also ensure that you are turning any other appliances such as televisions and speakers off standby to avoid energy wastage. This could help you save around £35 per year on energy bills.
5. Get a rug
A simple and cost-effective form of floor insulation, adding a rug or getting carpeted floors in your bedroom can help to block draughts and keep the space (and your feet) warm. This could then lower your central heating use and reduce your energy bills.
6. Lower your thermostat
Setting your thermostat to a lower temperature whilst you're warm and cosy in your bed could help to lower your energy bills. The Energy Saving Trust claims that turning your thermostat down by just one degree could help you save around £60 per year.
7. Invest in a smart meter
A smart meter can help you keep track of your energy usage in all areas of your home. You can target your bedroom and find out where you are using the most energy; the device can also translate your usage into pounds and pence.
8. Switch energy suppliers
In order to reduce your energy bills, you'll need to ensure that you are on the best home energy tariff for your needs. Making energy-efficient changes in your bedroom, or any other space in your home, will not be effective if you are on the wrong tariff.
Use our free comparison tool today to compare energy suppliers & prices to see if you're getting the best deal.
Alternatively, visit our energy guides for more advice on energy saving.