| Money Saving
Guide to Underfloor Heating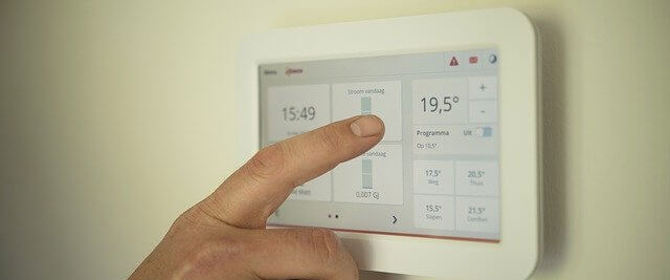 Underfloor heating is becoming increasingly popular. This is mainly due to the increased levels of comfort and warmth it provides.
If you're thinking about installing underfloor heating in your home, this guide will provide you with everything you need to know – from installation prices to pros and cons.
Read on to find out more about underfloor heating and get the information you need to decide whether it's a suitable option for you.
What is underfloor heating?
Underfloor heating is a measure that warms your floors to provide your rooms with additional warmth and comfort. It can also be used as a primary source of heating. With a lower operating temperature of 40°C, this solution can help to reduce the amount of energy used by your boiler and radiators. It could therefore also help to reduce your home energy bills.
What are some of the pros and cons of underfloor heating?
To help you decide whether underfloor heating is suitable for your home, below we outline its main pros and cons.
Pros
Comfort – A particularly great addition to bathrooms and bedrooms.
Can heat larger areas than radiators
Provides an even distribution of heat
Lower required temperatures can help to lower energy bills
Provides an opportunity to free up space by removing the need for radiators
The underfloor elements won't affect your home décor
Can be installed below wood, stone, tile or carpet floors
Floors will remain warm despite draughts or open windows
Can increase your property's selling price
Cons
Can be expensive to install
Electric underfloor systems can be costly to run
Floors can take a while to heat up so timers are often necessary
Can be unsuitable for large, heavy furniture and fittings
Can require heavy renovation in older homes
What types of underfloor heating are available?
There are two main forms of underfloor heating. These are:
Warm water/Wet underfloor heating
With this option, pipes linked to your boiler are placed beneath your floors. Warm water is then pumped through them to produce rising heat. Wet underfloor heating installations can be complex, so they are not suitable for DIY and the job can be expensive. However, running costs can be cheaper than electric underfloor heating. Wet underfloor heating is typically recommended for households that are being built from scratch or undergoing renovation.
Electric underfloor heating
This is typically a cheaper option; it is usually recommended for existing homes. Wires connected to your mains supply are fitted underneath your floors with a sensor. This way you can regulate your heating with a thermostat. You can choose between loose-fit wiring (typically best suited to smaller areas), cables or mats (usually more suitable for larger spaces).
With electric underfloor heating, you'll need to install a layer of insulation below the wiring or mats in order to prevent heat from being lost downwards. This option is less complicated than wet underfloor heating installations, so it can be performed DIY. However, running costs can be more expensive.
How much does underfloor heating cost to install?
Underfloor heating can be expensive. Costs can vary and tend to depend on factors such as:
Whether you select wet or electric underfloor heating
Whether the installation is part of a new build property plan, extension or being fitted into an older building
The type of flooring
The number of rooms to be fitted with underfloor heating
Electric underfloor heating costs
The mats for electric underfloor heating systems are typically priced at around £180 for 10 square meters. Other costs for factors such as insulation and heating controls will also be incurred. You may also have to pay for a qualified electrician to link the underfloor heating to your mains electricity supply.
Wet underfloor heating costs
This is the more expensive form of underfloor heating. Average costs range at around £2,000, with daily installation rates of approximately £300. Overall costs tend to depend on factors such as how close the rooms are to your boiler and where the room is located in your home (e.g. ground floor or higher).
What else can I do to make my home warm?
Underfloor heating is not the only way to make your home warm. The following measures can also help you heat your home more effectively and efficiently:
Insulation – Cavity wall insulation could help you save around £280 on your energy bills per year.
Draught-Proofing – Simple draught-proofing measures such as adding self-adhesive strips to your doors and windows could help you save around £20 a year.
Getting a new boiler installed – A new boiler could help you save up to £315 on your annual energy bill.
Invest in double-glazing for your windows – This could help you save up to £120 per year.
What else can I do to further reduce my home energy bills?
The most recommended way to reduce your energy bills is to switch energy suppliers. If you haven't changed suppliers in a while, it's likely that you're overpaying for your household gas and electricity.
But not to worry, we provide a free online comparison tool which is designed to compare the best energy deals on the market.
Give our free comparison tool a try today. Alternatively, take a look at the rest of our energy guides for more advice on energy saving.