| Corporate Sustainability
The Ultimate Green Energy Tariffs Guide - How Much Does Going Carbon Neutral Cost?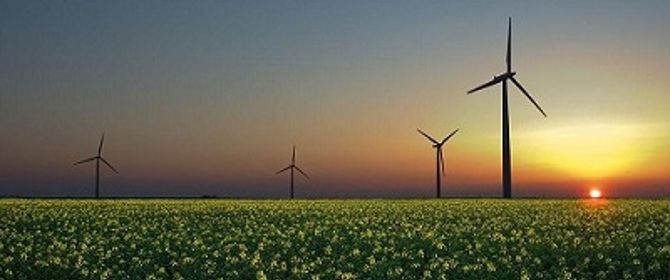 Is your business thinking of making the switch to a renewable energy tariff?
Although renewable energy tariffs have been available for a number of years, many businesses are unsure about what is available and how much it will cost them to go green.
In this guide, we provide information on which suppliers offer renewable energy tariffs and whether renewable tariffs are really more expensive.
What Is Green Energy?
It's important to bear in mind that there is a difference green energy and renewable energy.
While most green energy sources are also renewable, not all renewable energy sources are considered entirely green. Renewable energy comes from sources that are constantly and naturally renewed (hence the name), such as wind power and solar power.
Green energy is that which comes from natural sources, such as the sun. Clean energy are those types which do not release pollutants into the air, and renewable energy comes from sources that are constantly being replenished, such as hydropower, wind power or solar energy.
Many business energy suppliers do now offer renewable energy tariffs.
Businesses looking to take a step towards corporate responsibility to reduce their carbon footprint often look towards renewable business energy tariffs in the first instance. Opting for a renewable energy tariff for your business electricity and business gas is a much cheaper option in the short term for companies rather than the other main alternative of generating their own renewable energy.
But does it really make a difference? This guide will explain the benefits of renewable business energy tariffs and how they are a great catalyst in an organisation's journey towards more responsible operations.
Are We Producing Enough Green Energy?
The UK is not producing enough green energy (yet). However, we are trending in the right direction. According to statistics released by the Department for Energy Security & Net Zero, renewable energy generation reached an all-time high of 47.8% of the UK's total generation in the first quarter of 2023.
Hydropower in particular has been a big contributor to the growth in UK renewables with the number of generation sites booming in the last decade. There are now a total of 1,576 hydropower sites in the UK in comparison to just 519 in 2010.
Which Suppliers Offer Renewable Business Energy Tariffs?
Nearly all business energy suppliers offer renewable energy tariffs. You can expect competitive deals from the UK's largest energy suppliers - British Gas, Scottish Power, E.ON, nPower Business Solutions, EDF and SSE Business Energy.
However, the rise of challenger energy suppliers also offers compelling deals when it comes to renewable energy tariffs. Opus Energy offers renewable business energy tariffs for companies all over the UK.
The challenger business energy suppliers have built a strong reputation for customer service. Although these challenger energy suppliers are in a period of rapid growth, they have managed to keep their 'Excellent' rating on Trustpilot.
To find a renewable business energy tariff that fits your needs, you should compare the latest prices by entering your details below.
Are All Renewable Business Energy Tariffs the Same?
Being careful in choosing your supplier is important if you want to truly reduce your carbon footprint. Choosing a renewable energy tariff will do this, right? Actually, the answer is not always.
There's something called Renewable Energy Guarantees of Origin (REGO). A REGO certificate will be issued per megawatt-hour (MWh) of eligible renewable output to generators of renewable electricity. The details of this are often disclosed by suppliers as a Fuel Mix Disclosure. You should always check the small print of a renewable energy tariff.
Is Renewable Energy More Expensive?
In the table below we've analysed the difference in cost between the latest renewable and non-renewable energy tariffs. We have outlined the unit price and annual cost for both types of energy, along with the price difference.
As you can see, there is often only a small difference between the renewable and non-renewable unit rates. 
Business Size

Renewable Electricity Price (p per kWh)

Non-Renewable Electricity Price (p per kWh)

Renewable Annual Cost

Non-Renewable Annual Cost

 The difference in annual cost

Micro 
(up to 5,000kWh)

27.9p

28p

£1,666.54

£1,647.13

-1.15%

Small
(5,000 - 15,000kWh)

27.8p

28p

£4,469.40

£4,484.43

0.34%

Medium
(15,000 - 25,000kWh)

27.8p

28.8p

£7,252,25

£7,481.88

3.17%

Large
(25,000 - 50,000kWh)

27.8p

28.1p

£14,309.41

£14,478.31

1.18%

Very large
(50,000-100,000kWh)

27.8p

27.8p

£28,198.69

£28,222.37

0.08%
Updated December 2023. These numbers are indicative of the banding's top rate, based on a two-year contract, and pull from suppliers across the UK.
Which Supplier Has The Best Green Business Energy Tariff?
These rankings will likely change regularly so this is rough guidance to provide a brief overview of some of the business energy tariffs on offer.
The best way to explore the current renewable energy tariffs available on the market is to compare the current green energy prices below.
Opus Business Energy
Opus offers straightforward business energy tariffs that are green. This means that all the electricity they provide comes from renewable sources like solar, wind and hydro.
Opus Energy regularly offers special tariffs for their business customers accommodating a range of business needs.
Offers renewable energy tariffs: Yes
Renewable sources: Solar, wind, hydro and anaerobic digestion
Carbon offsetting: Yes
Trustpilot review: 4.7/ 5 (Excellent)
Ideal for: SME Businesses
Opus Energy is well known in the business energy market for high-quality customer service.

nPower Business Solutions, powered by E.ON
You may be aware that E.ON has acquired nPower and has transferred all domestic customers to their E.ON Next brand. However, nPower is still operating to serve business customers.
With years of experience and a name with familiarity, many business owners are attracted to the traditional 'Big Six' brand.
Offers renewable energy tariffs: Yes
Renewable sources: Hydroelectricity and wind
Carbon offsetting: Yes
Trustpilot review: 1.2/ 5 (Bad)
Ideal for: All businesses
nPower has received a lot of criticism on Trustpilot. Although they haven't had any reviews on the business solutions account, the main account has a mixture of business and domestic reviews. nPower specialises in large usage consumption in dealing with complex energy compliance.
British Gas Business Energy
British Gas is one of the UK's leading business energy suppliers. A familiar brand with many years in the industry, many business owners often select British Gas as their default energy supplier. Whilst they offer compelling tariffs and a heritage brand name, it is wise to compare the latest deals across the market to ensure you're getting a great deal, regardless of the supplier.
Offers renewable energy tariffs: Yes
Renewable sources: Solar, wind and hydro
Carbon offsetting: Yes
Trustpilot review: 3.1/ 5 (Average)
Ideal for: All businesses
British Gas is well known for its renewable business energy tariffs. Certified by the Carbon Trust, they offer a wide selection of renewable energy supply options and will help businesses with their sustainable energy strategy.
Whilst only achieving an average Trustpilot score, this does include their domestic market and has to be taken with a 'pinch of salt'. With renewable electricity, British Gas back each MWh with a guarantee of origin certificate, alongside their carbon-neutral gas which is also backed by a combination of RGGOs and carbon offset certificates.
British Gas specialise in larger consumption business energy users over 150,000 kWh of gas or electricity per year. Small consumption customers often get great deals with British Gas Lite.
The market has a much wider range of suitable business renewable energy tariffs and the above only reviews a small selection of suppliers. The best way to explore the current renewable energy tariffs available on the market is to compare the current green energy prices here.
How Can I Generate Renewable Energy For My Business?
Of course, opting for a renewable energy tariff is only the first step in many businesses' journey to becoming more responsible. Despite requiring some significant investment, some companies choose to go further and start generating their own renewable energy.
Here, we've looked at a few examples of self-generation available to businesses.
Solar Panels
Solar panels are one of the most popular ways businesses start to generate their own renewable energy. They're straightforward to install and do not require much space as they are installed on roofs or the side of buildings. They capture sunlight and convert it into electricity.
Solar panels typically cost anywhere from £5,000 up to £15,000 depending on the system. This price is for small to medium-sized systems.
Geothermal/ Ground Heat Pumps
Typically fitted to the side of buildings, they use low levels of heat naturally found in the ground to provide both heating and cooling to a building.
Geothermal technology is quite expensive coming in at around £15,000 on average to install.
Wind Power
While efficient at producing electricity, they require a lot of space. Wind power uses turbines to generate electricity. They are not a viable option for many businesses.
Wind turbines vary widely in cost. Small turbines can cost around £12,000 and the large ones you're used to seeing in fields in the middle of nowhere cost millions.
Solar Thermal
Solar thermal energy uses sunlight to heat water stored in a water tank. Solar thermal is another popular choice for many businesses as they do not take up a lot of space. They are typically installed on the roof of a building.
Solar thermal systems cost around £5,000 on average and are one of the cheapest ways to generate renewable energy.