Compare Home Dual Fuel Tariffs
Get a comparison & start saving now!
Save an average of 40%
Compare home electricity & gas prices in seconds!
Dual Fuel Energy Tariffs
What is a dual fuel tariff?
If you are thinking of switching energy supplier, choosing a dual fuel energy tariff could help you save money on your bill.
Simply put, a dual fuel tariff is when your gas and electricity are both supplied by the same energy supplier.
Combined gas and electricity tariffs are often seen as a more convenient option, as you will only have to deal with one energy supplier.
At Love Energy Savings, we work with a wide range of energy suppliers giving you access to the best dual fuel deals available.
If you're ready to switch to dual fuel energy, you can find the cheapest tariffs quickly by using the Love Energy Savings home energy comparison calculator.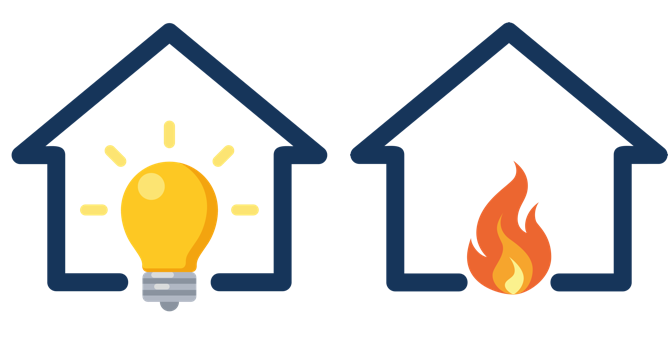 Our Simple Dual Fuel Comparison Service
Trusted Suppliers

Complete a free comparison of a wide range of trusted suppliers

Exclusive Online Prices

Choose from the cheapest dual fuel tariffs on the market

Complete your switch online

Complete and track your switch online with our 'Track My Switch' tool

12k+ Trustpilot Reviews

We have an excellent rating from over 12k Trustpilot reviews
Is a dual fuel energy tariff cheaper?
Switching to a tariff offering combined gas and electricity can often be a cheaper option than choosing separate providers. Some energy suppliers will offer discounts for taking both gas and electricity from them.
This can be done in different ways, including:
Cashback for switching to them
A percentage off your bill
Cheaper energy rates
A reduced standing charge (the cost of having a gas and electricity supply)
However, dual fuel tariffs will not always be the cheapest option available and it is important to compare all the offers available to you.
By switching with Love Energy Savings, you can easily compare a huge range of suppliers offering a range of tariffs to quickly find the best home energy deal for you.
Once you have picked from the dual fuel tariffs available in your area, there are more benefits. Switching with Love Energy Savings means we can let you know when your deal is ending to keep you on the best available tariff.
What are the benefits of combined gas and electricity?
Outside of the cost, there are a number of reasons why people choose combined gas and electricity tariffs when switching.
By choosing a dual fuel energy tariff, you can halve the hassle of paperwork and passwords by switching from two separate energy providers to one.
As you'll be dealing with one energy company, you'll only have one bill, one online account and one place to send your meter readings.
You'll also only have one point of contact so if any there are any problems with your energy supply, you'll only have one company to deal with.
To make things even easier, if you use a smart meter to monitor your usage, you'll only need one meter for both gas and electricity when you choose a dual fuel tariff.
Is it easy to switch to a dual fuel energy tariff?
Switching to a combined gas and electricity tariff is just as easy as switching to any other tariff.
To start your switch, all you need to know is your address, your supplier, the tariff you are on and your usage. Even if you don't know your exact usage, the Love Energy Savings comparison tool can estimate this for you.
Then, all you will need to do to complete your switch is:
Fill out our free home energy comparison tool
Select the dual fuel energy tariff you want to switch to
We let your old supplier(s) know you are switching
Your new supplier will send you a welcome pack
You provide your meter readings and start saving!
How do I know if I am on a dual fuel tariff?
If you have recently moved into a new property, you may not know which tariff you have.
The easiest way to find out is to check a recent energy bill. If you don't have access you can contact your energy supplier to enquire. You can also ask your landlord or previous tenant.
If you have separate bills from different suppliers you are likely on a dual fuel tariff.
Do all energy suppliers offer dual fuel tariffs?
Love Energy Savings offer comprehensive dual fuel comparisons with dozens of energy suppliers.
We work with over fifty energy suppliers across the UK. Almost all offer dual fuel tariffs. You can also choose a single tariff if you prefer.
By comparing with most of the energy suppliers, we can help you save on your energy bills.
Get your quote today by comparing with Love Energy Savings
At Love Energy Savings, our aim is to make it as simple as possible to compare the best electricity and gas prices available.
So why wait? Find out how much you could save today by completing our quick energy comparison calculator.
Can anyone sign up for a dual fuel contract?

Any homeowner who uses both mains gas and mains electricity can switch to a dual fuel contract.

If you only use electricity or use electricity along with oil, solid fuel or bottled gas, you won't be able to sign up to a dual fuel deal.

Will I get the same gas and electricity with dual fuel as I would with a single fuel contract?

Yes, you will get the same gas and electricity delivered to your home. The only difference will be in the way you are billed for your gas and electricity.

Can I get a green dual fuel tariff?

Yes, you can switch to a dual fuel green energy tariff.

We work with a panel of trusted energy suppliers to offer you the latest green energy tariffs. Many renewable tariffs will be generated from sources including solar, wind, geothermal, and hydro-energy.

As more people switch to green tariffs, more energy from renewable sources will be fed into the National Grid. As we only have a limited amount of traditional energy sources, thinking about going green is vital for everyone.

For more information on going green, check out our guide to renewable energy tariffs.

Can I switch to a business dual fuel deal?

Just like with home energy, you can choose to switch both your gas and electricity to the same business energy supplier.

Although most suppliers offer business electricity and business gas separately, it may be possible to secure a discount by switching both fuels to one provider.

At Love Energy Savings, we can help you compare the best business energy tariffs and discover whether it's cheaper to get your business electricity and gas from one supplier.