| Energy Guides and Advice
Best Broadband for Rural Areas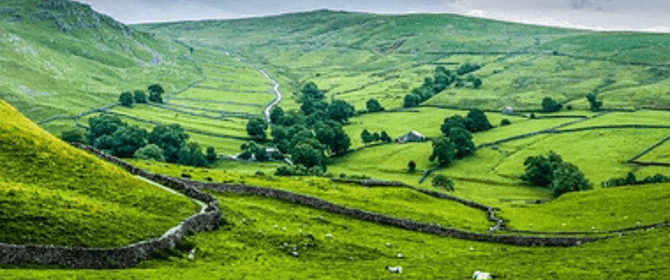 Spotty broadband is a well-known trade-off for waking up to lush green hills every day. Slow broadband might match a slower take on life for some, but for others, it can cause constant irritation.
At Love Energy Savings, we are here to help people find the best broadband for rural areas. Residential homeowners and business owners alike can benefit from understanding how to get good broadband in rural areas. Keep reading to discover the different rural broadband options and which ones to avoid. 
Why Are Broadband Speeds Slower in Rural Areas?
The further you are from a cabinet or exchange, the slower your broadband will be. Small villages and stand-alone residences in the countryside often have slow or spotty internet. Thousands of people are cut off from society because of their poor broadband. 
Here are the reasons why the 3 main sources of internet produce poor broadband in rural areas. 
Slow ADSL broadband - ADSL broadband travels through copper phone lines. The average speed for ADSL broadband is around 10Mbps. Some rural communities have low speeds of 1Mbps. 
Slow fibre broadband - Like ADSL broadband, fibre broadband travels through copper wiring from the cabinet to your home. Some rural residents switch to fibre in the hope that their connection will improve. Unfortunately, fibre broadband uses the same material as ADSL and is subject to the same issues. 
Slow mobile broadband - This type of broadband depends on how strong the mobile coverage is in your area. Rural communities that have low coverage do not have any more success with mobile broadband than they do ADSL broadband. 
What Broadband Services Are Available in Rural Areas?
There are lots of different types of broadband for rural areas. Our experts have compiled all the options available to rural residents so that they can find the best solution for their internet.
ADSL broadband - This type of broadband travels through copper wires. It averages 10-11Mbps in averages that are close to cabinets and exchanges.
Fibre broadband - From the exchange to the cabinet, this type of broadband is transported through a high-speed fibre optic cable. The 'last mile', a term which refers to the distance from the cabinet to your home, is made from copper wire instead of fibre optic cable. 
Mobile broadband - This type of broadband covers 3G, 4G, and 5G. Anything that contains a SIM can access the internet through a mobile network. We rate mobile broadband as the best broadband for rural areas. Rural residents can access an internet connection through a MiFi hotspot, home router, or a dongle plugged into their laptop. 
Satellite broadband - Residents who want satellite broadband need to have a satellite dish. This broadband signal comes from space. It is one of the best options for rural communities that want broadband. 
Community broadband - This is an uncommon type of broadband. When rural communities are tired of having poor internet speeds, they can dig trenches and install their own network. 
Bonded broadband - Residents and business owners can purchase another broadband line to double the speed of the signal. Bonded broadband is primarily used by businesses. It is an expensive addition to your existing broadband. 
Fixed wireless broadband - Your community has fixed wireless broadband if there is a wireless transmitter installed. These transmitters need to be high up and in the centre of the community. They emit a signal to a device on top of your home. This option is ideal if it already exists. Individual residents will struggle to implement fixed wireless broadband on their own.
How to Get Broadband in Rural Areas
If you are wondering how to get broadband in rural areas, you have come to the right place. 
In some cases, getting broadband in a rural area is as easy as calling up a network provider and requesting a contract. If your community is already fitted with copper wiring that connects to a cabinet, you can access ADSL broadband and in some cases fibre broadband. People who have a device that contains a SIM can also access mobile broadband.
The process is more difficult for people who want to access fixed wireless broadband or community broadband. These types of broadband might be the best broadband for rural areas, but they are difficult to secure. We recommend speaking to your neighbours or fellow SMEs to tackle the issue as a community. 
How to Get Faster Broadband?
Residents and business owners who have any of the other above mentioned types of broadband might still be disappointed with their coverage. At Love Energy Savings, we create solutions for people who want to improve their signal and get faster broadband. Here are a few ways that you could improve your signal.
Gigabit Broadband Voucher Scheme
The government launched the Gigabit Broadband Voucher Scheme in 2018 to improve rural coverage. The scheme discounts the price of fibre broadband cables, which means that networks are more likely to install faster broadband services in rural communities. Fibre connections provide the best broadband for rural areas.
Residential homeowners and business owners who have broadband speeds less than 100Mbps can access these vouchers. They go towards installing new gigabit-capable connections as part of a group effort. Rural communities benefit from this scheme when 2 or more residents or SMEs request vouchers and use them for installation costs.
Check Your Lines
Rural residents should check their lines. Poor speeds can be due to faulty routers, cable faults, or interference from other sources. We recommend contacting a professional to check your lines. 
Boost Your Signal
There are a couple of ways that residents and business owners can boost their internet signal. 
Install an external LTE aerial to improve your 4G performance.
Buy a mobile repeater. These devices improve reception whether you are indoors or outdoors. The laws surrounding mobile repeaters have recently changed, meaning that people can now use them indoors. 
Invest in Fixed Wireless Access
Fixed wireless access is one of the best broadband options for rural areas. Unfortunately, fixed wireless systems have been neglected in recent decades. This does not stop residents from banding together to install fixed wireless access in their community.
Beacon Broadband offers communities fixed wireless access for a package price. Unlimited packages clock in anywhere from £25 to £65 a month, which makes Beacon Broadband an affordable option for many. Businesses can also access 20Mbps a month for just £45. 
Stay Connected for Less
At Love Energy Savings, we understand how important it is to say connected. Whether you have a high broadband speed or a low broadband speed, you will benefit from comparing your provider.
If you are searching for a cheaper provider, look no further. Input your details into our broadband comparison site to see how much you could be saving.