Electric Vehicle Charging Solutions

Tackling carbon emissions remains a global priority. The government has committed to reducing carbon emissions by 80% by 2050 and are putting more pressure on UK businesses to make environmentally friendly choices when choosing the vehicles that they provide for staff.
Electric cars are becoming much more popular in the UK, and the business adopting the technology early will gain a competitive advantage. Becoming equipped to handle the significant expansion of the electric vehicle (EV) market will mean your business will attract top talent, convenience for clients and customers and improve your businesses green performance and reputation.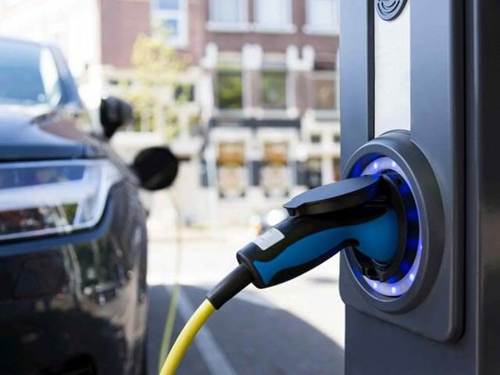 What is an EV charging station?
An ev charging station is similar to a petrol pump but for electric cars. It supplies electricity to recharge your car or van. Many businesses are even adopting large fleets of electric vehicles.
Why does my business need an electric charging point?
There are many advantages to introducing an electric pod point to your business premises. Here are some of the main benefits:
Increased footfall: if your business will benefit from an increase in footfall, making your business a charging destination will contribute significantly and provide you with the opportunity to make them into customers.
Future proofing your business: electric car charging points will become an essential business facility in years to come as electric car ownership soars. Clients, guests and employees will appreciate the facilities and may even provide you with an edge over any competitors, both for custom and talent.
Reduce companies carbon emissions: a businesses green performance provides some strong marketing messaging. Environmental awareness is continuously becoming a bigger issue, and even for a more conscious business, embracing EV technologies will increase brand appeal and perception.
How much is an EV charging point?
The cost for a home charger is usually around £500-600. A home charger is much cheaper than business charging points as they require less power for a longer charge. The average cost for a business charge point is between £1,000 and £2,000 plus VAT. Businesses often require a much faster charger as they customers will only spend a couple of hours on the premises.
There's also other annual costs to consider, such as energy, maintenance and warranties. Each EV charge point manufacturer will have variable costs. To charge an electric car, you will need to ensure you're on the right energy tariff. You can compare business energy prices here.
The good news is that businesses who are early adopters of EV technology can apply for the Workplace Charging Scheme.
The scheme is a voucher-based designed to provide eligible applicants with support towards the upfront costs of the purchase and installation of EV charge points. The contribution is limited to the 75% of purchase and installation costs, up to a maximum of £350 for each socket, up to a maximum of 40 across all sites for each applicant. The scheme will help cover the cost of the full unit, including the charging cable and pin plug. If you would like to integrate your charger with smart home devices, you will need to make sure they're compatible.
Scottish Power Electric Vehicle Charging Tariff and Installations
Energy supplier Scottish Power are now offering a range of products and tariffs to help homes and businesses install electric vehicle charge points.
Homeowners can benefit from a complete EV charger package including the installation of a charge point at their home and an EV energy tariff.
They also offer direct supply and installation to businesses across the UK with the option of combining charging solutions with 100% green energy. This includes:
A range of charging points from fast, rapid, to ultra chargers
No upfront costs
End-to-end support to manage your EV charge points
Types of EV charging points
There are currently three types of car charging points on the market. Each charging point has been designed for different scenarios. For example, a home charge point will typically be a lower voltage so that users can charge an electric car overnight. They'll also integrate with a smart home. Businesses will require a quicker charge. Here are the types of chargers available:
Standard (3-7 kw) - This is designed for home use with a much slower charge time of 8-12 hours. Charging at home will typically be overnight and you will need a drive way for home charging.
Fast (7-22kw) - This charge point is great for offices, business parks or anywhere with frequent visitors for a few hours. Charging will take anywhere from 2 to 8 hours.
Rapid (50kw) - Rapid chargers are mainly used for public charging. They're great in retail environments. Charging takes around 1 to 2 hours.
Ultra (350kw) - Ultra-rapid chargers offer the fastest speeds available of 350kw. Although few chargers can actually charge at this speed, it is expected that this will change as technology progresses.
For more frequent use, the charging cable and pin plug may become worn more quickly. So it's important to keep up regular maintenance and servicing.
At this moment, whilst becoming more popular, EV drivers will have to plan longer journeys. UK charging stations can using Zap Map. Electric car users without a driveway may find themselves relying on public charging as currently, home charging cannot be installed for street parking.
Ready to become a part of the EV drivers club? Contact us to enquire about home charging and EV charging for business.
Compare Energy Prices
See how much you could save on your business energy in 60 seconds!