Homepage

>

What To Do If Your Boiler Breaks
What To Do If Your Boiler Breaks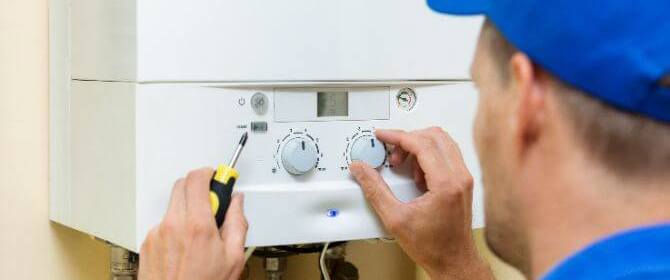 A boiler breakdown is every homeowner's worst nightmare. Boilers can be expensive to repair and even more to replace. It can cause lots of problems if you're left without heating and hot water, especially during the coldest periods of winter.
The good news is that some problems can be fixed without too much technical knowledge. If the problem is more serious, you will need to call in a professional.
Check your boiler over
If your boiler has stopped working, there are certain things that you need to rule out right away. If your heating system has stopped working, or you no longer have access to hot water, it is likely to be an issue with your boiler.
Note that if you can smell gas – you should take immediate action and contact the gas emergency number on 0800 111 999.
Here are a list of simple boiler checks so you can rules out some issues:
If you have a gas oven, you can check it is still working to clarify that the issue is not your gas supply. If they are not, you may have lost your gas supply. You can contact your energy supplier or gas distribution network for assistance.


If there is no smell of gas or sign of scorch or burn marks, check the boiler is switched on. We know, it should be on because you did not turn it off. However, power cuts will often turn boilers off. Locate your boiler and check it is switched on.


Check your thermostat is working. Make sure it has batteries and has not been accidentally reset or adjusted from what you require.


Newer boiler models show an error number when there is an issue. You can cross check the error number with the manufacturer's manual. This can often be found online if you don't have a copy.


A common issue is low pressure. Boilers work by heating cold water that gets carried around your home. The amount of water and air in the system needs to be balanced. Low pressure can be caused by several factors, including leaks. Even a small leak can lower pressure. If you have a leak, there is sometimes noticeable signs of water damage around your home. Check around pipes. If you spot signs of water damage, call a gas engineer for assistance.


Low pressure can be a result of less serious factors that can be repaired. Check the water pressure gauge. This will usually be on the front of the boiler. Most gauges read between 0 – 4. To work, the water pressure in your boiler system needs to be constant.

If your boiler is turned off, the boiler pressure should be around 1. When switched on, with heating working, the gauge should read 2. If your gauge is 3 or above, there is too much pressure.

If your boiler is turned on and reading below 1, it could be you have low pressure. You can try to repair this manually. Underneath your boiler should be a series of pipes, including two taps known as the filling loop. If your boiler has depressurised, you can refill it by turning both taps until they are fully open. Watch your pressure gauge as you are doing so. If it is a low-pressure problem the gauge should start to rise. Keep the taps turned on until it has reached 1 and switch them off. Make sure they are fully closed.


The pilot light going out is also a frequent problem in boiler maintenance. The pilot light is responsible for lighting the gas in your boiler which provides heat. On older boilers, you can check the pilot light by looking through the glass casing to check if it is on.


In cold weather, freezing pipes are common and can stop your boiler from working. The condensate pipe carries excess water from your boiler to the nearest outside wall. If the weather has been below freezing, check if the pipe is frozen outside. If the water inside has frozen it can cause a blockage which will stop your boiler operating. To repair, pour warm water over the pipe and reset your boiler.
My boiler is still not working…
Switch the boiler to keep everyone safe in case there is a serious issue.
If you have an existing warranty, your manufacturer will usually recommend a company for repairs and maintenance. Remember if you choose to use another service, this may void your warranty.
Many people choose to pay for boiler cover for peace of mind. It is sometimes available when you purchase home insurance. It's worth checking to see if your boiler is covered. It may save you a significant amount of money.
Some energy suppliers, such as British Gas, also offer boiler cover. It works like insurance, so you don't have to pay on the day you need an engineer. Most providers give you a number to contact to book an engineer when required.
If you do not have an existing warranty or boiler cover, contact a Gas Safe-registered engineer. Remember to check ID before you let any person enter your home.
When it is an emergency
Boilers are generally very safe, but occasionally things can go wrong.
If you smell gas, you should contact the gas emergency number on 0800 111 999 immediately. Do not touch or unplug any electrical equipment, open doors and windows and do not smoke or light any open flames. Wait for help outside of the property.
How can I avoid my boiler breaking down?
Schedule an annual service by a Gas Safe-registered engineer. One of the advantages to boiler cover is that they often include this service and cleaning as standard.
Keep safe by having a carbon monoxide alarm installed.
Keep an eye out for tell-tale signs your boiler is having problems. It may still operate normally. Issues that can indicate an issue include an orange pilot light (rather than blue) or a pilot light that keeps going out. Increased condensation or gas consumption also tend to indicate a problem.
If you notice any of these signs, contact an engineer for support as soon as possible.
Remember that you can ensure you do not overpay for the gas your boiler uses by comparing home energy prices with Love Energy Savings.