Clear Business Energy Reviews, Prices & Tariffs
Clear Business Energy is the energy branch of Clear Business, a company whose mission it is to make the lives of small business owners easier. Though fairly new on the business energy scene, it hopes to rival the Big Six by offering an attractive alternative.
Clear Business Energy is confident that it will be able to save your company money on your current business electricity and business gas bills. Better still, they promise to fix your renewal price for three years, thanks to their Renewal Promise. Even if you're currently in a contract, they promise to fix the prices at the rate offered on the day you apply to switch, so you're not subject to volatile market fluctuations.
They're doing they're part for the environment, too: Clear Business provides its customers with the chance to go green at no extra cost to their usual tariff.
Ownership

Clear Business Energy is a subsidiary of Clear Business, itself a part of the Verastar Group. It has over 20 years' experience providing energy services to businesses throughout the UK, with 160,000 customers.

The Versastar Group has been operating since 1998, offering a variety of services for businesses with one bill. 

Location

Clear Business's registered business address is:

2 Hardman Street

Manchester

M3 3HF

When you switch to Clear Business Energy through Love Energy Savings, one of our representatives will contact them directly to manage the entire switch for you. 

Clear Business Energy prices and tariffs

Clear Business Energy offers a range of fixed and variable tariffs for SMEs across the UK. Here are some of the key benefits in switching to a Clear Busines tariff:

Fix your prices for up to 3 years
No automatic rollover of contract
Simple pricing structure means there are no hidden costs
100% green electricity

With a fixed-price tariff from Clear Business Energy, businesses can ensure they're prices don't change for three years.

When you come to the end of your tariff period, Clear Business offer standard variable rates if you don't want to renew your contract.

Supply source

This is a remarkable change from its previous fuel mix disclosure, which was predominantly natural gas (62.6%) and only 2.6% renewable energy.

You can learn more about the typical fuel mix you can expect from UK suppliers in our wholesale energy guide.

Financial performance

Clear Business last filed its account in February 2018, made up to 30th April 2017. The key financials are summarised below.

| | | |
| --- | --- | --- |
| Metric | 2017 | 2016 |
| Turnover | £10,683,916 | £10,761,067 |
| Gross profit | £6,505,785 | £6,328,087 |
| Profit for the financial year | £4,010,638 | £3,420,902 |

For full details of Clear Business's financials, see their latest accounts here.

 

Awards

Clear Business Energy has won a number of awards in its short history as an energy provider, including: 

"Business of the Year (Over 50 Employees)" — Greater Manchester Business Awards (2019)
"Business of the Year (51+ Employees)" — Lanarkshire Business Excellence Awards (2019)
"Best New Product or Service" — Lanarkshire Business Excellence Awards (2019)

Cancellation policy

If you wish to end your contract during the fixed term period, all you need to do is give Clear Business Energy at least 30 days' notice of your intention to do so. Your contract will then expire at the end of the period and will not renew. 

If you're not in a fixed-term agreement and not in a renewal period on Clear Business's standard variable rates, you can end the contract at any time, provided you give at least 30 days' notice in writing.

If you're on deemed rates, you can cancel at any time simply by switching provider. Love Energy Savings can do this on your behalf.

If you're cancelling because you're leaving your site, you'll need to notify Clear Business Energy of the move in writing at least 30 days before you move out.

Green performance

Clear Business is proud to be a Green Electricity provider. Its electricity is backed by wind farms: it acquires 100% from renewable sources. 

Clear Business Energy matches each unit of electricity its customers use by purchasing a renewably sourced unit directly from offshore wind energy companies. A new Clear Business Energy customer will typically save 4.57 tonnes of CO2 compared to their old supplier.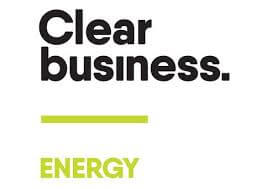 See how much you could save on your business energy in 30 seconds!
Understanding your Clear Business Energy bill
Your online or paper bill will tell you:
The billing period (typically monthly)
What you owe and when it needs to be paid
Your estimated energy usage over the billing period
A detailed breakdown of your usage by fuel type (gas or electricity)
A comparison of this usage compared to last year
How to switch to Clear Business Energy
Switching to Clear Business Energy from your current provider -- or even just getting a better deal on your current Clear Business Energy tariff -- is easy with Love Energy Savings. Simply enter your details here to generate energy quotes for your home or business. Then, select the Clear Business Energy tariff that best meets your needs.
Our operators will handle the rest, including communicating with your current provider and the team at Clear Business Energy. That way, you don't need to do a thing. Switch and save today.
See how much you could save on your business energy in 30 seconds!