Ecotricity Reviews, Prices & Tariffs
Ecotricity is one of the energy suppliers leading the charge in the fight against climate change. As part of the Ecotricity Group, it claims to go further than any other company in terms of trying to bring about a change in the fight against climate change, and was crowned the world's first green energy supplier. You may also recognise the name from the network of electric vehicle chargers Ecotricity installed throughout the UK's motorways.
Not only does Ecotricity supply 100% renewable electricity and green gas, but it has also supported causes with funding, such as the anti-fracking campaign to fight drilling for sustainable shale. Ecotricity also used profits to reinvest into renewable energy sources, making 25% of the green electricity it supplies itself. They also aim to be carbon neutral as a company by 2025.
Interestingly, Ecotricity is the only energy company in the UK that has been recognised as supplying vegan energy, showcasing their commitment to becoming carbon neutral.
Ecotricity uses a not-for-dividend business model, enabling the reinvestment of profits back into the business, which they term, the 'mission': to create a greener Britain.
Ecotricity prices and tariffs

Residential Tariffs

Ecotricity has one tariff for electricity and one for gas on a variable rate which can be used with a prepayment meter or a standard user. Domestic tariffs are operated on 28-day contract terms.

Variable Rate

Green electricity with no exit fees
Green Gas with no exit fees

Business Tariffs

Ecotricity offers business tariffs to a wide variety of businesses. Billed quarterly, businesses customers can choose from a rolling 28-day contract with a variable rate, or a fixed 12-month contract.

Ownership

Ecotricity is owned by Dale Vince OBE, who received his OBE form the Queen for services to the environment in 2004. It is the energy arm of the wider Ecotricity Group, which has interests in green energy generation and electric vehicles.

Location

Ecotricity's registered address is listed as:

Lion House,

Rowcroft,

Stroud,

Gloucestershire,

England,

GL5 3BY

A Love Energy Savings representative can speak with them on your behalf should you choose to switch to or from an Ecotricity tariff through our comparison engine.

Supply Source

Financial Performance

Awards

Cancellation Policy

Green Performance

See how much you could save on your business energy in 30 seconds!
Understanding your Ecotricity bill
Your online or paper bill from Ecotricity will tell you:
The billing period (typically quarterly)
What you owe and when it needs to be paid
Your estimated energy usage over the billing period
A detailed breakdown of your usage (on a dual-fuel tariff, you'll get a breakdown of both gas and electricity)
Whether your account in is credit (CR) or in debit (DR)
Your new account balance
A breakdown of how the price has been calculated for transparency
Tips on how you could use less energy going forward
Your estimated annual energy cost based on your current usage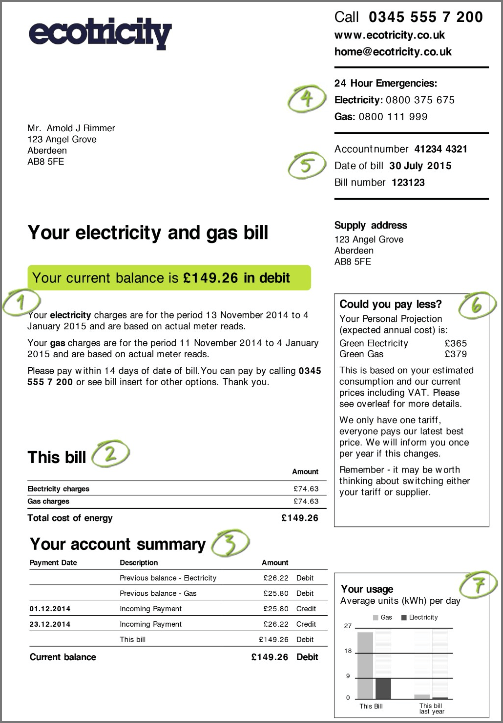 How to switch to Ecotricity
Love Energy Savings can handle a switch to Ecotricity for you, whether you're joining from another supplier or you just want to change your tariff. We'll get everything sorted for you by liaising with your current provider and the Ecotricity team.
Enter your details into our energy comparison engine to generate a quote for your home and then simply choose the tariff that's right for you.
See how much you could save on your business energy in 30 seconds!