Engie Reviews, Prices & Tariffs
French company Engie is a global player when it comes to energy, employing 17,000 people in the UK and 160,000 globally. Previously, "GDF Suez", they became Engie in 2015 with a focus on three key activities; production & supply of energy, services and regeneration.
Interestingly the company can trace its origins back to 1858 when they traded as the Universal Suez Canal Company, constructing the Suez Canal. In 2005, it floated on the stock market before its merger in 2009 made it the world's largest independent generator of power.
In January 2020, it was reported that Engie was making a strategic exit from the domestic UK energy market with Octopus energy to acquire 70,000 households from the deal. The company wants to focus its efforts on working with businesses and local authorities.
Ownership

Engie is the UK face of French company the Engie Group. The group ambition is to become a leader in the fight against climate change, offering the transition to zero carbon as a service to its customers.

Location

Green Star Energy's postal address is:

No 1,

26 Whitehall Rd,

Leeds

LS12 1BE

If you choose to switch through Love Energy Savings, one of our representatives will contact Engie's team on your behalf, saving you the hassle of back and forth communications. That way, you get the energy tariff you want with minimal fuss.

Engie prices and tariffs

Business Tariffs

As they've exited the domestic market, Engie is focusing on business customers with a range of tariffs for businesses of all sizes.

Small Businesses

Fixed rate tariffs from 12 - 60 months
Green energy options
Access to advice on saving energy and reducing bills

Larger Businesses

Bespoke packages to suit the business needs
A range of fixed-rate tariffs and options for bulk purchase 
Energy specialist advice and support
All market price transactions come with a 'Best Price' guarantee
Access to advice on business sustainability, saving energy and reducing bills

Supply Source

Coal: 6%
Natural Gas: 43%
Nuclear: 13%
Renewable: 35%
Other: 3%

Compare these statistics to the typical fuel mix from UK suppliers in our wholesale energy guide

Financial Performance

The latest financial figures for Engie are from September 2019. They are as follows:

| Metric | 2019 | 2018 |
| --- | --- | --- |
| Revenues | EUR 46.8 million | EUR 43.0 million |
| EBITDA | EUR 7.1 million | EUR 6.8 million |
| Operating Income | EUR 3.8 million | EUR 3.5 million |

You can view a full statement for Engie financial report here.

Awards

Engie has been awarded accolades in the energy sector and beyond with its work with local authorities.

Winner of  Domestic Award and Overall project of the Year at the Association of Decentralised Energy (ADE) Awards
1st Place at the Sustainable FM Index (SFMI) 2018 awards
Awarded Digital Innovation category of the Business in the Community (BITC) Responsible Business Awards 2019

Cancellation policy

Engie may apply an exit fee to their fixed rate tariffs if you decide to terminate the contract before the end of the term. An Exit Fee of £80.00 per fuel will apply if  you cancel or move to another Engie tariff unless you are in the final 49 days of your contract.

Green performance

Engie has made a pledge to supply 100% renewable electricity on every tariff, working hard to drive forward hydroelectricity, biomass, bio-gas, wind and solar power.

Engie also works on projects both in the UK and globally to minimise the impact of the company's operations on local communities and the wider environment.
See how much you could save on your business energy in 30 seconds!
Understanding your
Engie bill
Your online or paper bill from Engie will tell you:
The billing period (typically monthly)
What you owe and when it needs to be paid
Your estimated energy usage over the billing period
A detailed breakdown of your usage
A breakdown of how the price has been calculated for transparency
Your current account balance
The amount you're in credit (CR) or debit (DR)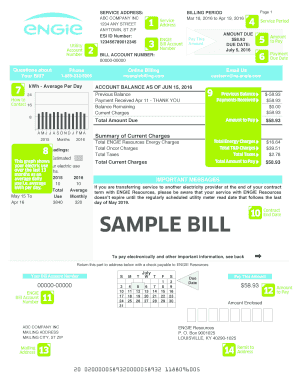 How to switch to Engie
Love Energy Savings can handle a switch to Engie for you. We'll get everything sorted for you by liaising with your current provider and the Green Star Energy team.
Enter your details here to generate a quote for your business and then simply decide if it's the right supplier for you.
See how much you could save on your business energy in 30 seconds!