Octopus Energy Reviews, Prices & Tariffs
Octopus Energy is an energy supplier offering 100% renewable energy at fair prices.
Despite only entering the market in 2016, they have been awarded the Which? Recommended Provider Award 4 years in a row (2019-2021) and in 2023 are one of the largest energy suppliers in the UK.
All of the Octopus Energy tariffs use 100% green electricity and full carbon offset for gas, but if you're worried it will cost more, fear not, the cost of doing your bit for the environment is no more than what you'd pay on a non eco-friendly gas and electricity tariff with another supplier.
They supply home and business energy. Here's what they offer to customers:
No exit fess (home energy tariffs)
100% renewable energy
£50 referral credit (home energy tariffs)
EV charging options
Half hourly meters (business energy)
Custom tariffs (business energy)
With over 58,000 reviews on Trustpilot, they have an Excellent rating of 4.7 out of a possible 5 stars.
Octopus energy serves about 2.2-million retail customers, and through partnerships with Ebico Living, London Power and Co-op Energy the supplier is responsible for providing power to over three-million retail customers.
Octopus Energy has seen extraordinary growth since it began in 2016.
Iresa Energy, 2018
In 2018, Octopus was appointed as supplier of last resort (SOLR) for Iresa Energy, which had ceased trading. The supplier gained 100,000 customers.
Affect Energy, 2018
In 2018, Octopus also bought Affect Energy - a supplier with 22,000 customers.
Engie Energy, 2020
In 2020, Engie Energy sold its 70,000 residential customers to Octopus.
Avro Energy, 2021
When Avro Energy ceased trading in 2021, Octopus Energy was appointed as SOLR for the supplier's 580,000 customers, growing its customer base by 54%. The brand still trades, but it is not possible to switch as customers are still being migrated to Octopus - although this process is 98% complete as of April 2023.
Bulb Energy acquisition, 2022
In 2022, Octopus Energy acquired Bulb Energy from special administration, meaning 1.7-million customers needed to be transferred to Octopus. At time of writing in April 2023, that transfer process in 70% complete with over one million customers migrated.
M&S Energy market exit, 2023
In February 2023, M&S Energy announced its exit from the energy market, and 60,000 customers transferred to Octopus Energy on April 1st 2023.
Ownership

A private company founded by Greg Jackson, Octopus Energy is a subsidiary of Octopus Capital Limited founded in 2015. Gaining momentum through a series of hugely beneficial acquisitions and deals, their customer base has grown rapidly.

More recently they have secured a partnership with Amazon's Alexa to further strengthen their proposition.

Location

The headquarters of Octopus Energy is in Soho, London, England. Their trading office address is: 

1 Upper James Street, Soho,

London

W1F 9DE

Their registered office is:

20-24 Broadwick Street

London

Prices & Tariffs

Home Energy Tariffs

Supergreen Octopus

£92.22 monthly estimate

(£1,106.63 annually)

Electricity Standing Charge: 24.38p per day
Electricity Unit Rate: 18.10 kWh
Gas Standing Charge: 26.59p per day
Gas Unit Rate: 3.30p kWh
No early exit fees

 

Average price calculations are based on a family of 4 living in a 3 bedroom house.

 

Business Energy Tariffs

Octopus Energy for Business offers a simple and transparent pricing structure that helps to simplify business energy billing. Choose from either:

Octopus Fixed - A fixed 12 or 24-month tariff that safeguards your business against price rises for the duration of your contract
Flexible Octopus - A flexible contract with no fixed term and zero exit fees that will flex in line with the market

Accounts are managed digitally and uses app-driven technology to give you greater visibility of your energy usage. Switching is easy, Octopus Energy for Business allows you to lock in a deal 6 months before your current contract comes to an end allowing you more reactive to deals on rates. This easy to manage approach can be a great option for small businesses.

Please note that if you compare with Love Energy Savings, cheaper prices may be available as we have negotiated exclusive deals with a wide range of suppliers. You can compare prices here.

Green Performance

| | | |
| --- | --- | --- |
| Fuel | Octopus | National Average |
| Coal | 0% | 3.9% |
| Natural gas | 0% | 39.4% |
| Nuclear | 0% | 16.6% |
| Renewables | 100% | 37.9% |
| Other | 0% | 2.2% |
| Total | 100% | 100% |

Awards

Octopus Energy has received multiple awards and earn some of the most prestigious titles in the industry. Heavily focused on providing a transparent and uncomplicated service, this green energy advocate lists these awards as some of their most notable:

Which? Consumer organisations - "Recommended Provider" (2018, 2019, 2020, 2021) 
USwitch - "Supplier of the Year" with 96% customer satisfaction (2018, 2019, 2020)
The Energy Awards - "Supplier of the Year" (2017, 2019)
The Energy Awards - "Innovation of the Year: Processes" (2019)

Cancellation Policy

As a domestic customer, you can cancel with Octopus Energy at any time by calling its cancellations team, they'll continue to supply your energy until your new supplier takes over. 

If you owe or are owed any money, you will be notified by email. It's worth taking a look at your account to ensure you have the funds to clear off any balances you may have accrued.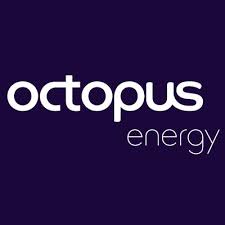 See how much you could save on your business energy in 30 seconds!
Understanding your Octopus Energy bill
Octopus doesn't bill monthly unlike other energy suppliers. Instead, they send you a new statement when you submit a meter reading. Octopus sends out helpful reminders to submit these on time so everyone is on the same page. It helps you to stay firmly on track with your bills, without building up credit or debit balances.
Better still, each meter reading submitted lets you spin the wheel of fortune in their game for a chance to win a £512 credit applied to your account.
How To Switch To Octopus Energy
Love Energy Savings does not currently offer the option of switching to Octopus Energy.
See how much you could save on your business energy in 30 seconds!