Hazardous Waste Collection Services
Hazardous wastes can harm the environment, your workspace, and even your staff. Businesses all over the UK produce hazardous waste. They need to follow strict guidelines to avoid hefty penalties. That's where we come in. We have created a hazardous waste collection quote generator for business owners who want to meet regulations and dispose of their waste safely.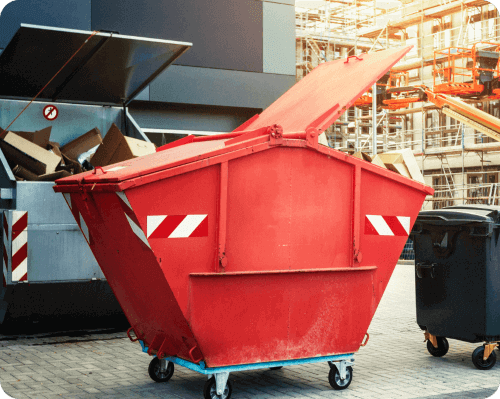 What Types of Waste Collections Are Available?
We know lots of hazardous waste disposal professionals in your local area, which means that we can help you find all sorts of services.
Here are just a few of the hazardous materials that we cover. 
Battery waste collection
Inedible oil waste collection (not related to food waste)
Solvent and toxic waste collection
Chemical waste collection
Electrical and electronic equipment 
Fluorescent light tubes
Gas cylinders
Oil filters 
To connect you with the most relevant hazardous waste collection services, we will ask a few quick questions. When you use our quote generator, you can be sure to get the best services possible at the most affordable prices. 
How To Switch Commercial Waste Disposal Providers?
Compare

Enter your waste disposal requirements, and we will recommend the best services in your area.

Select Your Provider

Once you've reviewed your quote, simply decide if the service is right for your business.

Enjoy your savings

With up to 30% savings, you can sit back and relax. We'll handle the switching process for you.
Do You Offer Hazardous Waste Disposal?
We offer total waste management nationwide. We will connect you with professionals who can handle every aspect of your hazardous waste disposal, but we also focus on more common business utilities. 
Our experts will find you the best deal possible for your waste collection, energy, water, and connectivity needs. You can get all your business essentials in one place! Even better, our quote generators are not biased towards big businesses. Our service is entirely independent. We will recommend a hazardous waste disposal service provider who suits your business and your budget. 
It doesn't matter how much hazardous waste you produce, we can help! We work with small, medium, and large businesses that want to streamline their waste procedures and focus on their day-to-day operations. Get a competitive, no-stress, no-hassle waste disposal quote today!
Hazardous Waste Businesses We Work With
Hazardous waste can come from the most unexpected sources. Most businesses produce some form of dangerous waste. 
Here are a few of the most common services that we offer.
Construction/trade hazardous waste management
Restaurant hazardous waste management
Hospital hazardous waste management
Hotel hazardous waste management
What Is Business Waste?
Business waste is any waste that you produce on your business premises. It is different from domestic rubbish because it needs to be disposed of in a different way. Whereas homeowners can take their waste to a local recycling facility, business owners have to hire professionals to handle their rubbish. 
Hazardous waste collection services are essential for almost every business. This kind of waste is far more dangerous than general business waste. It usually contains chemicals which can pose a big threat to whatever they touch. 
Hazardous Waste Collection FAQs
Do You Quote for Hazardous Waste Collection?

We quote for all kinds of hazardous waste disposal needs. 

When you use our service, you don't have to worry about poor practices and inexperienced providers. We only connect with providers who have relevant accreditations and years of experience. They can dispose of inedible oils, chemicals, asbestos, and other hazardous waste in a safe, legal way. 

Do You Quote for One-Off Waste Collections?

Yes! Some businesses only create small amounts of waste, so it's not cost-effective to book regular removals. We quote for one-off waste collections and regular hazardous waste collections.

How Much Are Hazardous Waste Collections?

In general, all hazardous waste is dangerous, but some hazardous rubbish is more dangerous than others. If you need to dispose of the most dangerous kind of hazardous rubbish, you should expect a much bigger bill. 

Other factors can also have an impact on the price of hazardous waste collection services. The size of your business, the location of your premises, and the amount of waste that you want to remove have a big impact on the price.

The easiest way to find a set price is to use our comparison engine.